Growing up, my surname was Ng which proved almost impossible to pronounce for most people. They would assume that I was Vietnamese and that it was a shortened version of Nguyen, of which they had heard. I can't help but think of my maiden name was I walk into Nguyen Brothers. It's a new Vietnamese restaurant among a small complex of eateries on Fountain Street in Alexandria with very reasonable prices and a slightly confusing system of ordering.
I'm a bad wife. Really, a very bad one. It was a sunny Sunday afternoon and an unseasonably warm one. And Mr NQN was stuck indoors nursing the blog as the back end required tweaking while I went out to lunch. To be fair, he isn't really one for socialising and he knew that with Belinda and I it would be a catch up as we hadn't seen each other for a month since I went away.
We met for 1pm at Nguyen Brothers, one of the latest Vietnamese eateries to open up in the Fountain building on Fountain Street in Alexandria. It occupies a space shared with Salt Meats Cheese and Bread & Circus. I'm not a huge devotee of feng shui but some of it is quite logical and I have to admit that I thought that things were a tad confusing. There are two openings and we're not sure where to go. There doesn't seem to be any one person directing anyone to sit anywhere. I think you can basically take a seat anywhere and just order at the counter. An advantage though to this self serve is that they do take bookings (which is why we wanted to speak to someone rather than just taking a seat as we had a reservation).
The decor is breezy and modern and warmly accented with copper and a wall of rooster paintings. On weekends there is a lunch menu but you can also order off the dinner menu. Drinks are chosen quickly and the very friendly staff help me choose some other things-a little bit of everything from each section.
Tropical Pink $6 and Sweet Sunshine $7
Both drinks are fantastic and not too sweet. The tropical pink looks like watermelon but tastes like lychee while the Sweet Sunshine takes me back to a holiday. It's a slushie with mango, coconut juice and flesh and coconut cream.
Grilled marinated chicken banh mi $6.50
I think I could eat a banh mi every day for lunch if I let myself. This is filled with grilled, marinated chicken, pate, mayonnaise, pickles and plum sauce. The bread is a bit thick and dry but when you get a middle bit with lots of filling and sauce it's enjoyable.
Beef capsicum salad $16
They come over to tell us that they are out of capsicum which is nice of them to let us know. Sometimes at other places we order a dish for a particular ingredient and at times they run out without telling us which can be disappointing. It's actually fine without the capsicum and there is plenty of cucumber, celery, cabbage and spicy dressing as well as thin slices of grilled beef. The lemongrass salad dressing is a bit on the sweet side.
Caramelised fish in clay pot $18
The fish comes out sizzling in a hot clay pot. It's soft, sweet and savoury at the same time. There are tiny bones in it but nothing too bothersome and it's really made for eating with rice to soak up that lovely sauce.
Slow cooked pork belly in young coconut juice served with son in law egg $18
The pork belly comes out in slightly sweet coconut juice stew-the food here is quite sweet and reminds me of the sweetness of Thai cuisine. The slice of pork belly is cotton soft and easy to eat with chopsticks. You also need rice but perhaps plain rice with this because the sauce is full of flavour. It comes with two halves of son in law eggs that have been battered and deep fried.
Fried rice with chicken, ginger and onion $13
This is Belinda's request. And it ends up being one of my favourite dishes. The fried rice has plenty of flavour from the ginger and onion as well as the generous amount of marinated chicken.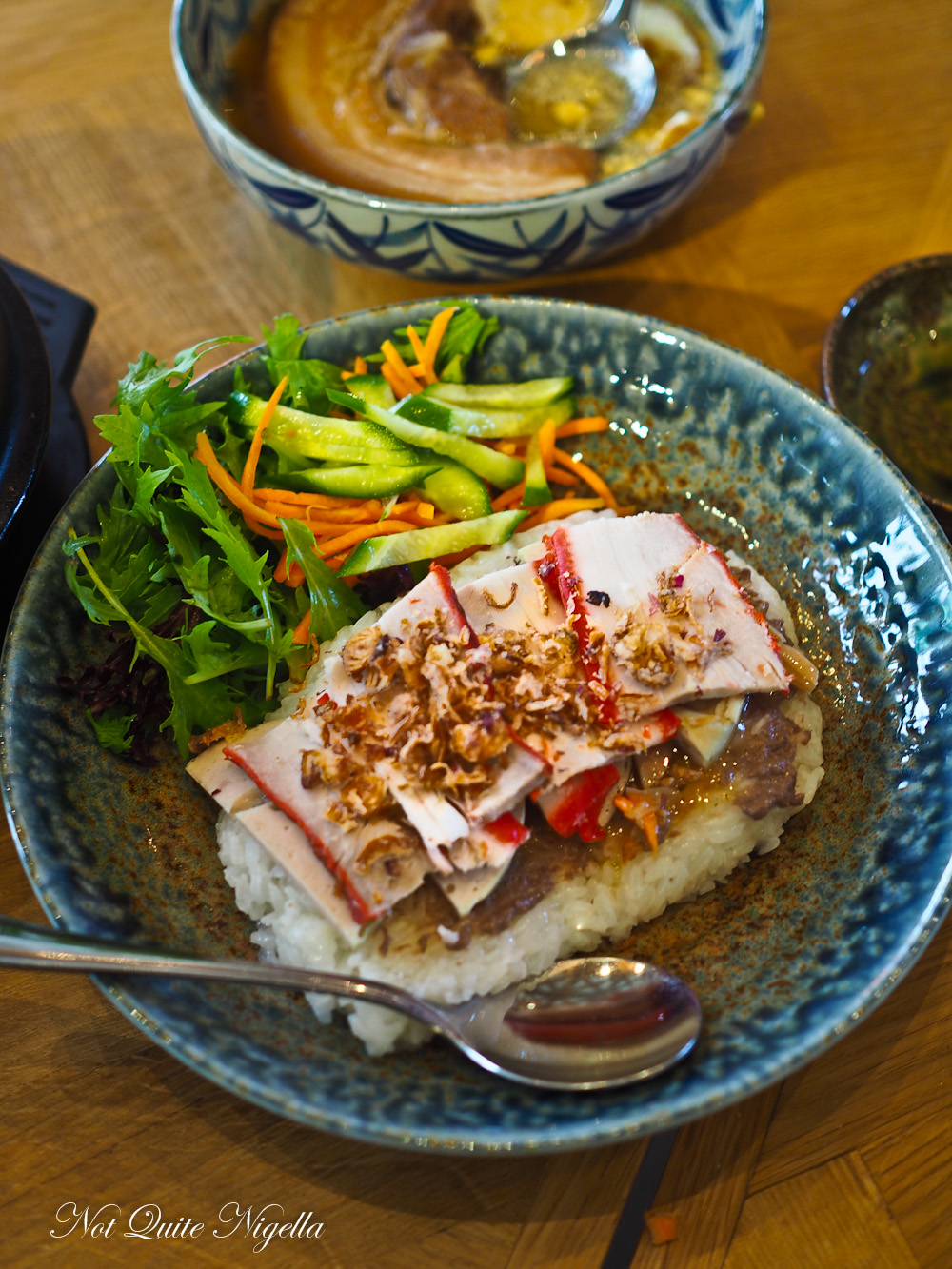 Sticky rice with pork, pate and light soy $8
The prices really are good here and I marvel at how you can get a tasty, complete meal for just $8. The sliced pork and pork sausage are set off to the side while the pate is spread across the sticky rice.
Grilled banana with coconut cream $7
Whilst we enjoyed the savouries, we weren't overly enamoured by the desserts. The banana is wrapped in sticky rice and grilled. It is served with a coconut and sago soup with large chunks of roasted peanuts. I've had variations on this before and this isn't my favourite version.
Creme caramel soya milk $4
Our first choice was actually the pandan flavoured creme caramel. They only have coffee and soya flavour left and they are also out of ice cream. The soya milk didn't impart much flavour but that is to be expected. Perhaps having the ice cream would have added some flavour to this. But for $4 it is a reasonably priced dessert (although I think they took off a few dollars because there was no ice cream).
So tell me Dear Reader, do you have a hard to pronounce first or last name? And do you like it when places tell you they are replacing an ingredient with another or are you not bothered?
This meal was independently paid for.
Nguyen Brothers
5&6/21 Fountain St, Alexandria NSW 2015
Phone:(02) 8964 1558
Monday to Saturday 10:30am–3pm, 5:30–9:30pm Sunday 10:30am–3pm