Ed Ae' Unique Thai cafe 1982 is a dessert bar and cafe in Thai town Sydney. They're known for their unique Bingsu Saimai shaved iced desserts that are light as a feather and look like noodles. There's also a large menu of savouries available, soft serves and drinks in an expansive menu.
I've seen Ed Ae's bingsu saimais all over social media for the last couple of weeks so Monica and I decided to make a couple date bringing along our sweet toothed husbands along. When we reach Ed Ae' Unique Thai cafe 1982 on George Street in the city we see that there's a small queue outside. We needn't have worried about a long wait because within a few minutes we are being ushered into the cafe (and actually there is one long front room but there's also another larger room when you walk in further).
Service is friendly and they direct us to the QR code which brings up the menu. There's also a minimum order of $10 per person and ordering is done by the QR code but you pay at the counter at the end and you can opt to have your food now or later. Having already eaten a full meal and dessert we keep our focus set on the prize: the saimai bingsu ices. Mr NQN and Marco being sweets fiends are quickly persuaded to try a drink.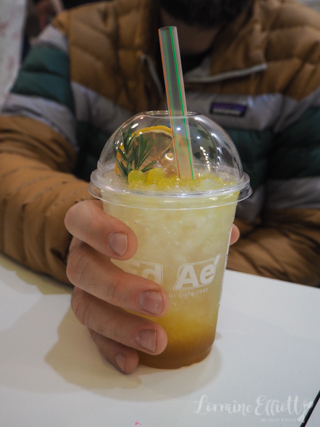 Kumquat Soda $8
Strawberry Bingsu Drink $9.50
Marco orders a kumquat soda which he declares very, very sweet. I order Mr NQN a strawberry bingsu drink with less sugar - I have ulterior motives because I love anything with strawberries and cream. I really recommend choosing less sugar because this amount of sugar is perfectly sweet but not overly so. A bingsu is a shaved ice dessert but here it's served as a drink in a plastic cup with a spoon, a fat straw and a skinny straw. There are strawberry popping pearls with liquid inside, vanilla ice cream, shaved milk ice and lashings of strawberry sauce and tiny pink mochi on top. If I can draw a parallel it's with a McDonalds strawberry sundae which isn't a bad thing (It happens to be one of my favourite items from McDonalds.
The bingsu saimai are silken shaved ices that come in a range of flavours from Thai milk tea, blue jasmin (butterfly pea), Yakult, mango, strawberry, taro, original brown sugar and some are marked "best". There are inclusions with each one and these depend on the flavour you choose but you can also add other toppings on the side like red water chestnuts, grass jelly, mixed berries, popping balls, palm seeds, coconut jelly, dango and seasonal fruit.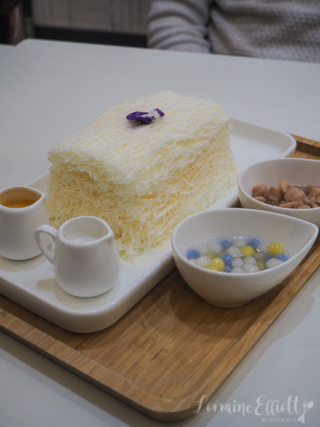 Salted Egg Bingsu Saimai $25.50
As savoury lovers Monica and I are intrigued by the salted egg bingsu with a milk bingsu shaved ice, salted egg syrup, diced taro, mini Thai mochi and candle scented coconut milk. The tian op candle is a dessert candle that they use to scent food and drink in Thai cuisine. The little pots of salted egg syrup and coconut milk allow for just a little of it to be drizzled but a little goes a long way. The texture of this bingsu is so light, silky and thread-like and the salted egg is a nice, more savoury option.
Matcha Milk Tea Bingsu Saimai $26.50
However my favourite is the matcha milk tea bingsu with matcha milk shaved ice, small pieces of matcha brownie, sweet red beans, dango mochi, whipped cream, toasted almonds and a little pot of condensed milk. I love the combination of red bean, matcha ice, condensed milk and almonds (it's a shame that the toasted almonds aren't an extra). The slight bitterness of the matcha is offset by the sweet red beans and the almonds give it a rich crunchiness.
So tell me Dear Reader, are you a sweet or savoury tooth? Have you ever tried a bingsu like this? Which flavour would you choose?
This meal was independently paid for.
Ed Ae' Unique Thai cafe 1982
704A George St, Haymarket NSW 2000
Open 7 days 11:30am-11pm (12pm Thursdays, 1am Friday and Saturday)
https://edae.mobi-order.com/
Phone: 0420 879 281