Food waste charity OzHarvest's Refettorio is a not-for-profit restaurant in Surry Hills. By day they serve up free meals to members of the community in need but at night they open up their doors to the general public to host dinners to raise money to serve the lunch meals. Come along to see what these low-impact dinners are like and why you should book in for one.
Refettorio comes from the Latin word "reficere" that means to 're-make or restore' and was a word used to describe a monk's dining hall. The idea of a Refettorio serving free meals to those in need started with Italian chef Massimo Bottura. He visited the OzHarvest's headquarters in 2016, a year after he opened up his first refettorio in Rome for the Milan World Expo in 2015. When he first arrived he was jetlagged and exhausted but once he saw what OzHarvest was doing he quickly perked up seeing the potential in Sydney to open up a refettorio here.
Sydney's Refettorio opened in February 2022 and is Massimo's 13th refettorio. It is a collaboration between the food waste charity OzHarvest, Massimo Bottura and his charity Food for Soul who provided the initial start up funding. It now relies on ongoing corporate and philanthropic funding to keep the doors open and they also raise money through Neighbourhood Dinners and private hire of the space. 90% of the food served at OzHarvest's Refettorio is rescued food. That is food that would have been thrown away or put into landfill. Worldwide, one third of all food produced is wasted costing the global economy nearly $1 trillion USD annually. Despite this, 690 million people go hungry and three billion people cannot afford a healthy diet. Closer to home Australia has 7.6 million tonnes each year of food waste that costs the economy more than $36.6 billion each year according to OzHarvest.
The Refettorio's free lunch service runs from Tuesday to Friday (four seatings for lunch, feeding 70 people) and on Saturday (five seatings for brunch, feeding 120 people). The service is designed to feed those who are experiencing food insecurity. Restaurant manager Cleo Griffin explains, "We work with local charities to introduce the Refettorio to vulnerable members of the community. Our guests do not need to come through an agency and can come as individuals or as groups. Guests are encouraged to make a booking but are also more than welcome to 'walk-in' without a booking as well. Also, guests do not need to show ID or proof of situation to access our free lunch. Regardless of circumstance, guests will be warmly welcomed without judgement and served with dignity and respect". All of the food is created in a tiny kitchen by the team of Chefs Jez Wick and Lauren Evers. Most of the waitstaff work on a volunteer basis with many doing regular shifts during lunch and dinner time. The only paid staff are the restaurant manager and events manager and all of the kitchen staff and chefs.
For the general public there is a series of weekly Thursday night "Neighbourhood Dinners" announced at the beginning of each month. They are typically 3 course meals with non alcoholic drinks for $80 a person. This evening Monica and I are going to a special Fermentation Dinner that has 5 courses of food plus non alcoholic drinks for $100 a person. Every single ticket purchased to these dinners feeds four people in need a nutritious three course lunch. A typical lunch meal might be Crushed Cucumber with zhoug, whipped white bean tahini, res onion pickle, spiced wonton for entree with a Yellow coconut curry ramen noodles, steamed greens, soy ginger tofu, roasted peanuts, fermented corn and shallot salsa for main and Mascarpone and yoghurt panna cotta, mandarin curd, ginger and mandarin orange blossom granita for dessert.
Jez's cheffing experience has been wide ranging from bakeries, fine dining, fine dining vegetarian, health food delis, music festivals, French restaurants and private cheffing on land and yachts in Australia and all over the world. This all helped her learn about different types of cooking and helps with creativity and thinking outside the standard restaurant head space using the often unexpected produce that is sent to her.
It was an event that caused a shift in Jez's perspective about waste, "We were catering for the Chelsea Garden Show, this highly prestigious event where we has thousands of dollars of seafood and we needed to make this huge ice snow seafood tower which was so giant you couldn't even get to the seafood on the top of it. And there was this moment at the end of the night that just clicked in me, like a huge WTF moment, when loads and loads of black bin bags FILLED with lobster and gorgeous seafood was getting thrown into the bin after the event because it was about abundance, showing off and wealth and not actually eating that I just went I've had enough! This isn't good enough, this is disgraceful, disgusting, horrifying and I do not want to be a part of the problem when I could be working on solutions or at the very least helping and working on changing this". She returned to Australia where she started zero waste pop ups and then worked casually at OzHarvest before taking on the role of Head Chef at the Refettorio.
For our dinner tonight, we head upstairs and take a seat. The restaurant's design, redevelopment, artwork and almost everything within the space was donated. It's a small space spread across two floors and it's cleanly designed, warm and inviting. The plates are donated by brand Mud of their seconds.The volunteers are incredibly lovely and sweet and many are doing their first shift this evening. They bring us a carafe of pineapple, ginger and mint shrub. There's also a selection of non alcoholic beers available too. All of the food at the Refettorio is vegetarian and tonight it is also vegan.
Jez says, "The decision to make the Refettorio vegetarian was a mixture of things, it aligned with Ronni Kahn's values, we know meat production is bad for our environment and we wanted to be able to offer something different. It also helped because my awesome Sous Chef Lauren Evers who I couldn't do any of this without, and I are both vegos (well she is vegan) and we love to make excellent, exciting and gorgeous food and we both do not cook with animals so it was the perfect fit." They decided to make the theme Fermentation as it adds flavour complexity and umami to dishes as well as being a way of preserving.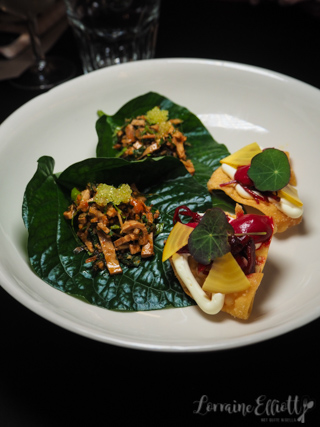 Snacks
The first course of snacks lands quickly and it has two parts. The first is a betel leaf topped with tofu, lemongrass, lime, coriander with a mandarin ginger dressing and finger limes. This is a very strong start and when Monica and I taste it our eyes widen with pleasure. The other snack is no slouch either. It's a crispy wonton topped with beetroot done three ways: beetroot pickle, rainbow beetroot and smoked beetroot with cream cheese that crunches satisfyingly in your mouth.
Steamed Buns
I'm not going to lie. At first when they set the steamed bun down I thought it might be a bit large (generosity is the theme though). But once I try it I instantly want another. These fat and puffy steamed buns are filled with pumpkin slow roasted in a hot chilli bean paste that has been roasted for the whole day to bring out richness and stickiness. It is then mixed with with garlic chives, fermented black beans and spring onions and fills the house made dough. On top is a fermented leek barbecued puree that takes a week to ferment in brine before it is blended with black garlic, white soy sauce and oil. This sits in a luscious scarlet puddle of black vinegar and house-made crunchy chilli oil. And it is nothing short of amazing. If you ever wanted to convince someone to go vegan it would be with this. And don't worry if you missed out on this dinner, Jez says that these steamed buns feature on the menu a lot.
Tempeh
The tempeh is really more a corn fritter using tempeh and it has house-made mixed bean tempeh and fermented corn with kaffir lime, lime zest, tempura batter, coriander, chives, black garlic paste, ginger and fermented chilli. These fritters are paired with a house-made curry powder, fried ginger and garlic mayonnaise and a green bean and coconut lime sambal (made with toasted mustard seeds, curry leaves, shallots, sesame oil, black cardamom and turmeric). There is also a sambal made with fermented red capsicum, slow roasted garlic oil, tomato, garlic, ginger, spring and 4 types of chilli topped with spring onions to finish. Each element is tasty by itself but once you get a bit of everything on your fork then it really sings harmoniously.
Eggplant
By now we are both getting very full but the food is so good we just keep eating. The Korean fried eggplant is a take on Korean fried chicken but made with eggplant and pairs the battered slices of fried eggplant with slices of silken tofu, a smear of black bean ferment paste, a fresh herb salad of shiso, basil, coriander, garlic chives and shallots, deep fried crispy enoki mushrooms, crispy onions, sesame seeds, wasabi peas, crushed sweet and salty peanuts, pickled daikon and ginger and mandarin dressing. Again the best eating is when you get a bit of everything on your fork and that has an appealing sweetness to it. I get the feeling that if this was a vegan restaurant open regular hours then it would easily be the one of most popular ones in Sydney.
There is a little surprise drink to go with dessert. They created an orangecello using the help of PNV Merchants who donated the Lyres non alcoholic spirit. It's a very sweet drink with a hit of orange zest in it.
Dessert
It's time for dessert and it is a turmeric, coconut and palm sugar ice cream on top of a brandy snap with miso caramel and sweet sourdough crumbs. I particuarly love the crunchy sweet crumbs and the brandy snap with the creamy coconut ice cream. And of course we take what we don't eat home!
So tell me Dear Reader, what do you think of the menu here? Would you book in for a dinner here?
This meal was independently paid for.
Refettorio OzHarvest Sydney
481 Crown St, Surry Hills NSW 2010
Free meals: Tuesday to Friday 12-2:30pm, Saturday 9:30 am–12:30 pm, Sunday & Monday closed
Paid meals: Thursday night: 6-9pm Dinners: https://www.ozharvest.org/refettorio-ozharvest-sydney/dinners/
Phone: 0493 163 136