It's beginning to feel a lot like Christmas with this edible macaron Christmas tree! This beauty is the centrepiece for any Christmas spread. This macaron Christmas tree cake is layers of macarons sandwiched with a vanilla buttercream! Best of all this macaron recipe is foolproof and turns out perfect macarons without fail. Plus this cake is best made a few days ahead of time and can be kept in the fridge or freezer for 2 weeks so it makes for less work on the day!
Macarons are fussy little things. Things can go wrong eg. no frilly feet, developing big air pockets, sticking to the paper etc. This macaron recipe is a result of doing several macaron making classes by Baroque and Zumbo and this recipe will turn out perfect macarons if you follow the detailed instructions. Although I was scared by macarons for the longest time now that I have this macaron recipe, I am no longer intimidated by macarons.
Macaron troubleshooting:
My macarons have stuck to the parchment. Provided that you've baked them enough and they have a solid base then pop them in the freezer for 10 minutes and then peel the parchment off.
I didn't get any feet on my macarons: try drying your almond meal in the oven (see precaution below). Also bake one tray at a time and place it in the centre of the oven.
Generally, avoid making macarons on humid days or if you do, use the air conditioner on cold. Forming the skin on the surface of the macaron is vital (see step 8). Other than that, just follow the recipe below and you will be fine and this macaron Christmas tree could be gracing your Christmas table and you can have made your Christmas cake centrepiece a few days ahead of time which is a total win!
I am really looking forward to Christmas and just having a break. In the new year we are going to resume house hunting as we are planning to move sometime over the next year or two depending on how long it takes us to find a place that we both like. We put the whole process on hold during COVID/2020 but are picking it up again.
I really want to stay central - Glebe, Redfern, Waterloo and Alexandria are ideal for me. Mr NQN wants to go further out for more land and privacy (introvert vs extrovert issues). I also like the inner west because the food is so good and they seem to have interesting people. Like Monica's neighbours.
Every single day at 10am there's pounding at her front door. It's her neighbours banging on her door to ask her the time to set their watches. Once they get the time they just leave. "He's so funny. I can understand about 30% of what he says," says Monica.
"He looks like the guy on the box of fish fingers," she said as he wears a captains hat. At Easter she fed them lamb and potatoes when they knocked on their door asking them to buy McDonalds. I've seen him when I go to her house. He and his brother are the men sitting outside watching the world go by.
So tell me Dear Reader, what is your suburb like? Any Sydney suburb recommendations? And how do you feel about making macarons?
DID YOU MAKE THIS RECIPE? Share your creations by tagging @notquitenigella on Instagram with the hashtag #notquitenigella
Macaron Christmas Tree
Rated 5.0 out of 5 by 3 readers
An Original Recipe by Not Quite Nigella
Preparation time: 60 minutes plus 1-2 hours setting time
Cooking time: 10 minutes plus 18 minutes per tray (4 trays)
Makes enough for two trees
500g/1.1lbs. Tant Pour Tant (250g/8.8ozs. pure icing sugar and 250g/8.8ozs. ground almonds)
100g/3.5ozs. egg whites at room temperature (first lot)
250g/8.8ozs. caster or superfine sugar
62g/2.2floz water
100g/3.5ozs. egg whites at room temperature (second lot)
Leaf green edible food colouring gel
Buttercream filling (enough for 2 trees)
270g/9.5ozs. butter, cubed, softened
760g/26.8ozs. pure icing sugar
Vanilla or peppermint flavouring
Leaf green edible food colouring gel
Note: if you keep your nuts in the fridge (which I do to prevent them going rancid as they're high in oil) then you will need to dry them out a little. Spread out on a baking tray and place in a 120C/248F for 10 minutes. I have found that if I don't do this, then I don't get the frilly feet on the base of the macarons. I also do not recommend making macarons during humid weather.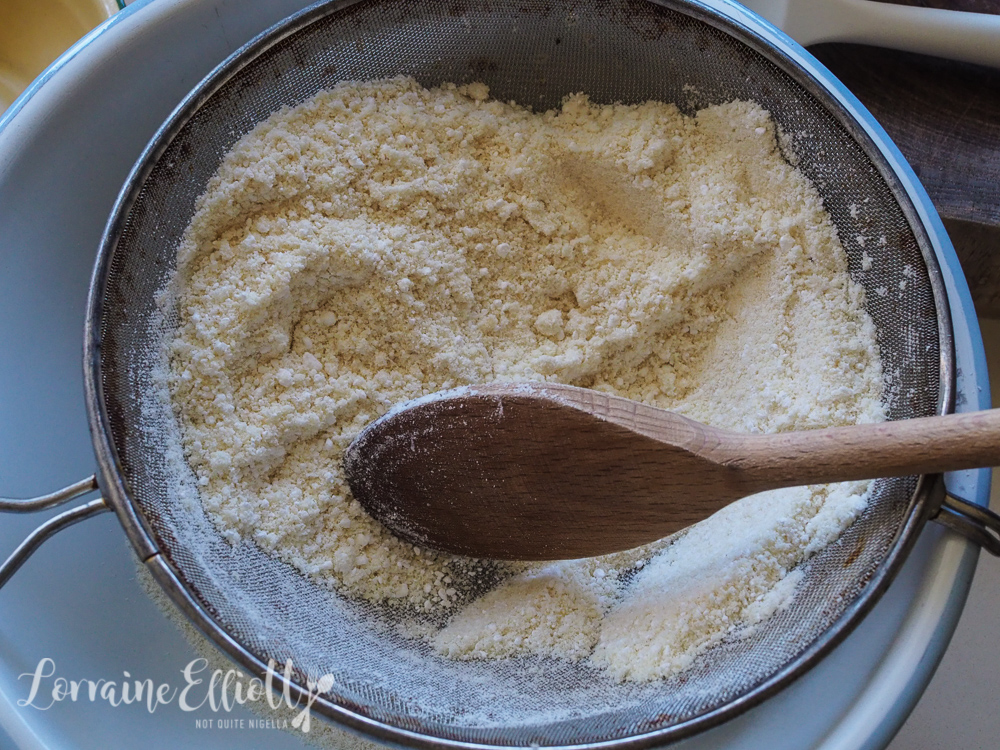 Sifting Tant Pour Tant (TPT)
Very fine and light
Step 1 - Sift the Tant Pour Tant (TPT). This is the most time consuming part of macarons but is necessary for smooth textured macarons. Mix with the first lot of egg whites until you get a thick, smooth paste.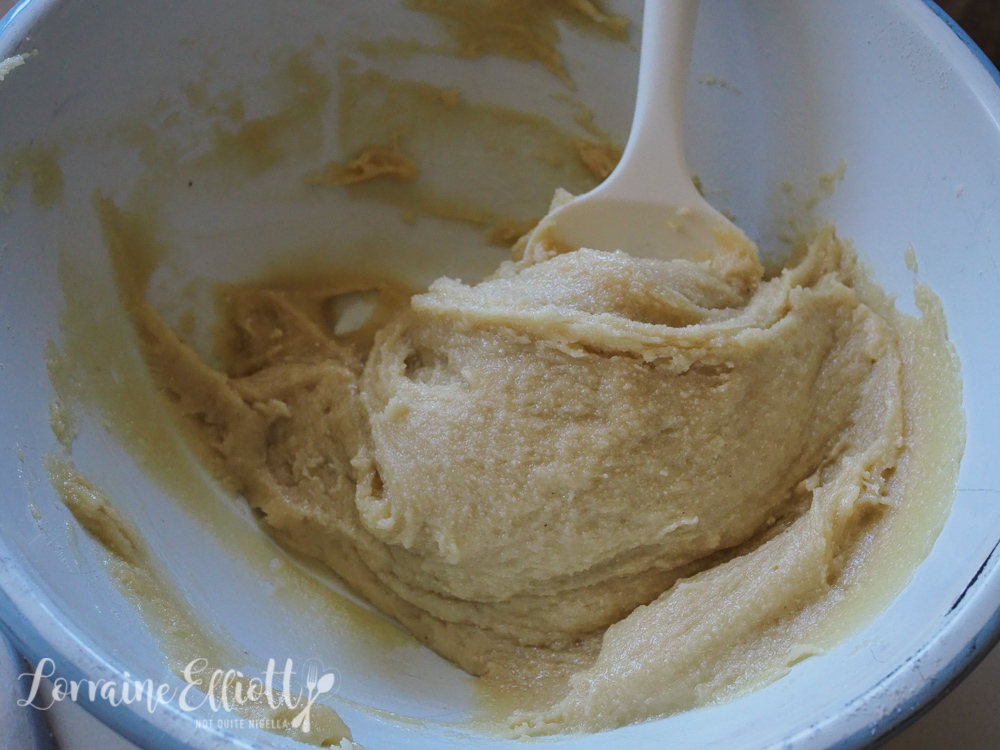 Mixing TPT and egg whites to a thick paste
Step 2 - Place the caster or superfine sugar, water and colouring gel in a heavy bottomed saucepan. Add a sugar thermometer and heat until simmering rapidly. Do not stir.
The green syrup should be dark in colour because it will lighten considerably with the addition of the meringue
Step 3 - Place the second lot of egg whites in a mixer fitted with a whisk attachment.
The whipped egg white with syrup
Step 4 - When the sugar mixture reaches 115°C/239°F start whipping the egg whites on maximum speed. They should reach soft peaks by the time the sugar mixture reaches 118°C/244°F. Carefully pour the hot syrup in a stream into the egg whites while the mixer is still running. Whip for 1 minute on maximum speed. Lower the speed to medium speed and whip for 1-2 minutes until it reaches 50°C/122°F.
The macaron mixture ready to pipe
Step 5 - Mix with the TPT mixture. You don't have to worry about deflating the meringue so you can slap this mixture against the bowl as . Just make sure that the meringue and TPT are mixed well. You can let this rest for a few minutes while you measure out the rings.
When not using, place the piping bag in a tall glass
Step 6 -Take four sheets of parchment on four trays and draw circles on the parchment in graduating sizes. Mine ranged from 10cm to 4cm (4x1.5inches). If you're using silicon mats just slide the marked parchment under the silicon mat so you can use the circles as a guide. This recipe makes enough macarons for 2 trees depending on how many layers you have but I always like to do extra in case one round doesn't work out especially the larger macarons which can be a bit trickier.
Keep tip in the centre and allow the mixture to spread to almost the edge of the drawn circle
Step 7 - Pipe the macaron filling into the guide by keeping the tip in the centre and it would naturally push out the macaron mixture. It spreads a little so stop piping just before you reach the edge of the circle. Do the large sizes together so that they can cook for the longest amount of time and do the smaller ones together. I also did some tiny rounds for the top of the tree. Gently bang the trays against the kitchen bench to remove large air bubbles.
Small macarons
Step 8 - Rest the trays of macarons to allow skins to form on the surface of the macaron. At first they will be sticky to the touch and look glossy but after anything from 30 minutes to 2 hours they will form a skin where the surface looks matte and if you touch them they won't stick to your finger. To hasten this process, put the air conditioning onto cold air.
Skin forming on top of macaron
Step 9 - Preheat oven to 150C/300F and position the rack so that the tray will be in the centre of the oven. You will be baking one tray at a time. Bake the largest rounds for 20 minutes, and the medium ones for 15 minutes and the small ones for 13 minutes. Cool completely. Then peel the paper off the back of the macarons. The largest ones will be the most difficult so I put them in the freezer for 10 minutes before peeling the paper off.
Frilly feet!
Step 10 - Make the buttercream by placing the butter in a mixer with a beater attachment and beat on medium speed until smooth, around 1 minute. Then add icing sugar, flavouring and colouring and beat on low speed until combined, then up the speed and beat for 5 minutes. Scoop into a piping bag fitted with a #867 tip.
Thermomix directions: place the butter, icing sugar, flavouring and colouring in the bowl and set to 1 minute, speed 3. Scrape down the sides and repeat for 2 minutes speed 3 until smooth and the sugar isn't grainy.
Step 11 - Place the largest round on a serving disc or plate and pipe buttercream. Place next layer and repeat until you've made 10-11 layers of macaron and have finished on a tiny macaron. Using tweezers affix pink and purple cachou balls. Dust with icing or confectioners sugar. This macaron can be kept in the fridge or freezer for 2 weeks in a cake box. If it is a bit too tall for your fridge you can take off the top few macarons and then just reattach it when you want to serve it.
Adding cachou balls as a final touch