Merry Christmas everyone! I hope you're all having a relaxing time. I am currently lying back and making the most of this much needed break. Here is a little recap into our Christmas dinner this year and what a feast it was!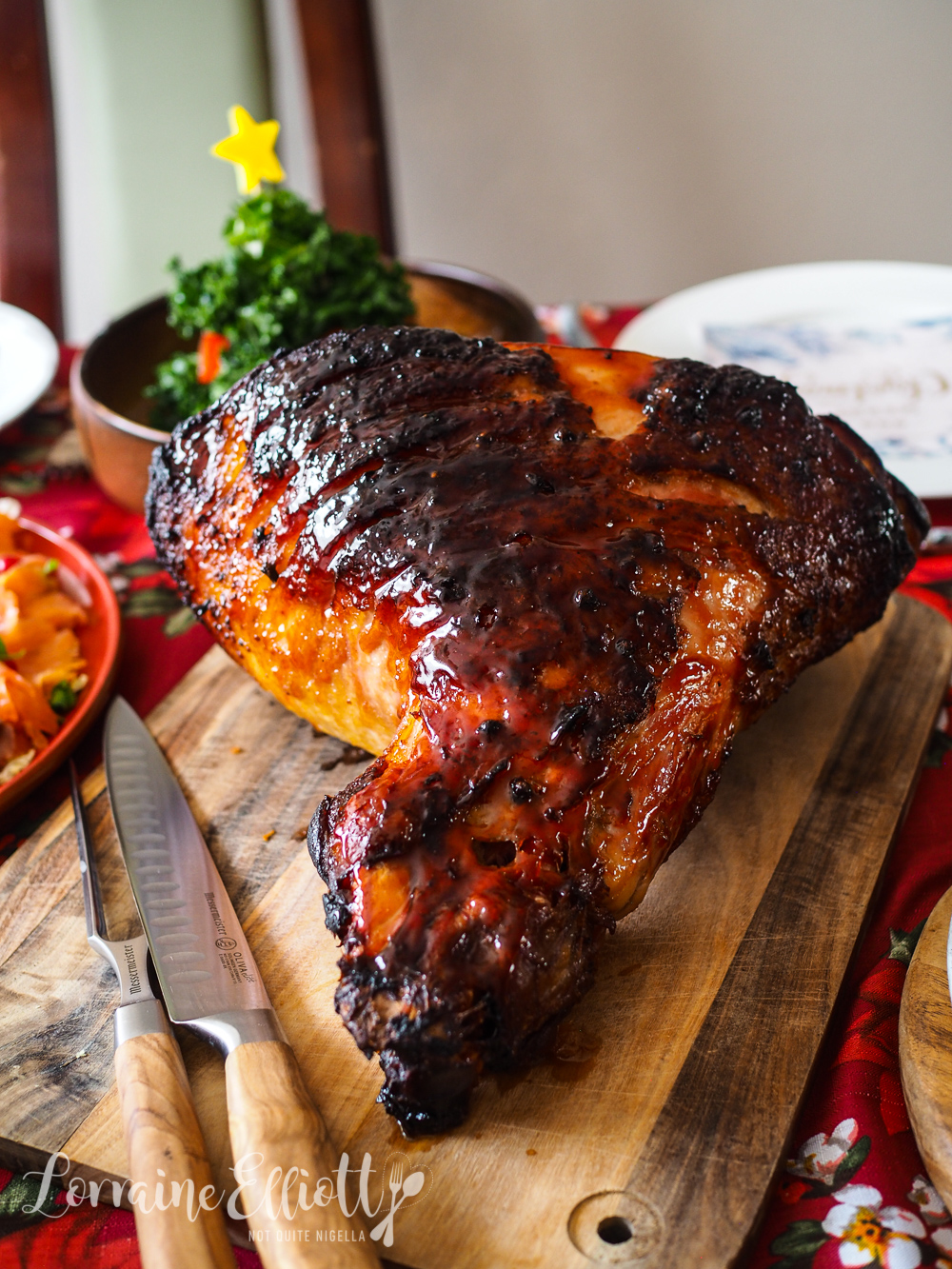 Charsiu glazed ham
This year I made a charsiu glazed ham, a ham and cranberry red wine stuffing, a Christmas tree salad, a candy cane caprese salad, prawns with guacam-aioli (guacamole aioli), glass potatoes, a smoked salmon wreath, a cheese and garlic wreath bread with a molten brie dipping centre, an Irish wheaten treacle bread and a tiramisu yule log!
Usually on Christmas Eve we have my family and my cousins over. This time my cousin's entire family has gastro so they weren't able to come and my uncle had just gone into hospital so it was a smaller and less chaotic gathering than usual which was actually better because our apartment is tiny!
I was lucky enough to receive my darling dear reader Matilda's Italian ciambelle and biscotti cookies with a gorgeous candle and chocolates. Matilda, you may have noticed some are missing, namely the Ciambaletti with the cachous and chocolate and that's because I ate those on the day that they arrived! Thank you so much Matilda! :D
And this is Teddy who became obsessed with trying to get to Matilda's cookies.
Prawns with Guacam-aioli
This year I had to take it a bit easier so I did things that I could make a bit ahead of time so that most of the kitchen time was spent from 3pm-6pm (the other things like the breads and dessert were made prior and frozen).
Wreath bread with molten brie and spicy tomato sauce
This year I slowed down right towards the end of Christmas which was really nice. It seemed like everyone finished work on the 20th including Mr NQN so it was a nice excuse to take that time off and ease into Christmas rather than hurtling towards it which is my usual custom (not recommended).
Caprese Candy Cane
The weekend before Christmas Eve dinner (which we host here in our tiny apartment), we took Mr Teddy Elliott out for his Santa photo. My little Mochi used to be such a little star when it came to Santa photos patiently waiting while we snapped away (one year Santa asked if he could use his photo with her on his portfolio). This year it was Teddy's turn.
Christmas Tree Salad (with chicken salad underneath)
To minimise the drama I booked us in ahead of time nabbing one of the last 2 bookable spots and Mr NQN spent the whole morning washing Teddy and fluffing up his fur. We got ready and took him downstairs and then a power outage hit. Unfortunately our garage door is connected to power.
Smoked Salmon Wreath
"Let's get an Uber," I said not wanting to miss the booking. "That'll be outrageously expensive," said Mr NQN and he was right. The estimate for fixing the power outage was 1.5 hours later so we sat back and waited it out until we panicked and realised that our phones were dying.
We did a little at-home photo shoot with Teddy in a Santa outfit and he was fine, as calm as Mochi was. Then the power sprang back and we decided to try our luck with braving the regular queue at the Santa photo place.
Irish Wheaten Bread with Treacle
As it was late in the afternoon there were only a couple of groups before us. I looked at Santa, who looked a bit worse for wear. "Is Santa ok?" I whispered to Mr NQN. He had his eyes closed and he was sweating profusely on a not very warm day. He honestly looked like he had had a heart attack and people had just taken pictures around him. I was getting serious "Weekend at Bernie's" vibes.
"Santa, wake up!" said the little girl to him as she sat next to him. "Uhhh yesss yes," he said simply opening his eyes but not sitting up. Then it was our turn to hand Teddy over. Mr NQN said to Santa, "Hey mate, how's it going?" to which Santa replied rather candidly, "I've got one word to describe it mate: SH&T".
Glass potatoes
Well I hope that even if your Christmas is chaotic and crazy, it isn't like Santa's! Ours involved funny family stories -it's when I catch up on the adventures of a cousin of mine who was recently imprisoned for sending out bomb threats to people that displeased him from the government to the newsagency to his sister. Honestly, I thought that Mr NQN was the only one with a colourful family but it turns out, so do I! Remind me to tell you about him one day. Once I've done the Christmas dishes... ;)
Ham & Cranberry Stuffing (you have to make this!)
So tell me Dear Reader, how was your Christmas? What is on your Christmas dinner table? I also just want to take this time to wish you all a very, very Merry and Wonderful Christmas and give you all a virtual hug! Lots of love, Lorraine and Mr NQN xxx
Tiramisu Yule Log
DID YOU MAKE THIS RECIPE? Share your creations by tagging @notquitenigella on Instagram with the hashtag #notquitenigella
Char Siu Glazed Ham
All Original Recipe by Lorraine Elliott
Preparation time: 20 minutes
Cooking time: 1.5 hours
1 ham (around 7 kilos)
1 cup chicken stock
1 cup char siu sauce
Step 1 - Preheat oven to 180C/350F and remove the rind from the ham (keep this in the fridge, I'll show you what you can do with it in a few days).
Step 2 - Score the fat (not too deep). Add the chicken stock and bake for 1 hour. Then brush with char siu sauce and then bake for 30 minutes basting every 10 minutes or so.
Ham and Cranberry Stuffing
My favourite bit of a roast is the stuffing which makes me wonder if I have missed the point of the whole affair...But seriously please make this and you will be so thankful you did.
2 onions, chopped finely
3 cloves garlic, chopped finely
50g/1.7ozs butter
1 cup dried cranberries
200g/7ozs. ham, cut into cubes
75ml/2.7flozs. red wine
400ml/14flozs. cream
280g/10ozs. bread, cut into cubes
3-4 sage leaves
Step 1 - Sauté the onions and garlic in the butter until translucent and aromatic (5 minutes or so). Add the cranberries and ham with the red wine and cook for a minute. Then add the cream, bread and sage leaves and cook until the bread has soaked up all of the cream. Season to taste.
Step 2 - Place in an oven proof dish and bake in a 180C/350F oven for 30 minutes to crisp up the top.
Caprese Candy Cane
Can you think of a cuter way to serve a caprese salad for Christmas? I'll wait! It's so simple but effective.
1 mozzarella ball (400-450g or around 1 pound)
3 tomatoes
Basil leaves
Salt
Balsamic reduction
Extra virgin olive oil
Step 1 - Slice the mozzarella into balls roughly the same size as the tomato slices. Layer in a candy cane shape. Add basil leaves and season tomato with salt.
Step 2 - Drizzle with balsamic and olive oil.
Christmas Tree Salad
2 cups chicken salad or potato salad
1/4 bunch kale, washed well, leaves removed from ribs
3 tablespoons mayonnaise
3 tablespoons olive oil
Salt and pepper for seasoning
Cherry tomatoes sliced for decorating
Star cut out of a yellow capsicum
Step 1 - Make a cone shape with the chicken or potato salad in a serving dish. In a bowl, massage the kale with a little salt and olive oil. Stick the leaves to the potato salad. Decorate with cherry tomatoes (adhere them using the mayonnaise). Affix the yellow capsicum star with a small skewer down the centre.
Prawns with Guacam-aioli
1kg/2.2lbs. prawns
1 large avocado, ripe
1/2 cup mayonnaise
1 clove garlic, finely grated
1/2 tomato, finely chopped
1-2 teaspoon lime juice
Step 1 - Mash the avocado with the mayonnaise, garlic, tomato and lime juice. Season with salt and pepper. I also served this with mango hot sauce.
Smoked Salmon Wreath
400g/14ozs. smoked salmon
2 cups mixed salad leaves
50ml/1.7flozs. roast sesame dressing*
2 small bunches redcurrants
Available at Asian grocery stores
Step 1 - Spread the salad leaves around the edges of a plate in a wreath shape. Dress with the sesame dressing. Fold the smoked salmon into leaves and place on top of the leaves. Top with redcurrants.