The Fold is a cafe in Dulwich Hill that is equal parts bakery and Sri Lankan restaurant. You'll find house baked cakes, Sri Lankan dishes as well as a couple of fusion Sri Lankan dishes like a Hopper Benedict and Hopper Shakshuka.
The name The Fold references the lamination folds used in pastry making. In fact the cafe was originally intended as a cake, pastry and coffee eatery when they opened in March 2020. Then COVID-19 forced them to pivot to takeaway only and the Sri Lankan dishes.
It's a family business with chef dad Augy De Hoedt coming up with the idea for The Fold. The family moved from Perth, following eldest son Travin's move to Sydney with the parents and brother following a few years later. All of them work in the cafe with dad Augy, sons Travin and Jason in the kitchen while mum Dilki works front of house and Travin's fiancee Saaya makes some of the cakes. Travin also works as the pastry chef at Franca Brasserie in Potts Point and between the two jobs, has a seven day work week.
When you walk in at first glance it looks like a pastry counter with cakes and pastries in the window and a cafe. I do a bit of a double take and check that we are at a Sri Lankan restaurant.
It's a sweltering Sydney's summer day when we arrive. Normally there is a wait for tables but everyone seems to be at the beach or hibernating under air conditioning at home so there's no wait. Staff are super lovely and when we ask for a table inside, they bring a table inside for us out of the heat.
"I need two drinks," says Laura. She orders a falooda and a watermelon juice. I go for a Masala Chai Latte that comes unsweetened with a scoop of vanilla ice cream and rose petals on top. It's delicious, especially when the ice cream melts into the tea sweetening it a little.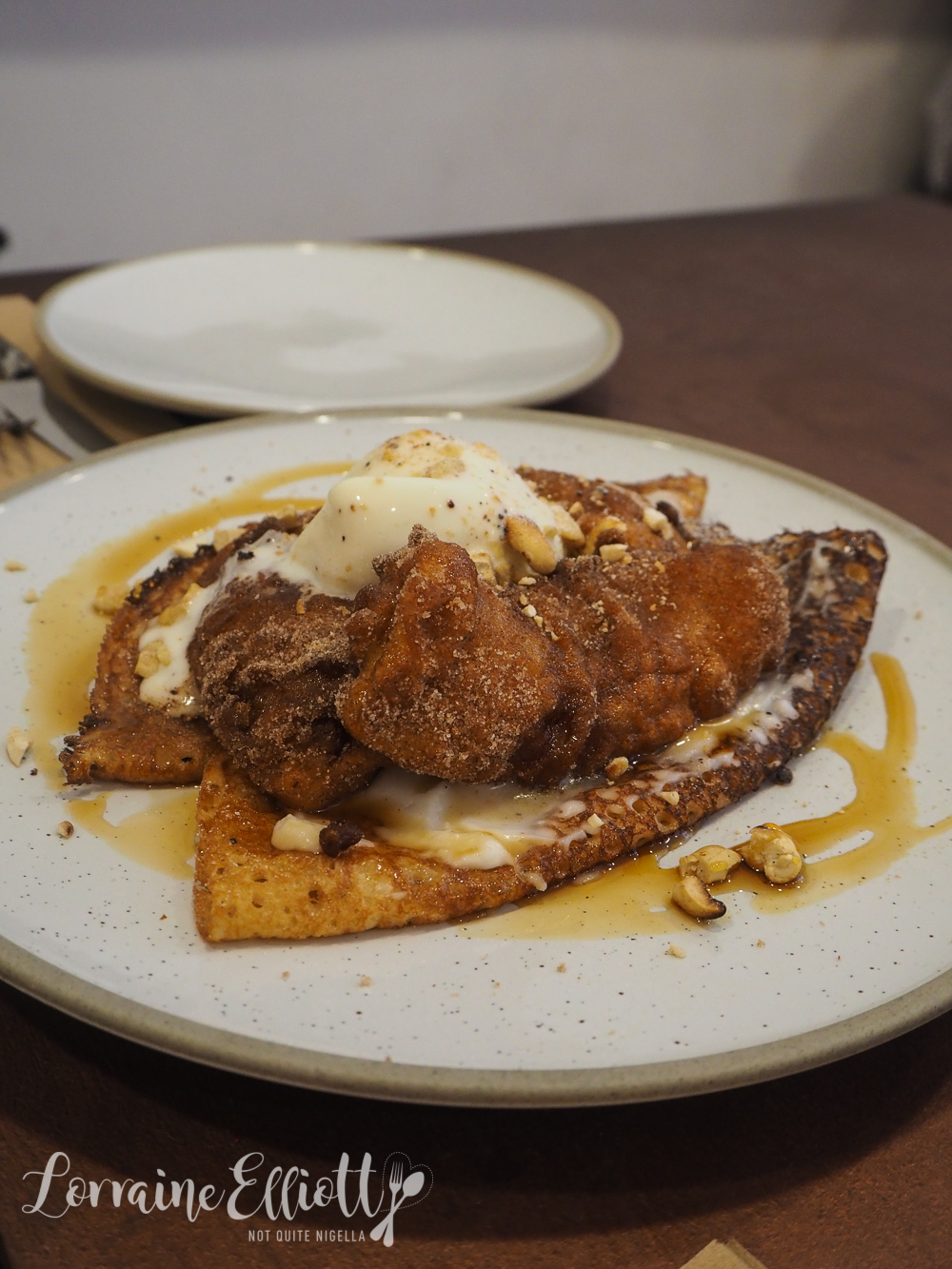 Hakuru Appa $18
Service is lovely from our waitress who is very attentive. She also recommended this dish and it's an absolute beauty. I'm more a savoury person although I love making sweets but this crepe is something special. It's a hopper batter, which is a lightly fermented coconut milk batter but sweetened with jaggery and fried like a crepe and then topped with banana fritters. This is all gorgeous textures from the crispy crepe to the banana fritter to the melting ice cream.
Hopper Benedict (GF) $18
There are many kind of hoppers on the menu, those bowl shaped crispy edged coconut treats. We tried the fusion hopper which is a hopper benedict. It's poached eggs and sweet paprika hollandaise served on a hopper with grilled ham and a pancetta crumble. The dish while nice is very rich and surprisingly sweet.
Nuwara Rathu Kiri Bath (Red Milk Rice) Free Range Chicken Curry $24.50
One of my favourite breakfasts in Sri Lanka was the kiribath which is coconut rice. Here they use red rice and serve it with your choice of curry with lunu miris, a piquant and fresh tomato and onion condiment. We choose the free range chicken curry which is rich in coconut milk, spices and curry leaves.
Appa Appa $22.50
For good measure we also order the Appa Appa which is three hoppers: one egg hopper and two plain hoppers with lunu miris, seeni sambol (caramelised onion sambol) and your choice of red lentil curry, free range chicken curry or beef and potato curry. We have it with the red lentil curry which is comforting in texture and well spiced.
Paan Paan $11.50
A Paan paan is a simple enough concept but done so well. The Turkish roll is soft and downy and it is filled with a fried free range egg, pol sambol (coconut) and slices of gruyere cheese. This is all textural with the softness of the coconut sambol and warm bread and we both really enjoy this simple roll.
Japanese Cheesecake $8.50
The Japanese cheesecake is light, fluffy and eggy. A Japanese cheesecake is wobbly and more cake than a dense baked cheesecake but ideal for this very warm weather.
Carrot Cake $6.50
Carrot cake is one of my favourite cakes and this is a nice version with plenty of spices and a dense texture to it.
Love Cake $6.50
My favourite however is the Sri Lankan Love Cake. This sweet is a Sri Lankan classic and it is made here by Augy. It's a rich and sweet slice with cashew nuts, slow roasted semolina, pumpkin preserves, ginger preserves, vanilla and Augy's own sweet spice mix. It's sweet but aromatic and with a delightful range of textures. And yes there was plenty to takeaway and we managed to fit it all on one table!
So tell me Dear Reader, do you have a favourite Sri Lankan dish? Are you a sweet or savoury breakfast person? What does your ideal breakfast consist of?
This meal was independently paid for.
The Fold
402 New Canterbury Rd, Dulwich Hill NSW 2203
Monday to Friday 7am–3:30pm
Saturday & Sunday 8am–3:30pm
Phone: (02) 8068 2226