Potts Point's Macleay Street has a new French brasserie called Franca. The menu spans various regions of France and there are traditional and modern takes on French classics while the airy brasserie has plush leather booths and an upmarket vibe.
Franca, which comes from the term Lingua Franca is a language adopted by countries that didn't share a common language. Historically it was countries like Italy, France, Greece and Spain. Nowadays English is Lingua Franca.
Franca Brasserie is located in the former Fratelli Fresh site above the Woolworths on Macleay Street in Potts Point. A marble fronted open kitchen is the first thing on the left as you enter with raspberry velvet chairs in the centre and teal leather booths line the window. The room is bright and light-filled. Service is very friendly and attentive.
Executive Chef Alexis Besseau came to Australia 5 years ago and has worked at Bather's Pavilion and EST. The menu is Mediterranean and centres around France.
This was Teddy's second outing and it was a high pressure situation. While Mochi was a sociable little girl and loved to accompany me to cafes and restaurants, Teddy is a homebody preferring the safety of his many beds or fluffy blankets to rest on. But I knew that Joan Holloway was missing her little doggy Lilly (with whom she shares custody) and she would be cheered up by Teddy.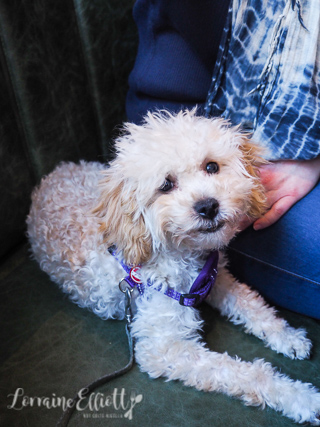 Little did I realise when I went to Franca that it is dog friendly inside (oh joy!) which is such a nice change from being outside in the chilly winter weather. I carry Teddy in and they show me to a teal leather booth where Joan is waiting. I lay a mat down for him to sleep on and hand him his favourite tendon chew which he proceeds to chew on for 30 minutes before falling fast asleep.
Robin Swizzle and Garden Fizz $15 each
Joan and I both start with mocktails-there are two on the menu and they're both fantastic. Her Robin Swizzle has Seedlip spice, orange juice, citrus, mandarin shrub and allspice while my Garden Fizz has fresh carrot and ginger soda Seedlip garden, orgeat (orange blossom and almond syrup) and lemon and has a satisfyingly gutsy kick of spicy ginger to it.
Tuna Sashimi Niçoise, Olive Tapenade, Yolk $28
I love nicoise salad so I was curious to see what their version was like which uses raw tuna instead of cooked. It's really mild tasting with little dabs of olive tapenade, crushed olives and finely grated yolk. I think I would have liked this to mirror the stronger flavours of a traditional niçoise salad more.
Gruyere Souffle, Sautéed Mushroom $24
The gruyere souffle is light and puffy with the sweet nuttiness of gruyere. It comes with sauteed enoki and Swiss brown mushrooms and you can also have this with freshly shaved black truffles.
Smoked Swordfish, Radish, Witlof, Brandade $26
My favourite entree however is the smoked swordfish that is served in sashimi style slices and is briefly cured in lime zest and coriander seeds before being cold smoked. It is served with radish, witlof and a creamy brandade made from swordfish scraps. This brings the whole thing together along with the dill oil. They also give you toasted bread to mop up the sauces with too which is a nice touch.
Bouillabaisse Pasta, Red Mullet, Whiting, Clams $36
There are a couple of items on the menu that can be ordered in double sizes and the bouillabaisse is one of them. Usually bouillabaisse doesn't have pasta in it but this features a house made pasta which is like linguine but flatter. It's served with a fillet of red mullet, plump clams and whiting. This version of bouillabaisse does diverge somewhat from a traditional one and doesn't have that tomato base that I love so much. I wasn't so taken with the sauce made from bones and scraps with vegetables and Pernod as I love the traditional tomato based bouillabaisse sauce (and I'm not a traditional person by any means).
Crab Sandwich, Aioli, Brioche $30
We both enjoy the toasted crab sandwich filled with crab meat, finger limes for a bit of pop, a side of spiced aioli on toasted brioche. There are also French fries on the side too which are always welcome.
Hazelnut Millefeuille, Raspberry Sorbet $17
It's dessert time and with Teddy still blissfully asleep nudged right next to Joan Holloway we get to ordering a few things. I love mille feuille and I check that this isn't a deconstructed or modern version because I prefer their traditional takes on things rather than their modern interpretations. It's a hazelnut praline crème patissiere piped onto a caramelised puff pastry with raspberry sorbet, raspberry caramel and fresh raspberries. Joan Holloway swoons over this one.
Passionfruit Soufflé, Almond craquelin, Pop Corn Ice Cream $17
As for me, I'm all about passionfruit and it's one of my favourite fruits in desserts. This passionfruit soufflé is perfectly risen with a disc of almond craquelin on top and popcorn ice cream with pieces of caramel popcorn.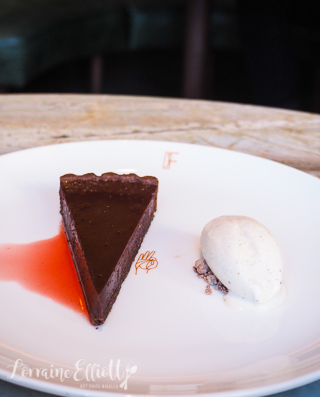 Chocolate Tart, Truffle Ice Cream $18
The chocolate tart is Joan Holloway's choice and it is a slice of dark chocolate tart made with three types of Valrhona chocolate: 60% macae with a hit of liquorice to it, 40% Jivara milk chocolate and 32% Dulcey caramel. The liquorice hit from the macae chocolate is subtle but present and they pour the spiced strawberry consomme on at the table. I also love the black truffle ice cream that goes with it.
At the end it's 4pm and it has been a leisurely long Saturday lunch. In fact Teddy Elliott has enjoyed the lunch so much when I have to wake him up he just wants to curl up asleep again. "What a fine dining dog!" exclaims Joan.
So tell me Dear Reader, are you a traditionalist or modernist? And would you welcome dogs inside a restaurant?
This meal was independently paid for.
Franca Brasserie
Shop 2/81 MacLeay St, Potts Point NSW 2011
Sunday 12–10pm
Monday to Thursday 5:30pm–12am
Friday & Saturday 12pm–12am
Saturday 12pm–12am
Phone: (02) 9167 2921
francabrasserie.com.au/