Apricot chicken is a classic and very popular recipe but do you want a fancier version to serve up a Christmas? This is layered with prosciutto, spinach and apricot cream cheese and served with a delicious French onion gravy! This is a pushy recipe Dear Reader and perfect for Christmas or New Years!
Roulade is the French word for roll and can denote rolled meat or cakes (like Swiss rolls). This apricot chicken roulade is also great because you can do the first part of it one or two days ahead of time and then wrap in prosciutto and bake it on the day so it only takes 20 minutes.
Today I'll show you two methods to doing a roulade, the first is how they do it in restaurants and the other one is a more home cooking version. Forget using toothpicks to secure your chicken or any complicated equipment.
The advantage to roulades apart from the pretty presentation is that pounding the chicken breast tenderises it so that instead of being dry and chalky, the chicken breast is tender and rolled with a delicious sweet savoury cheese filling. Prosciutto adds colour and saltiness while spinach adds colour and goodness. All of this is served with a French onion gravy made with pan drippings, brandy and apricots.
DID YOU MAKE THIS RECIPE? Share your creations by tagging @notquitenigella on Instagram with the hashtag #notquitenigella
How To Make a Restaurant Style Roulade
Rated 5.0 out of 5 by 4 readers
1 - Pound the chicken breast and fill and roll up (see detailed instructions below in recipe). Roll up in plastic wrap to create a sausage shape. Make sure to use good quality plastic wrap to do this and don't skimp too much when rolling it out.
2 - Roll back and forth against the benchtop and this will create a shiny, sausage shape. It only takes around 15 seconds of rolling to achieve this shape.
3 - Put a pot of water onto boil and then submerge the plastic wrapped roulades and cook for 17 minutes. Chill immediately in ice water. At this point you can refrigerate them and then finish them off when you want to serve them.
4 - Lay out 4 slightly overlapping prosciutto slices and place an unwrapped roulade in the prosciutto and roll up. Bake in a 190C/374F oven on a parchment lined tray for 15 minutes or until prosciutto is crispy. Cool for 10 minutes and then slice.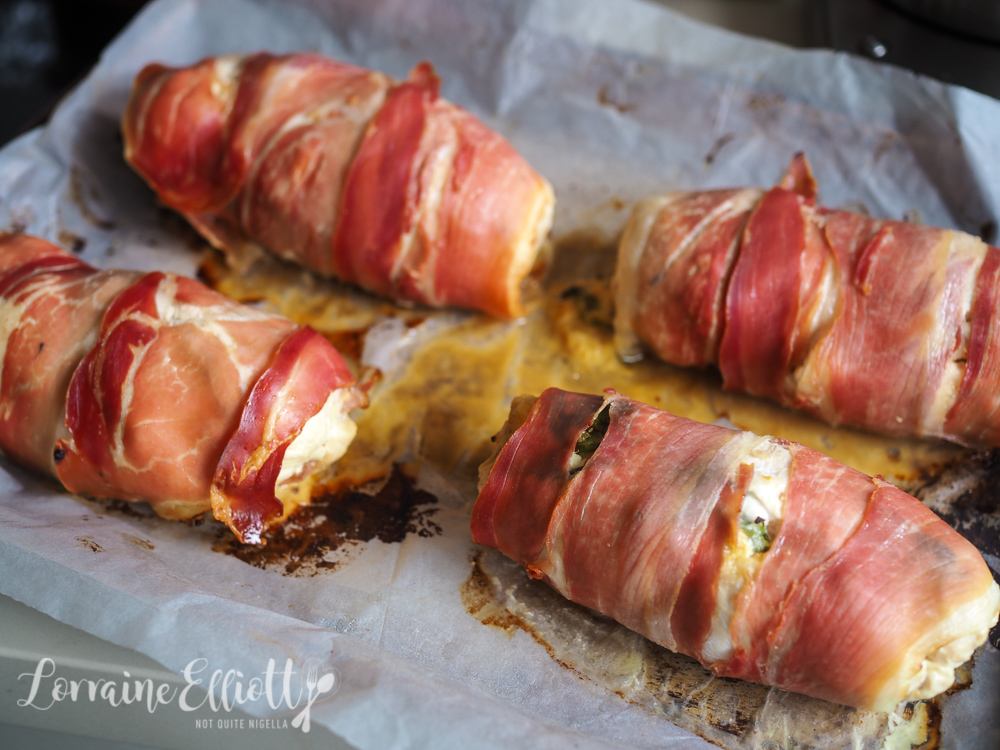 To Make a Roulade Without Plastic Wrap:
If you don't want to use plastic, I totally get that. It's wasteful with plastic and cooking food in plastic is not ideal as chemicals can leach out. This is the way to achieve that lovely round shape while baking it and I prefer doing it this way.
1 - Pound the chicken breast and fill and roll up (see detailed instructions below in recipe). Roll up in the plastic wrap to create a sausage shape. You can re-use the same sheet of plastic to do this for all of the chicken to reduce plastic waste.
Shaping the chicken into a sausage shape with cling wrap
2 - Lay out 4 slightly overlapping slices of prosciutto and remove the plastic and place the roulade on the prosciutto and roll up.
Wrapping in prosciutto
3 - Tie the sausage at four points with kitchen string.
Tying with kitchen string
4 - Bake at 180C/350F for 25 minutes. Cool for 10 minutes and then remove string and slice.
I'm serving this apricot chicken roulade for Christmas dinner which will be a mix of seafood, meat and vegetables. Monica and I are cooking together and she'll brings things from her native Italy and we are both so excited to cook together.
Over lunch the other day we were planning what we were going to cook when the subject of Harry Potter came up (we have very random conversations). "Did I ever tell you about my Harry Potter story?" Monica said with an impish grin.
A few years ago she had gotten into reading the whole Harry Potter series and had two books left to read. Her partner Marco is very careful with money (or as Monica calls him, a "tightass") and he told her not to buy them, that he would get her the last two books on her kindle.
Marco got the books and Monica started reading them. The last books concentrate on when Harry and his friends are teenagers and they are more mature than at the start of the series. It was all about "bulges straining against their wizarding robes," and similar sort of imagery. "I thought their hormones were going crazy," said Monica.
It was only when she reached the end that she realised that Marco had not gotten her the actual books but fan fiction! I'm not sure what Marco has gotten her for Christmas but I'm sure we will hear all about it at Christmas dinner and it will be worth another story ;)
So tell me Dear Reader, have you ever tried making a roulade? Would you do the restaurant version or the baked version with string? What are you serving at Christmas?
Apricot Chicken Roulade
An Original Recipe by Lorraine Elliott
Preparation time: 40 minutes plus 10 minutes cooling time before slicing
Cooking time: 35 minutes
40g/1.4oz French onion soup mix
100g/3.5ozs. tinned apricots
4 cloves garlic, peeled
200g/7ozs. apricot and almond cream cheese
4 skinless chicken breasts (around 1.2kgs total weight)
400g/14oz/24 slices prosciutto
2 cups baby spinach leaves
salt and pepper
For gravy
1/2 of a 40g/1.4oz packet French onion soup mix
2 cups/500ml/1pint water
100g/3.5ozs. tinned apricots, pureed or mashed
2 tablespoons brandy
The drippings from the roast chicken
2 teaspoons cornflour mixed with 1 tablespoon water or 2 tablespoons cream
Sprig of thyme
Step 1 - First make the cream cheese filling. Place the first packet of the French onion soup mix, apricots, garlic and apricot cream cheese in a blender and blend until smooth and spreadable. Set aside.
Slicing at the fat side of the breast (skin side down)
Open it up to create a heart shape
Step 2 - Place a chicken breast skin side (if it had skin) down. Take a sharp knife and slice the chicken breast in the thickest part but don't cut all the way through. You want it to open up to be heart shaped. Place a sheet of cling film on top and a meat mallet and pound the chicken until it is thin as a schnitzel and of an even thickness. I reuse the cling film for this for all of the chicken breasts.
Pounding with a meat mallet
Seasoning with salt and pepper
Cover with two slices of prosciutto
Then cheese filling
Then baby spinach
Step 3 - Season with salt and pepper. Then lay two slices of prosciutto on top. Spread with some of the seasoned cream cheese and then a layer of spinach leaves. Roll up and then place on a sheet of cling film and roll up tightly. The action of rolling it up in plastic shapes this into a sausage shape.
Roll up
Wrap up in cling film
Roll back and forth on counter to create a sausage shape
Laying out the prosciutto to wrap the chicken in
Step 5 - Preheat oven to 180C/350F and line a tray with parchment. Lay down 4 pieces of prosciutto and unwrap the "sausage" and roll each roulade up in the prosciutto. Tie 4 pieces of kitchen string around the roulade to secure it. Bake for 25 minutes or until prosciutto is crisp. Cool for 10 minutes (very important) to allow the cheese to firm up and then slice with a serrated knife.
Step 6 - While the chicken is cooling before slicing, make the gravy. Place the soup mix and the water in a saucepan along with the apricots, brandy and the tray drippings. Allow to thicken a little. If you want you can add 2 tablespoons of cream or a cornflour slurry mix to thicken. For cornflour, mix 2 teaspoons cornflour with 1 tablespoon water. Take the pot off the heat and stir this in and allow to thicken. Finish with a sprig of thyme.