If you're craving a classic crispy skinned roast chicken with stuffing then look no further than this recipe! This roast chicken recipe guarantees the juiciest, most succulent chicken, tender breast and crispy skin thanks to some clever but easy steps. It is served with a simple gravy and the most delicious cavolo nero and walnut brandy stuffing! If you want a classic roast chicken or you're planning a Christmas in July celebration this will be perfect and this is a pushy recipe Dear Reader!
There are a few special tricks that restaurants use to make an amazing roast chicken. The first is to start with a great chicken - I had a whole organic, free range chicken. Whole chickens were quite precious when the lockdown first started. I remember trying to order a whole chicken just because that's what I felt like eating and within 30 minutes of lockdown being announced, a store entire chicken supply online disappeared. Thankfully now it's easier and there seems to be less crazy hoarding behaviour, even with this stricter lockdown. I wanted to make this recipe for our own little Christmas in July dinner because we needed something to look forward to. The second tip is to brine the chicken beforehand.
Brining makes THE BEST CHICKEN and is a total game changer! Brining (which is simply soaking the chicken overnight in salt water) helps to keep the breast moist but it also seasons the chicken perfectly. I find that without brining, the actual chicken meat can be really bland, especially the breast. Even if you add flavours like spices, while it seasons the skin, it doesn't permeate to the meat. Brining makes the actual chicken soooo flavoursome right through all the meat. It will change the way you roast chicken!
Tips for brining:
1 - Make sure that you have a bowl or lidded container large enough for the chicken and room in the fridge. Mine was a 1.4kg/3lb chicken which fit in a large mixing bowl.
2 - Mix up a brine solution. I used 150g/5ozs. rock salt with 1.5 litres/3.17pints water.
3 - Don't brine in warm water, make sure the brine in cold (I find it quicker to heat up a cup of the water and then dissolve and then top up with cold water and then cool).
4 - If you don't have overnight to brine the chicken, even 4 hours will do.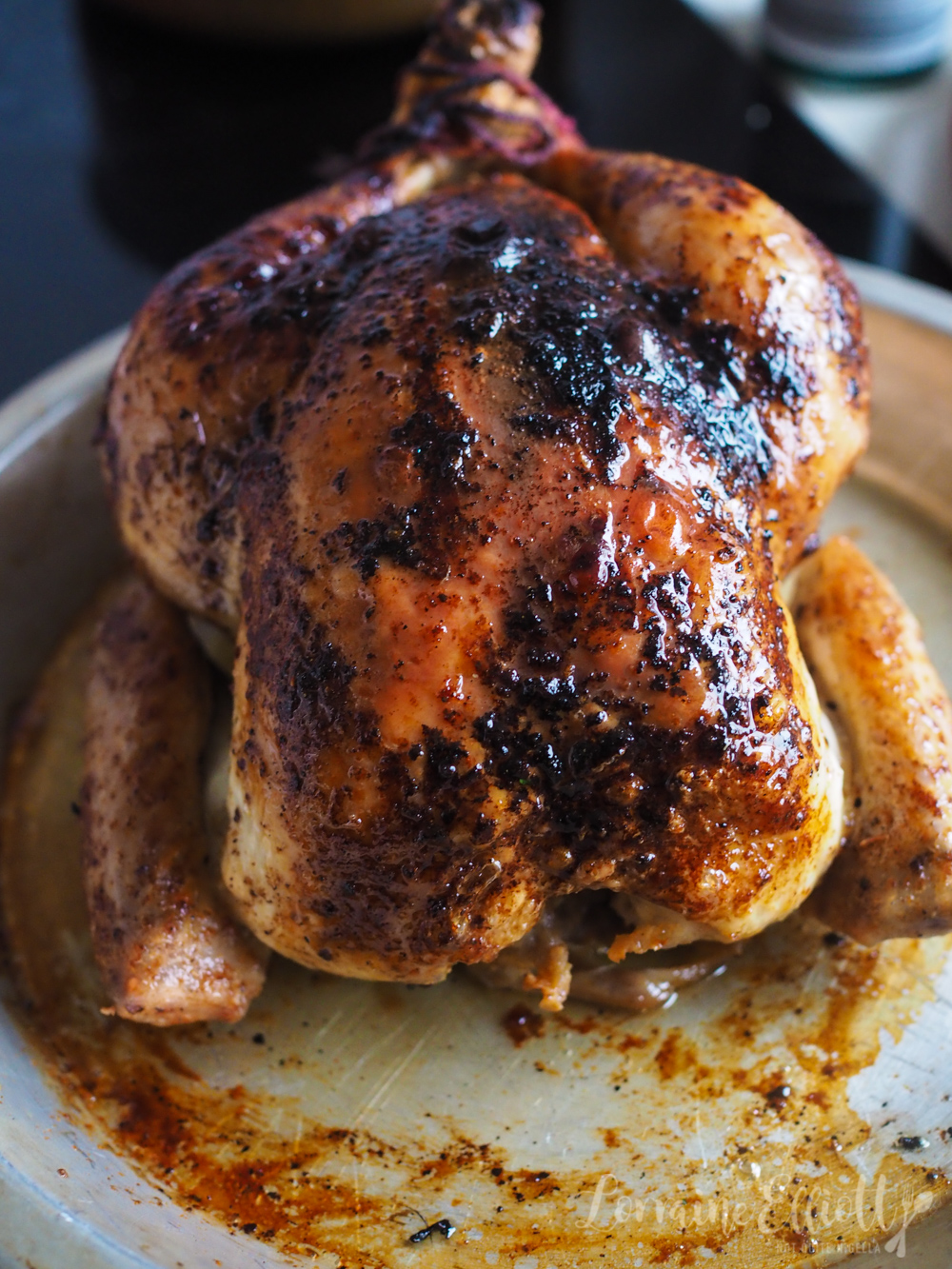 How to get that crispy skin: Make sure that you pat the chicken really dry-you'll use a lot of paper towels for this! Also bake the chicken on a rack or trivet-a trivet can be as much as a layer of potatoes or vegetables! Keep basting the chicken while roasting and the grill at the end gives it that final burnished crisp skin!
How to tell when chicken is done? How long your chicken takes to cook depends on whether a) you've taken it out of the fridge to come to temperature first and b) the size of the chicken. I take the chicken out 60 minutes before roasting it. A general rule for cooking chicken is that it takes around 45 minutes per kilo or 20 minutes per pound of chicken plus 20 minutes extra but honestly I like to cook my chicken for a bit longer because there's nothing worse than cutting into a pink chicken-everyone freaks out. The brining prevents the chicken from drying out.
Chicken stuffing: I love this cavolo nero and walnut brandy cream stuffing! You can replace the cavolo nero with spinach and switch up the walnuts with your favourite nut or dried fruit (raisins, cranberries). I bake my stuffing in a small loaf tin as I prefer to add lemon, garlic and herbs inside the cavity. Stuffing adds time to cook the chicken and we want to ensure that the chicken isn't overcooked. Also adding lemon, garlic and herbs adds flavour to the chicken from the inside.
It's all Gravy! Never use a gravy mix again with my easy gravy recipe. It's so simple-just skim the juices and then simmer with half a cup of chicken stock and thicken with a cornflour slurry. That's it. My friend Laura loves my gravy and messaged me, "Your gravy, it's AMAZING. I need the recipe."
Serve with Parmesan Garlic Potatoes & Chilli Honey Pumpkin Wedges the recipes for each of these sides are below. I also served this with buttered peas.
What to do with the leftover carcass? Make chicken noodle soup! Boil the carcass with 4 cups of chicken stock to create the best chicken noodle soup. Flavour it with a teaspoon of ground turmeric, a few drops of sesame oil and white pepper.
Christmas in July desserts ideas: Usually Australian desserts tend to cater to our warm Christmas weather but take the chance to warm up with these cold weather Christmas puddings: Quince & Apple Golden Syrup Self Saucing Pudding, Mandarin Delicious Pudding, Tergoule Normandy Rice Pudding, Oven Roasted Self Saucing Caramel Pears or Finnish Rice Pudding and Fruit Soup and don't forget your mulled wine (made in the slow cooker or stovetop!)
It was nice to have these leftovers for a couple of nights. The reason why we needed food for a few nights was we booked our COVID-19 vaccine shots ages ago, long before the current lockdown started which is why we were lucky enough to get it. We had heard the first jab has mild side effects and it was true for both of us as we both had a sore arm at the injection site that lasted for 24 hours. We were most worried about the second jab which apparently has stronger side effects. Just in case, I cleared my calendar for 3 days afterwards, made enough food and Mr NQN let his work know that he might need time off. I was operating under the assumption that I would be the badly affected as I am very small and the size of the dose is the same for everyone. I also have a history of anaphylaxis so I made sure that I brought my epi pen along to the RPA.
We were shocked when we first arrived at the registration area. There was a massive difference in the amount of people versus three weeks prior. When we had our first shot, there wasn't much of a queue but this was also before the Sydney cases started. This time the line was long and queues snaked around partitions but we were heartened to see such a great turnout. Everyone was wearing masks and they were socially distancing within the queue. It took a while and there was a man making free coffees for people in the queue. As we both have allergies, we were assigned red wristbands and when we reached the room, my nurse asked me lots of questions about my allergy. When it came to the shot, she was so gentle that I didn't really feel much (the first one was more painful). We drove home and then awaited any side effects.
Oddly enough and very surprisingly, I felt fine, great even with mental sharpness and surge of energy. "What was in that thing?" I asked Mr NQN laughing.
Mr NQN turned to me and said, "I have some chest pains." Chest pains are a rare but obviously concerning side effect of the vaccine especially in younger men. He went to emergency and they did a series of tests on him. They couldn't find anything. I have since learned from sharing this on my Instagram stories that everyone reacts completely differently. Some people are completely unaffected, some feel great while some feel as if they were a bowling pin hit by a strike. We don't know if Mr NQN's chest pains will subside (they're still there) or whether they're related to his vaccine anxiety as he grew up in somewhat of an anti vaxxer household (although his family are all getting the vaccine now). We also still have to wait for 2 weeks before we reach our peak immunity but we're just grateful that we were able to get it done.
So tell me Dear Reader, are you getting the jab? Have you had any side effects? Do you like chicken with or without stuffing and gravy?
DID YOU MAKE THIS RECIPE? Share your creations by tagging @notquitenigella on Instagram with the hashtag #notquitenigella
THE BEST CLASSIC Roast Chicken
Rated 5.0 out of 5 by 2 readers
An Original Recipe by Lorraine Elliott
Preparation time: 30 minutes plus overnight brining
Cooking time: 2 hours
Serves: 4-6
1.4kg/3lb chicken
150g/5ozs salt
1.5 litres/50flozs. water
75g/2.7ozs. butter, melted
2 tablespoons garlic powder or 4 cloves finely minced garlic
1/2 lemon, cut in 3-4
3 cloves garlic, peeled and halved
3 sprigs thyme
For Gravy:
1/2 cup/125ml/4flozs. chicken stock
2 teaspoons cornflour/fine cornstarch mixed with 1 tablespoon cold water
For cavolo nero and walnut stuffing log
2 tablespoons butter
2 tablespoons oil
1 onion, finely diced
2 cloves garlic, finely diced
100g/3.5ozs finely chopped cavolo nero, kale or spinach
2 tablespoons brandy
200g/7ozs/ fresh breadcrumbs
1 cup/110g/3.8ozs. walnuts, chopped and toasted
2/3 cup/165ml/6flozs. cream
1 egg, beaten
Salt and pepper
Step 1 - Start by brining the chicken overnight or for four hours. Dissolve the salt in the water and then place the chicken breast side down in a large bowl and pour the brine around and on top of the chicken and cover and refrigerate overnight.
Step 2 - The next day take the chicken out of the fridge 1 hour before you cook it to let it come to temperature. Sit it up so that all of the water drains out and pat it dry with lots of paper towels until the skin is very dry. You can also put it breast side up and uncovered in the fridge for a few hours to help dry out the breast (the drier the skin, the crispier it will be). Preheat oven to 200C/400F.
Sliding a teaspoon between the breast and skin
Step 3 - Stuff the chicken with the lemons, garlic and thyme and truss up the legs with kitchen twine. Mix the melted butter with the garlic. Slide a teaspoon under the skin of the breast reaching down as far as it will go. Spoon the garlic butter over the chicken and inside the skin where you've prised the skin and breast apart making sure to go all the way down. Place on a rack (I made a trivet out of potatoes) and bake breast side up for 1 hour 30 minutes basting the chicken intermittently around 3-4 times.
Spooning butter under the skin
Filling cavity with lemon, garlic and herbs
Step 4 - Gently turn the chicken over and allow to roast for another 30 minutes breast side down. Then turn the chicken breast side up and grill for 8-10 minutes until evenly browned.
Make the spinach & walnut stuffing: While the chicken is roasting make the stuffing as it only takes 45 minutes to cook in the oven. Saute the onion and garlic in the butter and oil in a saucepan or pot. Add the spinach and saute for 3-4 minutes until wilted and then add the brandy and cook for 3-4 minutes. Add the breadcrumbs, walnuts and cream and stir to combine. Take the pot off the heat and mix with the beaten egg. Season with salt and pepper. Line a small loaf tin (15x9x7cms/5.9x3.5x2.7inches) with parchment and bake for 45 minutes.
All the delicious juices for the gravy
Make the gravy (ideally just before serving): Place the chicken on a serving plate and cover with foil to keep warm. Drain the juices and skim the fat from the top (keep the chicken fat to cook with, it makes great roast potatoes). Place the juices and chicken stock in a small saucepan and bring to the boil. Knock the heat down to medium and add the cornflour slurry and allow it to thicken while stirring. Serve immediately.
Don't forget to strain the fat (top layer) from the drippings
Parmesan potatoes:
Preparation time: 10 minutes
Cooking time: 1 hour
1kg/2.2lbs potatoes
2 teaspoons salt for boiling
3 tablespoons oil
40g/1.4ozs. melted butter
1 teaspoon garlic powder
1/2 cup grated parmesan
Step 1 - Cut potatoes into large chunks (no need to peel) and par boil in water with 2 teaspoons salt for 15 minutes. Line a baking tray with parchment and drizzle with 3 tablespoons oil and roast at 220C/440F for 30 minutes until golden.
Step 2 - Mix melted butter with garlic powder. Sprinkle with grated parmesan and garlic butter and roast for 10 minutes.
Chilli Honey Pumpkin Wedges:
Preparation time: 10 minutes
Cooking time: 45 minutes to 1 hour
700g/25ozs. pumpkin
2 tablespoons chilli sauce
2 tablespoons of oil
2 teaspoons of honey
Salt and pepper for seasoning
Step 1 - Cut a pumpkin into thin wedges and place in a parchment lined baking tray and preheat oven to 220C/440F. Mix chilli sauce with oil and honey and brush over the pumpkin and roast until caramelised and the pumpkin is soft. Season with salt and pepper.