Chicken Sorrentino is a delicious dish that is all about warmer weather with tomatoes, eggplant and basil. Chicken breasts are pounded until tender and then pan fried and then layered with prosciutto, crumbed eggplant slices, a rich tomato based sauce and lots of cheese! It's great to serve guests too. This is a pushy recipe Dear Reader!
Chicken Sorrentino might sound vaguely familiar. I first heard of it as Gnocchi alla Sorrentina. As the name suggests it hails from Sorrento, a town overlooking the bay of Naples in Southern Italy. It uses what is abundant there and the sauce is a simple but delicious combination of garlic, sweet tomatoes, creamy mozzarella and basil. The chicken version is called Pollo alla Sorrentina. It's absolutely divine and you cannot go wrong with tender chicken breast, crumbed eggplant, prosciutto, a rich tomato sauce and cheese.
What I love about this chicken sorrentino is that it reheats really well. You can make it and then freeze it or keep it in the fridge and just warm it up in the oven. To me it's the perfect dinner party food as you can cook it beforehand and then warm up when people arrive. And the chicken breast (usually a cut I am ambivalent about because of its dryness) melts in the mouth as you pound it until tender.
Speaking of guests I have some very exciting news to share Dear Reader. Last weekend we bought a house! After months of searching we finally found our new home! The whole home buying process in Sydney (and from what I hear all around Australia now) is a horribly tense and discouraging one. If you're looking for a home right now I feel your pain.
We have always hated auctions but everyone seems to want to go to auction nowadays so we had no choice. We had one advantage (no, not rich parents - I wish!). We had a buyer's agent on our side. You can hire a buyer's agent to either a) help you bid at auction b) help you evaluate and negotiate a house or c) help you find off market properties but the latter is very expensive so we hired one to help us evaluate and negotiate a home.
We found this gorgeous free standing federation style home with a magical garden that was just almost too beautiful to be true. Both Mr NQN and I loved it which was rare. Usually with the two of us being such different personalities it's not a problem but it really came to a head when looking for property as we could never agree. Mr NQN also was happy to live further from the city but I wanted to stay as close as possible but I would find that my border would have to shift as property prices increased sharply in the East and city. But then we came across what was an amazing house. The master bedroom upstairs was enormous which a lot of them aren't and it had beautiful period finishes and ceilings as well as polished floorboards, an outdoor spa as well as jasmine, Meyer lemon, lime and jacaranda trees. All close enough to the city and my friends. It had a very unique kitchen which you would either like or dislike and the bathrooms needed a bit of work but it was entirely liveable.
On the morning of the auction we were counting every dollar we had. Mr NQN, a very risk averse man, suggested throwing in his next paycheck to add something to our pot and off we went. I didn't like our chances as real estate agents usually under-quote to get interest and properties routinely go for half a million dollars over the guide and there was no way we could afford it if it did. The auction was held in the garden and it turned out to be a very dramatic one. It went quickly down to us and another bidder who we couldn't see as he was in the corner hidden underneath a hoodie (so very Unabomber). When he started to ease off the accelerator, the real estate agent went over and whispered to him to try and extract more money out of him (I mean seriously, how is that even allowed?).
Then when we were almost at the end the real estate agent started running back and forth between our buyer's agent and the vendor who was sitting in the front part of the house with her friends. It turns out after watching The Block she had set a huge reserve put against the house and we weren't close to it nor could we afford to reach anywhere close to her reserve. I didn't understand what was going on as he was whispering to our agent and I almost wanted to walk out because of the tension.
Finally, after what felt like 10 minutes running back and forth the vendor accepted our bid and the house was ours! Shaking with adrenaline, we signed the contract and the vendor came out and gave us glasses of champagne to celebrate. The real estate agent then divulged that he knew that the other buyer had plenty more in his budget but it appeared that he was flummoxed by our buyer's agent's bidding strategy which was a bluff suggesting that we had plenty more in reserve too (which we didn't, we literally only made it because of Mr NQN's last minute addition!).
The vendor was a friendly retiree who was moving to the Gold Coast after living in the house for 30 years. She introduced us to her friends and the neighbours in the front of her house and they looked like a really nice bunch. We move in in January 2022 so we will have one last Christmas at our apartment and then the next year will bring new things in our new home! And I still can't believe Christmas is just around the corner in a matter of a couple of days.
So tell me Dear Reader, how did you find the whole home buying process? Have you ever tried Gnocchi alla Sorrentino or Chicken Sorrentino?
DID YOU MAKE THIS RECIPE? Share your creations by tagging @notquitenigella on Instagram with the hashtag #notquitenigella
Chicken Sorrentino
Rated 5.0 out of 5 by 4 readers
An Original Recipe by Lorraine Elliott
Preparation time: 45 minutes
Cooking time: 60 minutes
Serves: 4
For Sorrentino sauce:
2 garlic cloves, peeled and diced
600g/22ozs tin diced tomatoes or tomato passata
1/4 cup/60ml/2flozs red wine or marsala
1 teaspoon salt
1 teaspoon sugar
Black pepper
For the rest:
1 large eggplant (around 300g/10.6ozs)
Salt and pepper to season
650g/23ozs chicken breasts (2 chicken breasts)
1/2 cup plain all purpose flour
4 slices prosciutto
2 cups/200g/7ozs. mozzarella cheese
1 cup/90g/3ozs parmesan cheese
Basil and parsley, chopped
Step 1 - I make the sauce first as it's easier to layer things on top of the sauce. Sauté the garlic and cook for another minute or two until soft. Add in the tomatoes and red wine and bring to a simmer. Cook for 25 minutes and then season with salt, sugar and pepper adding more of one depending on the taste - you want this well seasoned (I get on with the rest of the dish while the sauce is cooking). Spoon half of this mixture into a large baking dish.
Step 2 - Slice the top off the eggplant and cut into 4 thickish slices around 1cm/04inch thick. Salt generously and wait for 10 minutes to allow the salt to draw out the bitterness. Pat dry with a paper towel.
Step 3 - While the salt is doing its thing slice the chicken breasts in half across and then cover with clingfilm and pound until half the thickness so you have four flattened chicken fillets. Season generously with salt and pepper. Don't skip this step because it's important. I know I sound bossy but trust me ;)
Step 4 - Preheat oven to 180C/350F. Place flour on a rimmed plate and dredge the chicken fillets and fry the chicken in some oil until almost cooked. Place on the baking tray on top of the sauce. Add the prosciutto on top of the chicken.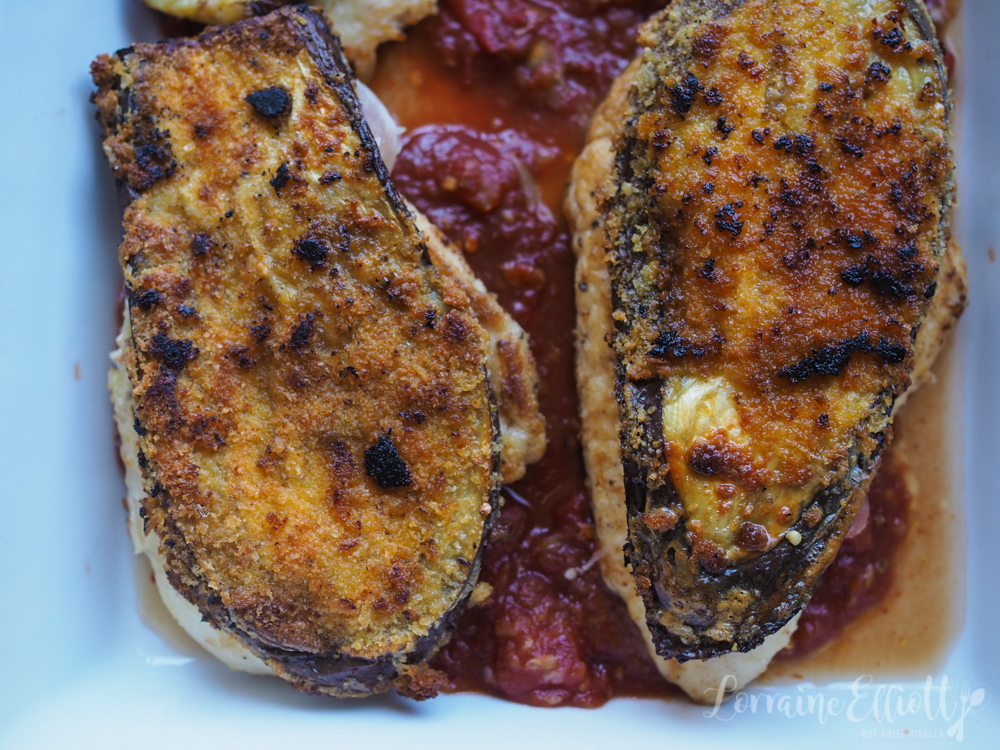 Step 5 - Then crack and beat the eggs into a shallow bowl and add the breadcrumbs into another bowl. Dip the eggplant in the flour, then beaten egg and then breadcrumbs. You can also oven bake the eggplant slices (just brush generously with oil) if you want a lighter version. Add some more oil to the pan and fry the eggplant (these soak up quite a bit of oil). Place these on top of the chicken and prosciutto. Top with the remaining sauce and then the mozzarella and parmesan. Bake for 15 minutes or until lightly browned. Serve with basil and parsley on top.