One of the most anticipated openings of 2020 and 2021 is the Crown Towers Sydney, the city's first 6 star hotel at a cost of $2.4billion. Take a look inside the hotel and the restaurant offerings!
Crown Sydney opened on the 28th of December 2020 with 9 out of the 14 eateries open. The remaining restaurants and bars are set to open in March 2021 along with the villas and rooftop bar. The building, designed by New York City-based firm Meyer Davis, has 349 guest rooms, 20 villas and 2 premium villas.
I was very curious to see what 6 star would actually play out. What makes this a 6 star hotel and is it worth the tariff?
The first thing you notice upon entering the Crown Sydney lobby (along with the COVID checks and screenings) is the almost 8 metre Czech made crystal chandelier with 396 crystal blades. The hotel stands at 275 metres making it Sydney's tallest hotel with a façade comprising of over 8,000 glass panels. The main textures are stone and marble with over 50 types used in the hotel and public areas.
Inside Nobu
The restaurants and public areas are located between levels 1-5 and these include Woodcut (review here), a'Mare by Alex Pavoni, Nobu and Yoshii's Omakase. The most popular restaurant has been Nobu and currently it is booked 3 months in advance.
Chef Ryuichi Yoshii of Yoshii's Omakase prepares for service
Teahouse
Perhaps one of the most eye catching locations is the Teahouse on the second floor which is like a colourful peacock come to life with bright teal, purples and pink velvets. The pick is one of the bird cages, particularly for groups.
Mocktail and Lychee Rose Tea Martini $24
From there you can order dainty little morsels like the delicious honey glazed Glacier 51 Patagonian Toothfish Puffs, Hainanese mini chicken roulade or a selection of dim sum.
All of this in the comfort of a peacock print lined "bird cage" which brings all of your I Dream of Jeannie fantasies come to life.
Honey glazed Glacier 51 Patagonian Toothfish Puffs $19
Life Hack: On Friday to Sunday the bird cages attract a minimum spend of between $1,000-$2000. On other days there is no minimum spend for the bird cages.
a'Mare
a'Mare by Ormeggio's Alex Pavoni is one of the two restaurants on the ground floor near Crown's wharf. So what is the difference between a'Mare and Ormeggio? a'Mare's menu is focused on classics that are simply presented while Ormeggio's dishes are creative modern Italian with a focus on striking presentation. And while a'Mare means 'from the sea' it isn't a seafood restaurant and it has as many meat dishes as seafood.
Pesto done at the table
Service is one of their strengths and you feel like you've been transported to Italy in the 1950's with white tuxedoed waiters although they have a more modern update with earpieces. "Marco, I'm with the pesto," says one whispering into his ear piece while mixing our pasta at the table.
This mixing and making at the table is a feature of several dishes on the menu. For example, the pesto made with local basil and Puglian extra virgin olive oil is made using a mortar and pestle at the table.
Stracci al pesto $34
The pesto is paired with house made stracci pasta, a flat, wide pasta with ruffled edges. The pasta is perfectly al dente and the fresh pesto is divine.
Cotoletta orecchia di elefante $180
Save room for the enormous "elephant's ear" veal cotoletta which at $180 is at the upper end of the menu and is designed to feed two although it could easily feed three. The enormous 1kg veal cutlet is coated in a grissini crust. It is golden crispy and crunchy on the outside and tender on the inside. It comes with half a lemon and semi dried cherry tomatoes on top to balance it. This goes perfectly with the wild rucola and parmesan salad.
Gelato fior di latte $20
Desserts also have flair - the fior de latte gelato comes on a trolley with a choice of caramelised pistachio, pistachio cream, Amarena cherries and chocolate. It may sound odd but I actually love it just plain to bring out the subtle flavour of the milk.
Life hack: if you want to sit outdoors at a'Mare, the outdoor section gets a lot of sun until near sunset so time your visit according to how much sun you want. The outdoor section is also very windy on one side.
88 Noodle
If you're looking for something quick and tasty then head to level 3 for 88 Noodle. There Thai American chef Meena Throngkumpola makes her own chilli oil and hot sauces (Durian jalapeño and mango miso) along with a range of noodle dishes and pan-Asian starters.
Thai Roast Pork Belly Salad $28
My favourite starter is the Thai roast pork belly salad. While it sounds like it might be heavy, it is light and balanced with perfectly cooked pork belly slices and a herb and lemongrass salad with plenty of garlic. The duck roti sandwiches are tasty and textural. And the stir fried morning is the tastiest way to eat your vegetables.
Ratchaburi Dry Noodles $26
As expected, the main event is noodles given the name and the Ratchaburi wet or dry noodles with egg noodles, Chinese broccoli, spring onion, coriander and fried garlic are perfect for a substantial lunch. If you are after something a bit richer, the duck shoyu ramen is delicious with egg, spring onion, kikurage, menma and black garlic oil.
Hong Kong Waffle serves 2 $22
But save room for the Hong Kong waffle. The puffy, crispy charcoal waffle is served with condensed milk ice cream, strawberries, pandan mochi and passionfruit for a real textural and flavour sensation.
Life hack: the Hong Kong waffle says that it serves 2 but it can definitely serve more especially if you've preceded it with a meal. There is no takeaway available at any Crown venues except for Il Caffe.
Epicurean
Breakfast is served at the Epicurean dining room on level 5 between 7:30-10:30am. This is a COVID-safe buffet which means that while there is still a wide selection, everything is served by the waitstaff and chefs behind the counter so that guests do not touch the serving implements. While this serves as the hotel's breakfast restaurant for guests only, non-hotel guests can book lunch and dinner here.
Sweet tooths can start their breakfast with the chocolate fountain (there's a milk and dark chocolate one) and skewers of marshmallows and strawberries.
There's a comprehensive range of food with Western Indian and Chinese offerings as well as a fruit station with whole and cut fruit, fruit salads and a dedicated gluten free area.
Many of the offerings are brunchy or even lunchy. I go for the Taiwanese beef noodle soup and a selection of dumplings while Mr NQN enjoys his picks from the fruit and juice station.
Life Hack: If you want less crowds (for COVID reasons) go earlier as it is quieter in the morning. Crown is more a leisure hotel than a business one so people tend to get up later for breakfast. The busiest periods are 9:30-10:30am.
Crown Spa Sydney
One of the most gorgeous areas is the Crown Spa on level 6 which is next to the gym, designed by Blainey North. The 2000 square metre large spa is divided into female and male areas that mirror each other.
Those with spa treatments can arrive 45 minutes early to use the Aqua Retreat area with a vitality pool, steam room, sauna and the Swiss experience shower that you can set to target specific areas of your body with hot and cold water.
There are two treatment rooms for couples. Push the pink fan door handle and enter the enormous room with dual treatment beds, shower, facilities as well as a light filled bathtub room.
I try one of the Subtle Energies facial (an Australian ayurvedic brand), a holistic customised treatment developed in consultation with the therapist where you tell her the areas of concern and she will tailor products to your skin type. My therapist Rita gives me a fantastic facial with products that smell wonderful and follows this with a Marma massage on my face and décolletage. I can definitely see myself booking in again for treatments here.
Life hack: Non hotel guests can also purchase access passes to the Aqua Retreat.
Crown Sydney Hotel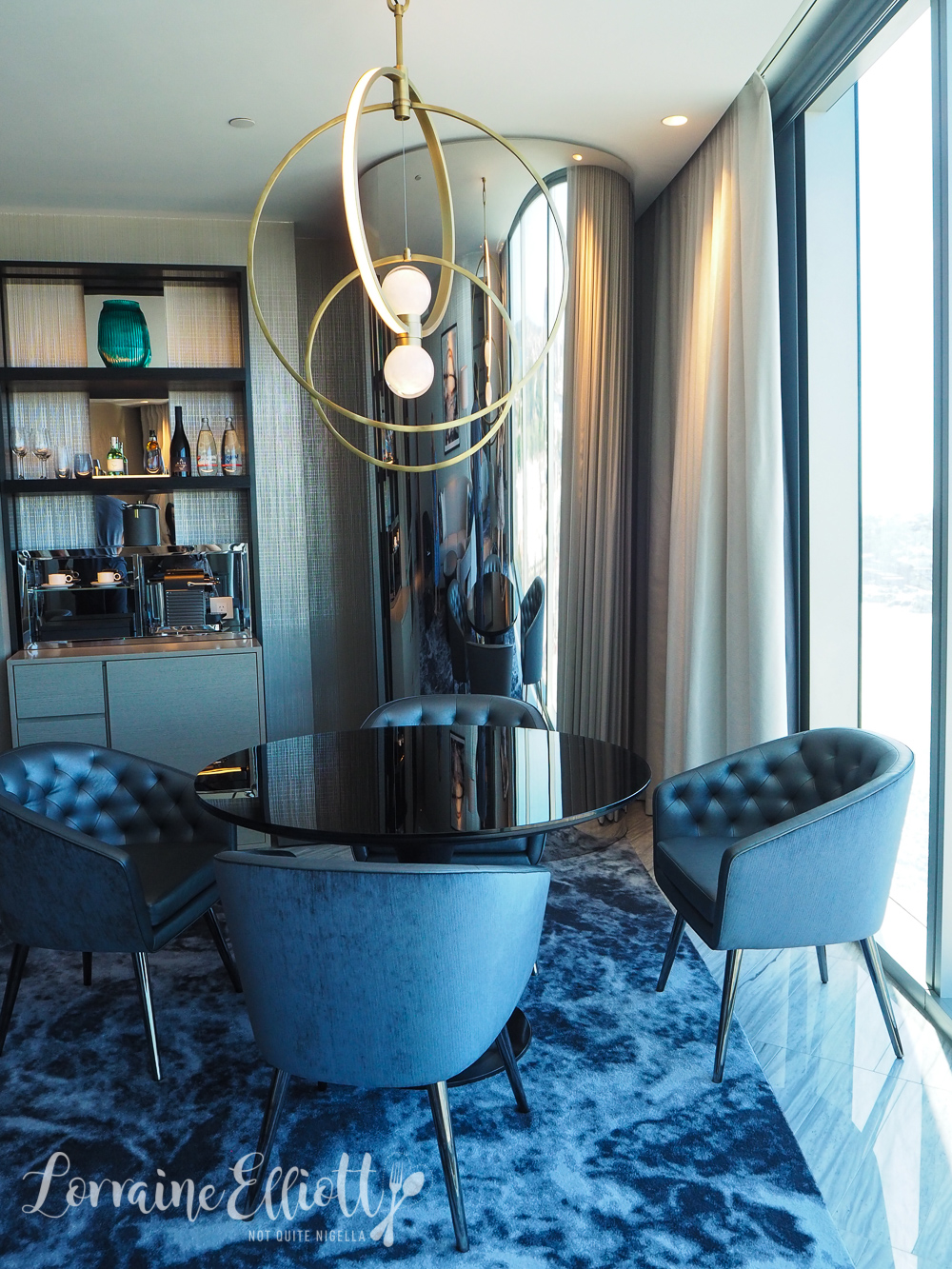 One of the unique things about the Crown Sydney is the variety of views and rooms. While there looks like there are four room types on the website, esach room and suite in the hotel is different due to the curved geometric design of the hotel.
Our room is an executive king suite which is 85 square metres. We walk past the powder room, into a sitting area with a large curved sofa, dining table for four and a mini bar which is stocked with TWG tea, coffee machine, wine, Cacao chocolates and other assorted snacks.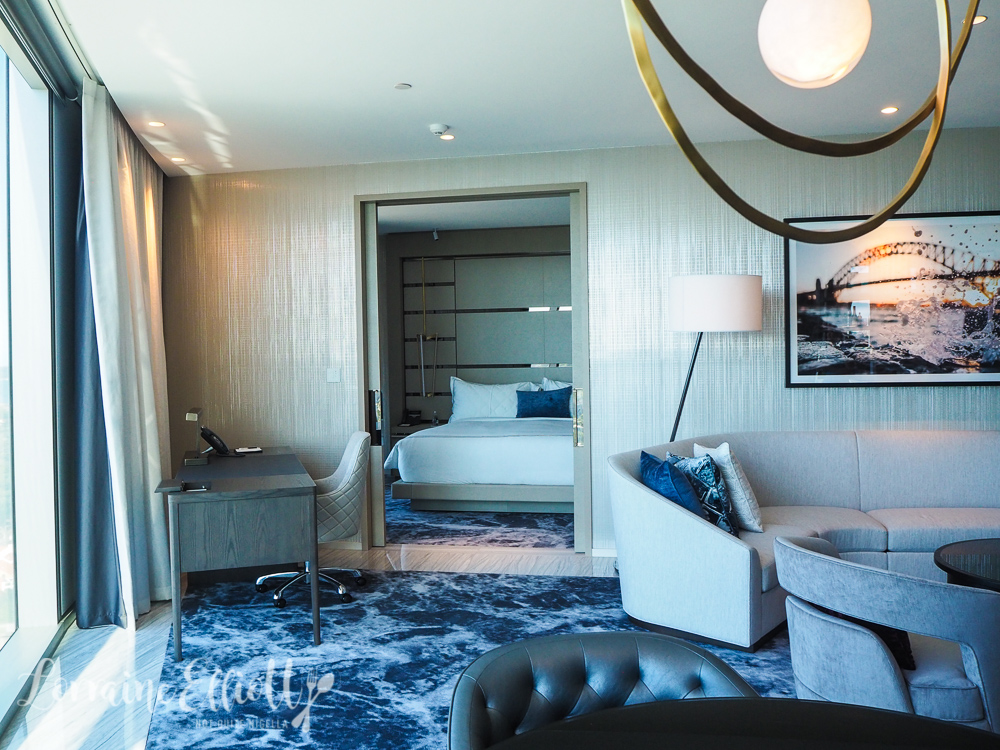 There's a large work desk and plenty of switches and plugs so this is as much a place to work as to rest. Unfortunately our view is somewhat marred by the construction and cranes below and the Sydney Opera House is visible only if you crane your neck from the bedroom but the Harbour Bridge is visible.
The king bed has smooth textured, luxe Frette bed linen and down pillows by Jaspa Herington. The pillows can be quite high but do sink down a bit. On the side are plugs and switches to close and open the blinds and curtains electronically. The leaf motif determines how bright you want your room-one leaf is dim, two brighter and three maximum brightness.
The Ella Blue Marble bathroom has an enormous bath suitable for two (yes we tested it) with bath salts to help you relax. The two sink vanity is spacious and there's a comprehensive amenity kit featuring everything that you want including a portable hand sanitiser.
The shower has four settings. There is one regular massage head as well as a monsoon shower head with three settings and you can have all four on at once if you want a massage effect. Toiletries are by Grown and are scented in unisex scents like mandarin and rosemary leaf (these are slightly larger at 75ml). Towels and rugs are plentiful, plush and soft.
And let's not forget the Japanese toilet with its many switches and remote control. Don't worry the, glass is one sided-you can look out but they can't look in.
The mini bar is expensive and I couldn't find a price list so the large bottle of sparkling water set me back $20. Also be sure to check your credit card statement as I was charged for two drinks by the pool which weren't mine.
For hotel guests there is a main pool area with bookable cabanas and floating beds in the pool although on sunny days it can be a challenge finding a spot. There is also a spa and a gym with personal trainers on hand as well as a tennis court with colourful surface art by interdisciplinary artist Reko Rennie.
When we return to our suite after dinner they've laid slippers out for us and Cacao chocolates sit on the bed. I run a bath, add the bath salts and switch on the tv by the bath and relax.
Life hack: the pool is very popular and it can be hard to find a spot as they start filling up at 8am. Try and book a cabana (rumour is #3 is the best cabana as it offers some privacy behind a tree).
As for the casino, as someone with zero interest in gambling and casinos, I actually forgot about the casino completely. At the time of writing it wasn't open.
So is the new Crown Sydney worth it? With rooms starting at around $869 including breakfast for two it is firmly aimed at the top end of the market. Also a rating of six star might imply butler service or added extras above 5 star hotels. For those seeking that will have to book the villas.
View from a villa
The Crown Villas are accessed through a separate entrance and these rooms are similar to the main hotel's although there are more luxe touches like more marble, an upgrade in mini bar options, a balcony and butler service. Villa guests and residents also have their own private pool that sits above the main hotel pool, next to the tennis court. These villas will also attract a premium price with prices starting at $2199 to $4199 a night.
Private pool for villa guests and residents
So tell me Dear Reader, which restaurant did you like the look of the most? And what were your thoughts on the suite? Have you visited the new Crown Towers?
NQN stayed as a guest of Crown Sydney but all opinions remain her own.
Crown Towers Sydney
1 Barangaroo Ave, Barangaroo NSW 2000 Phone: (02) 8871 6371
crownsydney.com.au