Woodcut is a new restaurant at the brand new Crown Sydney. With four kitchens and a menu designed by Ross and Sunny Lusted, it has a Modern Australian menu focusing on cooking with wood, charcoal and steam.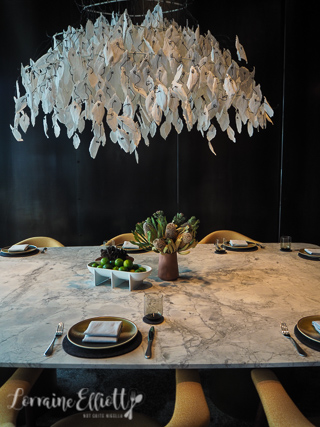 While Woodcut has been open for just over a fortnight, the concept for Woodcut has been in the Lusted's minds for over a dozen years.
Borne of travels and meals overseas, it came to fruition when he was offered the pick of his spaces in the new Crown Sydney. It is an expansive 1000 square metre ground floor location with a bar located towards the back towards Barangaroo Pier. Crown's director James Packer had only one edict: "Make it world class."
Steam kitchen
Service is smooth and thoughtful, even in these early days. When they see that Ivy and I are deep in catch-up conversation they come back later. There's a comprehensive talk through of the menu, split up into different sections according to the four kitchens (Fire, Steam, Smoke and Ice).
Bronte $25, Show Pony $15 + Grey Goose $19
We start with cocktails because it's Ivy's birthday. I have a Bronte with Manly Spirits dry gin, elderflower, strawberry, basil and citrus which is nice although could be stronger in flavour. Ivy has a Show Pony which is a mocktail with Seedlip grove, blueberry, pineapple, thyme and lemon which she had vodka added to it. It's definitely the pick of the two taste-wise although it ends up being a rather expensive cocktail once vodka is added at $34.
Grilled Tasmanian black garlic bread $7
As the only booking we could get was at 2:30pm we were famished so we got to ordering quickly. There are four types of house-baked breads on offer and while they all sound good, we liked the sound of the grilled Tasmanian black garlic bread, with sweet black garlic cooked in a low oven for weeks. It's delicious with a brown butter aroma and a spread of black garlic paste on the bottom.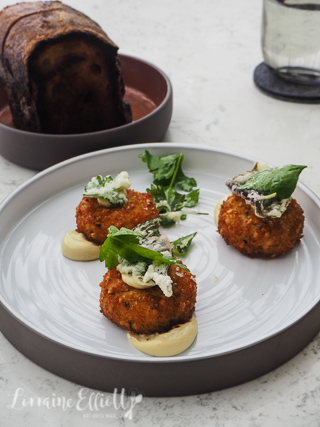 Crab cakes, fried leaves, oyster mayonnaise $28
Our first two dishes arrive and the crab cakes are three petite potato and crab cakes on dabs of oyster mayonnaise and topped with tempura'ed shiso leaves. It's perfectly seasoned with the oyster mayonnaise a creamy, umami addition, and the crab cakes are tasty morsels with a crunchy crumb and soft inner.
Grilled raw beef, salted duck egg, mushroom, radish $31
They explain that the grilled raw beef is lightly cooked on the outside. It is like a Korean tartare with a freshness to it as well as a strong umami flavour with the nori, mushroom and salted duck egg.
Twice cooked veal tongue, caper sauce, nasturtium $21
I adore tongue and the twice cooked veal tongue is served on a skewer with a creamy caper sauce and nasturtium leaves. A little goes a long way and this is a rich dish.
"Brick" chicken, fragrant lime, barberries $23
"Damn this is good chicken," says Ivy. The brick chicken is served on the cast iron pan it is cooked on. The chicken is beautifully juicy with lime and barberries to give it a tart flavour. There are also plump currants on the side and this is one of our favourite dishes.
Pippies, vadouvan, roasted chickpeas, chickpea leaves $32
Our next course comes from one of the steam kettles. It's pippies with vadouvan (French curry) with turmeric, roasted chickpeas and chickpea leaves. The pippies are tender and delicious although seven of them are firmly sealed shut which is around a third of them which isn't great. These are best ordered with some bread to mop up the juice.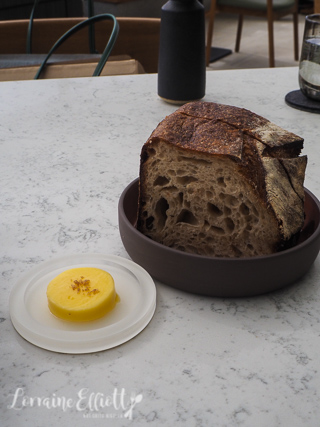 Rangers Valley Black Angus, Glen Innes NSW $180
The menu features three suppliers of grass and grain fed Australian beef. We chose the Black Market T-bone 1kg 270 days done medium rare. It's wonderful with a luscious beef, full of flavour and with a delicious caramelised crust from the charcoal.
We ordered it with all four sides: an aerated bearnaise sauce strong in tarragon, a selection of mustards (seeded, hot English and horseradish), veal jus and melted Cafe de Paris butter. It also comes with a tomato salad with roasted tomato paste and herbs which is a nice counterpoint to the rich steak.
Salt baked potato, potato cream, green onion oil $15
A must order with the steak is the salt baked potato with potato cream and green onion oil. The potato is perfectly seasoned from being baked in salt and the green onion oil potato cream is also a wonderful accompaniment to the steak too.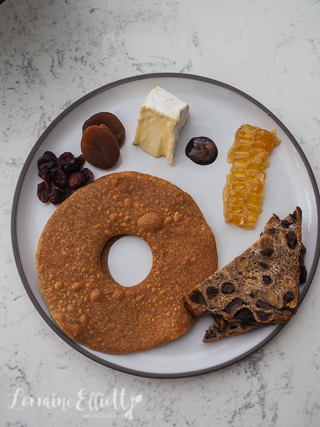 The Pines Dream, Kiama, New South Wales $19
I have to order cheese before dessert. I try some Dream pasteurised cow's milk white mould soft cheese from The Pines in Kiama. It's served with a double layered crisp round cracker, fruit bread, pomegranate molasses and honeycomb (which it pairs with perfectly).
Chocolate, wood roasted hazelnuts, hazelnut milk $18
It's sweet dessert time! At first I look down at the bowl and wonder if we've ordered a bowl of nuts. It's a clever trick on the eye with small round, crisp pastries that resemble hazelnuts and halved hazelnuts with a chocolate mousse and hazelnut milk.
Northern Queensland Fay Zee Sui lychees $16
There are three types of fresh fruit on ice on the menu. These feature top grade fruit on ice from Tasmanian cherries to Queensland mangoes. We went with our waiter's recommendation of Fay Zee Sui lychees, one of the most divine lychee varieties with a small pit, thin, papery skin and white flesh whose juice pours out with every bite. I rarely see lychees of this size in Australia, they're usually eaten in Thailand during lychee season...those were the days!
You know you've had a leisurely lunch when you look at the time, it's 6:30pm and they're starting to seat diners for the dinner service!
So tell me Dear Reader, have you ever finished lunch so late you've eaten into the dinner service? Which dish did you like? And would you order the fruit on ice?
NQN received some complimentary dishes but the rest of the meal was independently paid for.
Woodcut
Crown Sydney, Level 1/1 Barangaroo Ave, Barangaroo NSW 2000
Open 7 days 12–3pm, 6pm–12am
crownhotels.com.au/sydney/restaurants-bars/woodcut