Mango Coco is a Thai dessert cafe in Haymarket based on the combination of mangoes and coconut. There you'll a range of smoothies (naturally including myriad combinations of mango and coconut) as well as Thai fusion dishes and eye catching desserts. But be warned: there can be a queue to get in on popular nights.
I had all intentions of staying in this past Friday night. It was raining and I had already gone out for lunch with Monica that day. I had skipped dinner because I was still full from lunch and then the message came from Laura around 8:30pm. She had a sweet craving after abstaining from sugar for weeks. "I'm thinking of ordering from Mango Coco Thai desserts. Have you eaten there?" she asked. I hadn't but when she sent me the link I suddenly perked up. We sent each other screengrabs of all the drinks that we wanted to try and even made a tentative mid week date.
"Let's just go. LOL. Joking not joking" she said.
"Now? YES!!!!" I answered.
And within 10 minutes Mr NQN had agreed to drive us in and pick us up as long as we bring him back a mango smoothie. When we arrive at Mango Coco there's a big crowd outside (it's Lunar New Year so that might account for the extra crowds). We put our name down and wait. It takes around 20 minutes and in that time we peruse the fridge of cakes, look at the display of sweets in the front and flip through the menu.
Still when we sit down amongst the pro mango neon signs and enormous hanging mangoes (they've definitely committed to a theme) we are confused at what to order, the plethora of choice rendering us immobile and indecisive. The menu is in a hard cover story book and we flip and flip.
Although the main thing are mango and coconut drinks, we are flummoxed by the sheer number of combinations of drinks with mango and coconut. There's mango and coconut and sago, and pearls and foithong (sweet egg threads) and different ratios of each offered. We finally decide and make an order with our friendly waitress.
Tom Yum Spaghetti $17.95
The first thing to come out is the tom yum spaghetti. If you've ever visited Thailand you know that this is a popular dish, especially in cafes and it's so delicious I was inspired to make my own version. It's Laura's first time trying it and she loves it. It's creamy and spicy but not overwhelmingly spicy. There's a tangle of saucy spaghetti and tender prawns, mushroom, tobiko and cream. Just delightfully moreish.
Mango Bossa Sparkling $7.50
The drinks start arriving. Laura's mango sparkling drink is nice, although if you are going for bang for your buck the smoothies are better value as they're crammed with fruit while this has a light fruit syrup with some finely diced mango with a seltzer quality to it. We ordered all our drinks with half sugar so that they're not too sweet.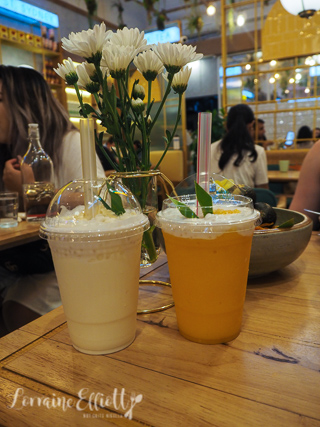 Sago Coconut Smoothie $7.50, Mango Coco Sago $7.80
After much debate we settled for the mango coco sago smoothie with coconut and it is tastes just like pure, fresh mango. I can be hard to mix it up to get a bit of the coconut sago as the mango base is quite frozen and smoothie-like in consistency. This is more pure mango than Mango Weiss bar (which is what I was expecting). Laura loves a classic sago and coconut dessert so she orders it in a smoothie form. It's comforting and sweet and tastes just like the dessert in a frosty smoothie form. I slightly prefer the dessert version as it is creamier and less frosty but it's good for a hot day.
Strawberry Pinky Smoothie Yogurt $7.50
I have a thing for strawberries and cream. It's my first love and my favourite combination as a child. And this is just like having a fresh strawberry yogurt in a drink. We like that the drinks taste like fresh fruit and they are substantial but well priced. This doesn't look quite as pretty as the photo but that happens.
Thai Tea Bingsu for one $13.90
There are several varieties of bingsu available. This is a single serve Thai milk tea bingsoo although most groups seem to order the share ones which are massive and a bit more photogenic. The ice melts on the tongue just like a good bingsu should and it is sweet, milky and aromatic with a distinct Thai milk tea flavour. It comes with boba pearls, Earl Grey jelly cubes, cream and an Oreo crumb.
Egg On Nest $20
Then lastly the Egg on Nest is one of the most eye catching items on the menu. It is half a dozen or so charcoal mochi sweet potato balls filled with a liquid salted egg yolk sauce. This sits on a bed of crispy sweet potatoes, mango pearls and fruit and arrives at the table in a cloud of dry ice.
It's very popular on Instagram because of the liquid centre and the dry ice. How does it taste? It's delicious. The mochi are crispy on the outside and chewy with a liquid salted egg filling-be warned it is very liquid so lean over when you bite into it!
So tell me Dear Reader, do you like your drinks with full sugar, half sugar or no sugar? Do you like spontaneous food dates or are you a planner?
This meal was independently paid for.
Mango Coco
421 Pitt St, Haymarket NSW 2000
Monday to Thursday 12–9:30pm
Friday 12–11pm
Saturday 11:30am–11pm
Sunday 11:30am–9:30pm
Phone: (02) 8065 7034
mangococo.com.au