Part Thai grocery shop, part cafe and restaurant Jarern Chai (the grocery shop) and Boon Cafe (the eatery) dishes up Thai food for homesick Thai expats or simply Thai food enthusiasts. The menu is large and switches from an intriguing breakfast selection during the day to Thai Isan food at night.
It was 6pm and at the end of a long and fun day filming around Sydney. A camera crew had just finished up following me around for a day (I should add that is not a normal day for me :) ) and they asked me how I would normally end a Friday night. Usually it is with my squad around a table eating dinner.
"We're not in Chinatown anymore really," says Mr NQN looking around the small section of Pitt and Campbell streets. The street signs and names are more Thail than anything else and I had chosen it for a reason. I was curious about the Thai food at Jarern Chai Boon Cafe, part of the Chat Thai family. The rather glamorous glass fronted facade had caught my eye as we were driving past it a month before. "What is that place?" I asked Mr NQN craning my neck.
On one side it is a Thai grocery store with a large chilled section for produce and on the left hand side it is a cafe and restaurant. During the day the breakfast and lunch menu is about cafe food with a couple of Thai dishes thrown in as well as gelato in a bun. It has become a favourite haunt of some of the Noma chefs too for breakfast. At night, the menu turns to Isaan food, from the North Eastern area of Thailand with a big Laotian influence. It was something that we had tried in our recent trip to Chiang Mai, the food stamping a resounding mark in our hearts and tastebuds with its spicy, fermented punch and ever present sticky rice.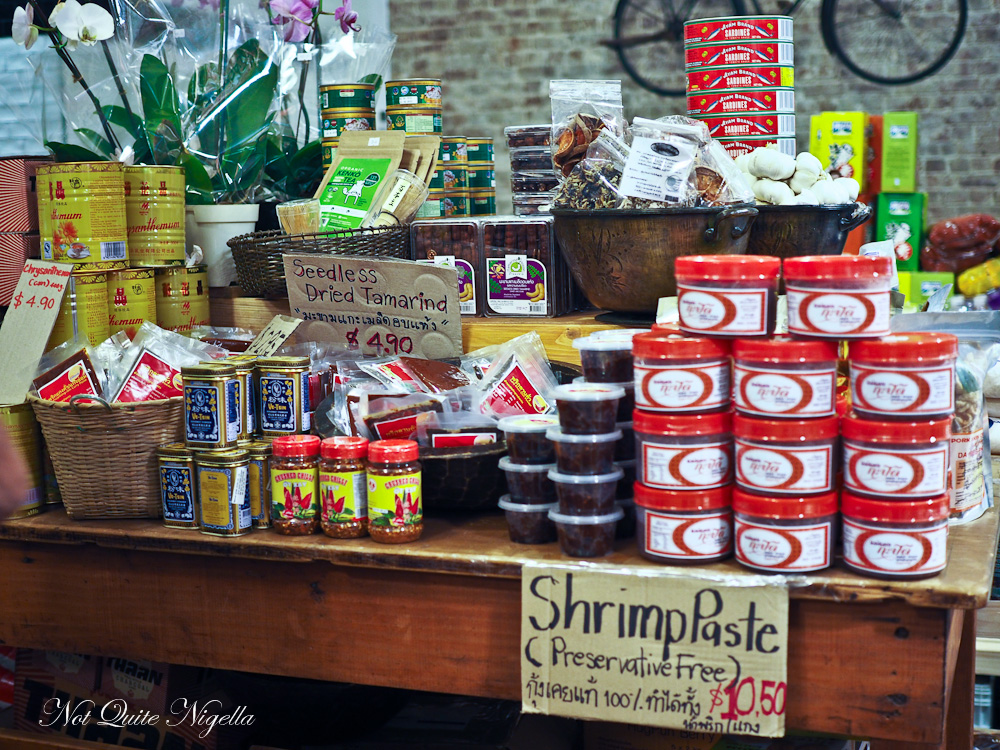 We are in the big table at the front studying the menu. The selection is large and it makes things really hard to decide. There are pictures for some items so we go with some recommendations plus some favourites. I'm secretly delighted to see the Thai sausages that I had enjoyed so much while I was there.
Cha nohm (sweet iced tea with caramelised milk) $5, cold pressed juice $6, hibiscus tisane $4
The drinks arrive and we order a range of drinks from the Iced Red Tea with milk that I became addicted to on my last trip there (I was like that orangutan that was addicted to cigarettes - Mr NQN had to pry the cups out of my hand and I would give him a mournful but serious expression). Thai red iced tea is strong in tea, tannic and sweet, like a milkshake really. Mr NQN has the cold pressed juice with turmeric and Viggo has the hibiscus tisane.
Nahm Dtok Neua "น้ำตกเนื้อ" $14
This is Tessa's choice and we try a little bit. We like the ground rice coated pieces of tender beef, mint and salad leaves.
Mhu Daad Diew "หมูแดดเดียว" $12
Girl Next Door and I choose this solely based on the photo in the menu. A lot of our choices were grilled or roasted and we figured you can always do with a bit of deep fried action in the mix. The pork strips are first air dried and then deep fried and they make a really good combination with the sticky rice, served in small steamer baskets, especially with some hot Thai chilli sauce on the side.
Gai Yang whole $20
"I want that one," says Viggo pointing to a picture of a roasted chicken, split and cut into pieces. Gai Yang is one of my favourite chicken dishes. It is Thai roast chicken marinated with flavours of lemongrass, coriander and tamarind.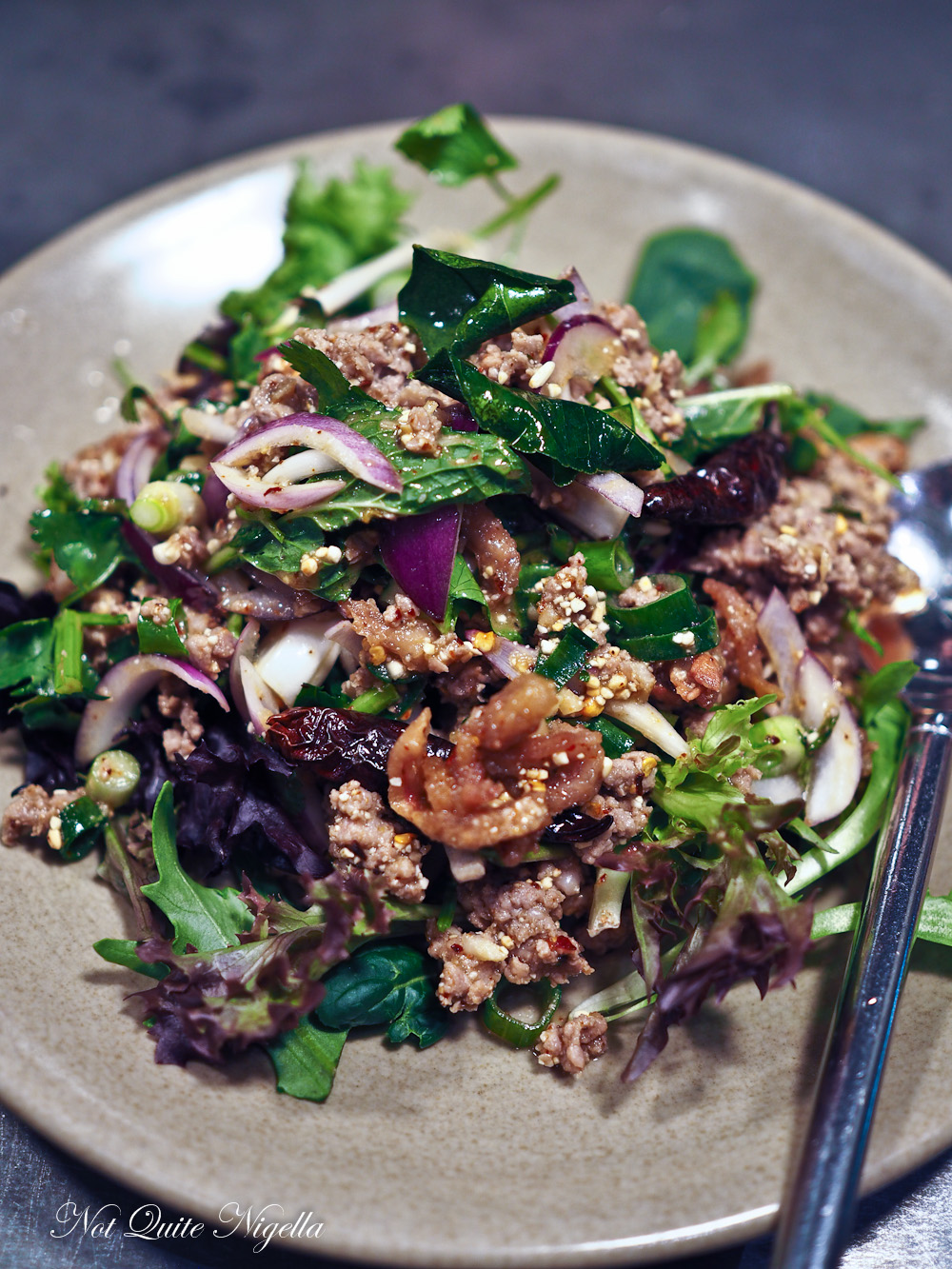 Larb bpedt ลาบเป็ด $16
Girl Next Door had her eye on the duck noodles but they had given her the day menu instead of the night menu so they suggest the spicy duck salad instead. It is slices of spicy duck, toasted ground rice and soft herbs much like the beef salad above but with duck.
Dtum Thai "ตำไท" $12
There are several types of Som Tum salads on the menu (13 to be exact) and a lot of them involve the pickled little field crabs. I'm not such a huge fan of the salty crabs. I realise this might make me basic but the last time I had them I wasn't sure how to eat them as they were so strong in salt with hard shells. So we go for the regular type with spicy green papaya salad with peanuts and dried shrimps. It's crunchy and fresh and we devour this dish. Miss America likes this as does Queen Viv who is on a detox.
Sai Ouah "ไส้อั่ว" $14
And then there is my other Chiang Mai favourite: sai oua this incredible pork sausage flavoured with lemongrass, kaffir lime, garic and ginger that I would buy by the kilo and snack on. It's a good version here, certainly spicy, aromatic and addictive and again I wish I had a kilo of it to snack on.
Sai Grog Issaan "ไส้กรอกอีสาน" $12
The second sausage is one that we saw a lot served in street stalls in Chiang Mai. It's a fermented pork glutinous rice sausage. Thai sausages tend to be bulked up with noodles and rice and the fermentation on this is relatively light but it is still delicious although out of the two, the sai oua is my favourite.
Alas in search of a change of scenery we try a place a few doors down for dessert. Unfortunately the desserts just weren't worth switching venues for. Next time we'll stay put and order the gelato in a bun or another dessert there.
So tell me Dear Reader, what is a typical Friday night like for you? Have you ever tried Isan food? Do you like sticky rice or do you go for regular rice?
This meal was independently paid for.
Jarern Chai Boon Cafe