Khao Soi, as the name suggests is a Thai restaurant located in Haymarket that specialises in the rich, creamy coconut based noodle soup. So what is the khao soi like there and what else is on the menu?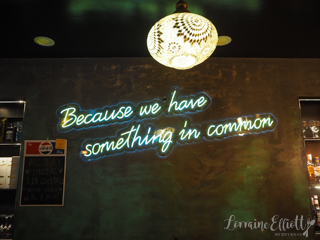 The dish Khao Soi comes from the North of Thailand and Laos and is like a cousin of the laksa soup. It's a richly flavoured coconut milk based curry with medium sized egg noodles, chicken, crispy noodles on top and pickles. Every time we'd see it in Chiang Mai, we'd stop for a bowl of it. I love the addictive crunch of the crispy noodles on top and that rich coconut laced broth. It is also one of my favourite Thai dishes to make at home (my Khao Soi recipe is here).
I'm meeting Laura for her birthday dinner and it was a challenge finding somewhere to go that she wants to eat that is also open on a Wednesday night. But Khao Soi was an easy choice as we had both come back from holidays in Thailand, she to Krabi and me to Bangkok, Pattaya, Rayong and Hua Hin. Khao Soi is located on Liverpool Street on the second level, up an elevator. There are two rooms here, a front room with the bar with some cute tables for two while there is a larger room further into the restaurant.
Laura is already waiting for me when I get there. Ordering is done at the bar counter. "Don't worry we will take it all away!" says Laura because our order for 5 dishes is admittedly quite alarming for 2 of us but we love taking home leftovers for lunch the next day. As expected there is a range of Khao Soi available, the difference being the protein accompanying each type. The slogan on the menu says, "If you do something well - why do anything else?". There are some rice dishes as well as soba noodles instead of egg noodles but most items have the khao soi curry soup base. Prices are very good with most items under $20.
Laura orders a pink milk but takes one sip, wrinkles her nose and immediately orders a Thai milk tea. Then our food arrives rapidly.
The first dish is the the chicken curry with a separate bowl of rice. The chicken has three bone in pieces including a drumstick and two rib pieces. There's also roast potato, cherry tomato, onion and a little bowl of ar jad (cucumber chilli sauce) on the side. The chicken is tasty and well cooked and really soaks up the khao soi curry sauce's flavours. I prefer this with the sticky rice ($4 extra) but the steamed rice is also nice.
The next dish to arrive is the Sai Ua pork sausage, my absolute obsession while in Chiang Mai. There was a market stall that sold the most amazing Sai Ua by weight that I'd stop by every couple of days. I loved it so much that I made my own version of Sai Ua trying to replicate the one at the market stall. Sai Ua is usually served with tiny chillies and pieces of raw cabbage. Here it is served with red chillies, pickled ginger and cucumber slices. I take a bite and it's nice but it's not near as juicy as the one I had in Chiang Mai. The pork is flavoured with aromates and spices and while the flavour is nice, I still find myself wanting the one in Chiang Mai.
Our favourite khao soi out of the three is the chicken katsu. While the others are nice there's nothing like this crispy edged, juicy fillet of fried chicken served sliced atop the creamy curry sauce and bed of noodles. The sauce has a rich depth of flavour and is very moreish. All of the khao sois come with crispy egg noodles and pickled green mustard and shallot.
And if you want an alternative to chicken katsu the mushroom katsu is actually a solid choice. The mushroom is huge and juicy inside the crispy, crunchy golden coating.
My second favourite khao soi is the seafood one. It has an enormous split, grilled king prawn on top, a large roe-on scallop in the shell and folds of cold smoked salmon on top. Laura and I both look at the cold smoked salmon with curiosity before trying it and it works with the sauce and because it sits on top it never really cooks or changes texture.
The last khao soi is the bbq red pork one which is served as thin slices. While it's not bad it I'd probably go for the grilled pork ribs instead of this one but it does add a fatty, chewy texture to the khao soi experience. While we did order a lot, I would have loved a side dish of vegetables as the khao soi doesn't have a lot of vegetables in it. There's also no dessert on the menu and given how much we had both ordered very little need for it!
So tell me Dear Reader, do you like khao soi? Do you ever order a lot of food so that you can take it away?
This meal was independently paid for.
Khao Soi
Level 2/73-75 Liverpool St, Sydney NSW 2000
Open 7 days 11:30 am–3 pm, 4–10 pm
Phone: (02) 9268 0227