The atmosphere is straight from Tokyo at this small yakitori bar on Crown Street in Darlinghurst. Chaco Bar (named after the charcoal grill) serves superb yakitori and other delicious snacks like chicken tsukune meatball with 62 degree egg and some of the best pan fried gyoza you'll have, all washed down with a plum wine, whisky, sake or shochu.
It was our second run at Chaco Bar. The first time was on a Friday night. Mr NQN and I had just returned from overseas and we walked into the small bar. It was packed. Suddenly my stomach twisted. I didn't have a reservation! What was I thinking being in Sydney on a Friday night without a reservation? I was off my game completely!
Cut to a couple of months later. This evening we have a booking. Mr NQN and The Wizard have already arrived and are sitting at the communal table facing the door. To our left is a little wooden paned window and we are surrounded by Japanese patrons (always a good sign). It occurs to me that I could actually fool myself into thinking that I am back in Tokyo, back over a decade ago when I lived there. The sensation of nostalgia buoys me and I eagerly look at the menu. Service is very polite and deferential.
The Wizard and Mr NQN are looking at whiskys, of course. I'm searching for something lighter and a text comes from Belinda who is stuck in traffic about 10 minutes away. "Order me a cocktail, I need it," she says. Alas there are no cocktails on the menu but there are sweet plum wines, shochu , sake, wine and beer. Chaco means charcoal i.e. the grill where they turn out delicious items on bamboo sticks. The other half of the menu is made up of nibbles, small dishes and rice.
I try some Nokyou plum wine and it's sweet and very drinkable. It comes served in a wooden box called a masu, usually used to serve sake.
The first portion is carried out by chef Keita Abe and he sets it down on an origami cardboard trivet and places a cast iron pot of the most picture perfect and crispy bottomed gyoza. They're every bit as delicious as they look and if I could have an endless supply of these I'd be very happy.
Another thing that Chaco Bar is known for is the tsukune meatball skewers served with a thick, sweet sauce and a 62°C egg that you break up and dip the tsukune in. It's a creamy, sweet and utterly unbeatable combination of flavours. In fact I just want to slurp up every bit of the leftover egg and sauce and if I had a spoon I would have scooped it all up.
By comparison the John Dory dumplings are nice but they aren't particularly spicy, the skins a little on the thick side.
This is an interesting dish that we thought that we'd like but it ends up being more of a salad than what we were expecting. The tuna belly is quite lost amongst the rest of the dish.
All of the meat skewers are $4 each and they also have a selection of six on a plate that includes the pork belly, momo thigh, kawa chicken crackling, wing, spicy lamb shoulder and hatsu heart. The picks for me were definitely the crispy chicken crackling (a half dozen of these for me along with a defibrillator please ;) ) and the hatsu or heart, all tender, springy deliciousness.
The ebi or prawn mayonnaise dish isn't quite what we expect. More like honey king prawns, it's battered deep fried prawns with a sweet coating. The prawns are perfectly cooked and crunchy glazed on the outside, but it's not the prawn and mayonnaise dish that we were expecting.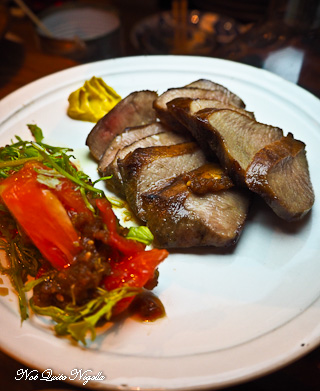 Oh how I love tongue and here it is perfectly juicy. In Japan they tend to serve it in much thinner slices but here the thicker slices work just as well allowing you to appreciate the unctuous texture of the wagyu.
There's a little break as we are busy talking and then we go for round two of the food. The pork belly sliders come out on steamed buns and are soft and light with a thick slice of melting pork belly and mayonnaise inside as well as a lick of sauce.
Three of the yakitori sticks come out from the slightly more unusual end of the yakitori menu. Nonetheless they're all absolutely delicious. The nonkotsu gristle is the white bone in the backbone of the chicken, all crunchy goodness and texture more than flavour. The gizzards are spongey with a bitey texture to them while the heart pipes (and we can't even begin to guess what these would have looked like) are delicate and with a distinctly sweet sauce to them.
The nasudegnaku is good with a hit of miso paste and a melting softness. The Wizard looks at the bonito flakes on top of the okra with slight alarm - they do as though they are dancing on top of the okra which gives it a good amount of flavour (although it takes away from its vegetarian friendly-ness with the bonito fish). The chicken tail is for chicken skin lovers and those that don't shy away from fat with its plump texture.
I thought that I would really love this and perhaps I would have if it were the first course to come out first and not after the strong flavours of the yakitori. It seems counter intuitive to have this after the meats and just before dessert.
I dip my spoon in the banana brandy granita. To be honest I had no idea that banana brandy existed but it is rather good indeed. It comes with a scoop of vanilla ice cream and pretty assortment of edible flowers and in every bite you get a burst of black pepper to awaken the palate.
Although I love coconut, this dessert is fine but not as moreish as the other two. It's like a coconut version of a creme caramel with an unusual soft fruit accompaniment like ume or tamarind with peaches or rhubarb giving it a stringy texture.
All eyes are for the gooey chocolate cake, a flat disc of dark, rich, molten centered chocolate cake with ice cream and that same fruit topping. The cake is silky smooth and not grainy at all. It's the kind of dessert that you keep going back to again and again.
So tell me Dear Reader, do you ever go out without a reservation to a restaurant? And have you ever lived overseas and if so, where? Would you eat heart pipes, tongue, gizzard or gristle or is it not to your taste?
This meal was independently paid for.
Chaco Bar
238 Crown Street, Darlinghurst NSW 2010
Phone:(02) 9007 8352
Open Monday to Saturday 6-10pm, closed Sundays