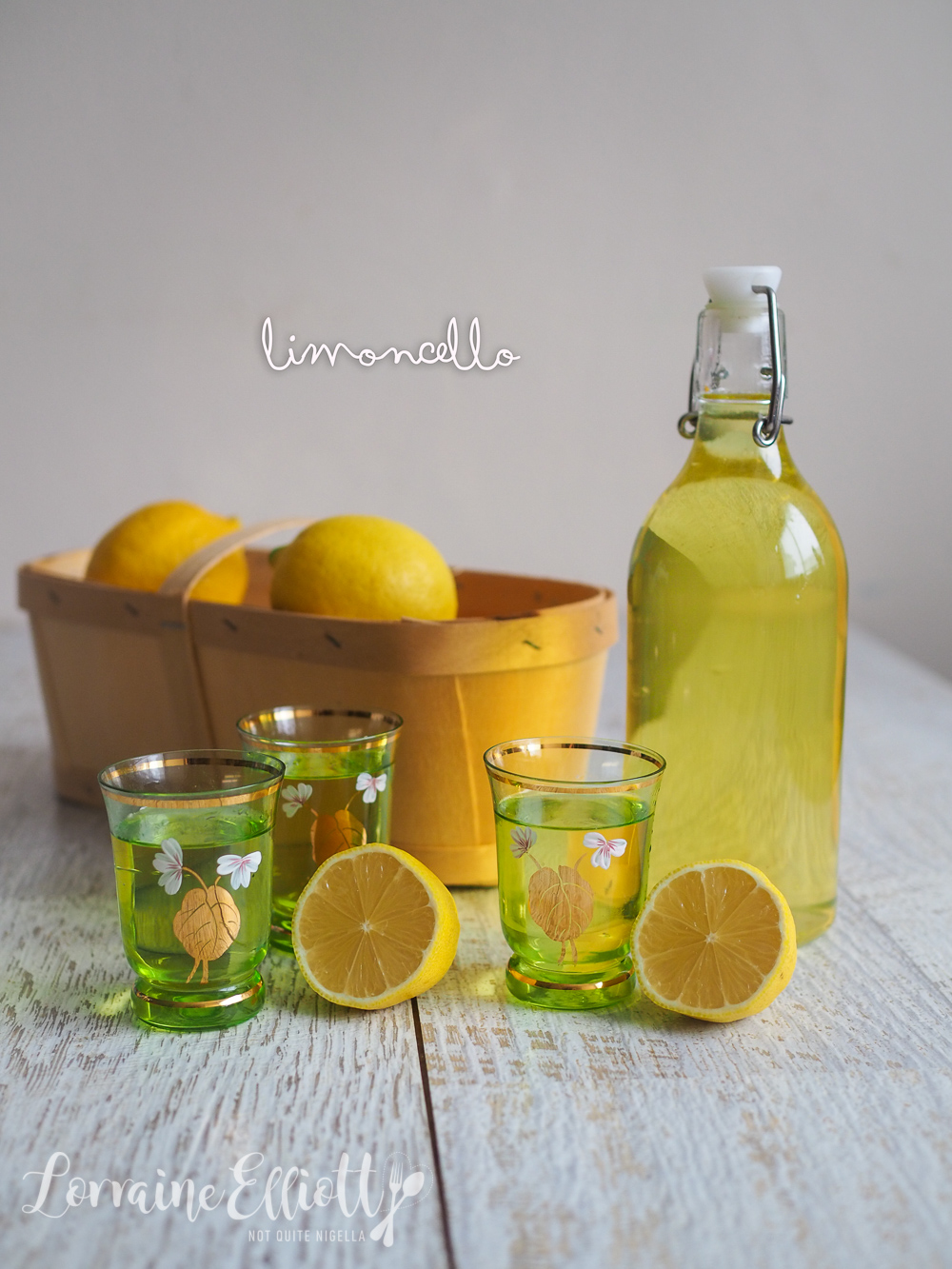 Love limoncello but have never made it? Home made limoncello is the easiest drinks to make! All it requires are a few ingredients. This heirloom Italian recipe produces the smoothest limoncello ever - and this is a pushy recipe Dear Reader!
Limoncello is inextricably linked to the end of a meal at an Italian restaurant. Served in a shot form at the conclusion of a meal it is a digestive, particularly served cold. All it requires is a bit of time.
DID YOU MAKE THIS RECIPE? Share your creations by tagging @notquitenigella on Instagram with the hashtag #notquitenigella
How To Make Limoncello:
Rated 4.83333333333 out of 5 by 6 readers
All you need to start with are four ingredients: lemon peel, vodka, water and sugar. And time. That is all.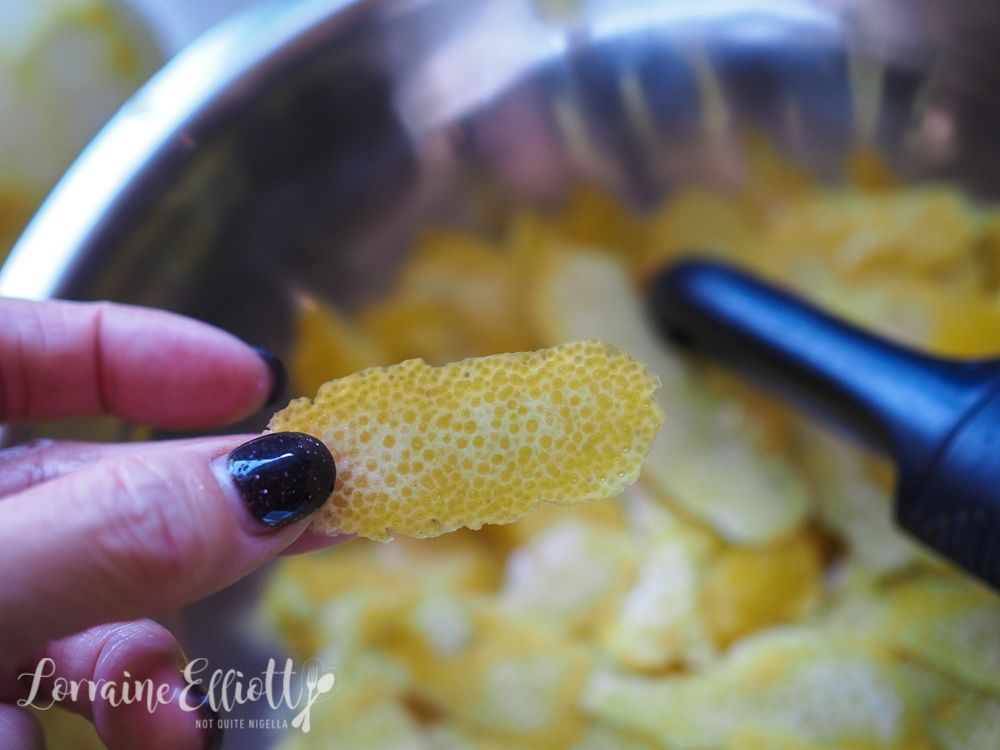 Only use the yellow zest, not the white pith
Limoncello is one of the best "waste-not" items I have come across. The only part of the lemon that you use is the zest and you can keep the juice for other recipes. Make sure to use a good vegetable peeler so that you don't get any of the white, only the yellow zest.
What type of lemons for limoncello? Look for organic or unsprayed lemons. Home grown unsprayed ones are also perfect for the task at hand. You want them unsprayed as we will only be using the skin. I was lucky enough to get some unsprayed lemons from Valentina. If you use commercially grown lemons just make sure that you scrub them well with detergent and a brush and rinse well.
How long to wait for your limoncello? You can wait anything from 1 week to a month (or conceivably even more). Obviously the longer you leave the lemon peel and vodka to steep, the stronger the flavour will be. Within a few days the lemon peels will start to impart that signature yellow colour to the vodka and by a month it will be strongly perfumed.
This recipe was from Monica, from a handwritten recipe by her friend Lina. "She was like an aunt to me and she has a massive notebook of recipes all written by hand," explains Monica.
While it does sound like a lot of sugar, it really makes a large amount of limoncello and this is the perfect ratio for the smoothest limoncello you will ever encounter. At first I tried adding less syrup and it just wasn't as good so I used all the syrup. Mr NQN remarked how smooth it was and enjoyed a shot of it with soda water every night with dinner. I gave a bottle to Valentina and she brought it over to a friend's house. Afterwards she said that she wished she hadn't brought it with her because she loved it so much and wanted to take it home with her.
We have needed a bit of a drink lately thanks to little Teddy. A couple of weeks ago he ate a cooked pork rib bone at a friend's barbecue (he stole it from another dog that was eating it). We took him to the vet to see whether it was something serious and the triage nurse said that he seemed okay but just to watch him. For the next couple of days he felt a bit listless and couldn't get comfortable as he passed the bone. We were relieved when he seemed to get better.
But then the very next day Teddy struck again! Mr NQN was taking Teddy for his walk in Centennial Park in the off leash area. Teddy wandered off into the bushes and then emerged about 15 seconds later with a chicken drumstick in his mouth. Someone had thrown away a barbecued chicken!
Mr NQN quickly took the chicken drumstick from Teddy but the damage was already done. This time he needed to see the vet who prescribed him medicine and we had to put him on a chicken and rice diet as his tiny 3.8kg body dealt with his chicken obsession. This time it took 2 weeks for him to fully recover and of course given the chance, Teddy will again steal another bone because he can't associate the bone with the pain!
And I think I need to make another batch of this limoncello...
So tell me Dear Reader, do you like limoncello? Have you ever made it?
Lina's Limoncello
An Original Recipe by Lorraine Elliott from Lina
Preparation time: 5 minutes with 2-4 weeks steeping time
Cooking time: 5 minutes
Serves:
8 large lemons
1 litre/0.26 gallon 95% vodka*
1kg/2.2lbs sugar
1 litre/0.26 gallon water
Lina's recipe says that limoncello should be made with 95% alcohol but this can be difficult to procure. I used a good quality vodka (Vdka 6100).
Step 1 - Peel lemons with potato peeler and make sure there's no white part. Soak in alcohol in a sterilised jar for 2-4 weeks.
Step 2 - When it's time boil the sugar and water into a simple syrup, around 2-3 minutes. Cool the syrup.
Step 3 - Strain the lemon peels from the vodka and mix the sugar syrup with the lemon vodka. Bottle and store in freezer.