This coffee liqueur is a doppelganger of the very popular Mr Black coffee liqueur. This cold brew coffee liqueur is popular drunk on its own or in espresso martinis, white Russians, negronis or with tonic water. Mr Black has a more adult taste with less sugar than Kahlua and more coffee flavour but is also ridiculously easy to make. There'll be no falling asleep on New Year's Eve with this luscious coffee liqueur!
Mr Black is a coffee liqueur made using vodka, sugar and cold brew coffee and has half the sugar of Kahlua. It's wonderfully simple but absolutely delicious and is made on the Central Coast of NSW. It's sold internationally and is popular all around the world. We both love drinking Mr Black so I decided to see if I could make a home made version.
Making it at home is so easy. I made two versions of Mr Black. The first uses vodka and the second uses rum (incidentally Mr Black has a "Mr Black COCONUTS!" version that uses rum too). When I gave some of this coffee liqueur to Mr NQN I gave him a tablespoon of Mr Black followed by two versions of it in a blind taste test. He said one version tasted just like Mr Black while the other one tasted better than Mr Black (the one using Bundaberg extra aged spiced rum).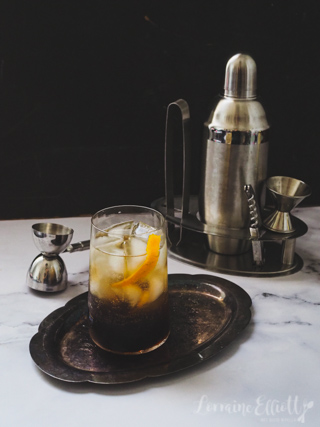 I'm sure that plenty of espresso martinis and cocktails will be made this year on New Years Eve. This year was odd, not unkind and full of lovely moments punctuated by stressful ones for us. I don't know what 2023 will hold but chances are we may not even be awake to see the midnight fireworks.
As for our plans on New Year's Eve we are having a low key New Years Eve. Normally we go away but this year we thought we'd stay at home and enjoy our newly renovated house and for New Years Eve we have plans to go over to Monica and Marco's house where she will fire up her bbq grill and make Korean bbq. I'll bring some of this and the tipsy cake for dessert!
So tell me Dear Reader, how was 2022 for you? And what are you doing this NYE?
Mr Black Coffee Liqueur