It's time to go back to Harris Park, one of our favourite suburbs for another visit to see what is new in 2021. The suburb is dubbed Little India for its proliferation of Indian restaurants in heritage houses along Marion Street but there's more than that. From Indian food to Nepali and the item that people queue up for hours to eat, we make a weekend of it staying overnight in the area!
A week before Laura said, "I'm just going to float this as an idea, why don't we make a night of it and stay in the area?". The idea of having a staycation ignited such excitement within both of us and we made immediate plans to do so booking in for a stay at the PARKROYAL Parramatta. I've spent more time in the past year in the area than in my lifetime. On the day Laura picks me up from my place at noon and we make the drive out to Harris Park where we start off our day with lunch. We are armed with a list of new places located on Marion Street and Wigram Road.
1pm: Dosa Plaza
Usually a multi page menu that runs the gamut of Indian, American, Mexican and Italian would be a cause for concern. At Dosa Plaza on the corner of Harris and Marion Street there's American chop-suey dosa, Bombay Szechuan dosa pizza and Mexican roast dosa as well as sizzling chocolate brownies with ice cream for dessert. The vegetarian only menu is mind boggling but we ask our lovely waitress what to order and she points us towards the pick of the menu.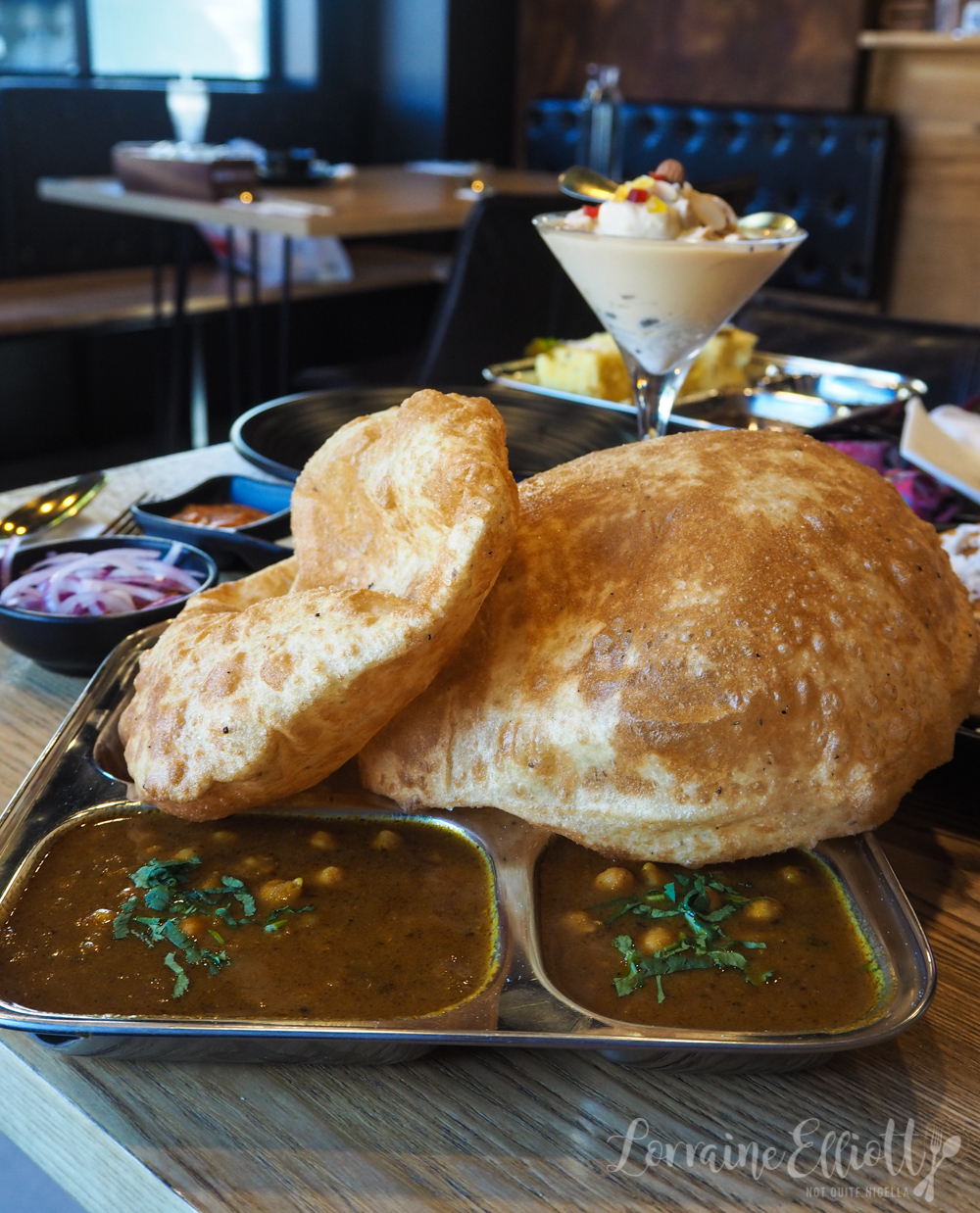 Chole Bhatura
We chose around 5 items and they were all delicious. Everyone orders the chole bhatura, two enormous puffy deep fried breads that come with a lentil curry for dipping.
Paneer Maharaja Masala Dosa $12.90
The dosa filled with paneer is perfection. A dosa is an ultra thin and crispy crepe made from a lentil and rice batter. This one is filled with kaju paneer (cashew paneer), tomato gravy and masala bhaji spice mix and then rolled up and cut into four pieces. The result is an addictively tasty wrap with a delicious filling that you can dip in the sauces.
Punjabi Thali $14.90
The Punjabi thali had a wonderful range of curries to go with it from a sweet paneer and pea curry to a dahl curry with bread, pappadums and rice. Or try the weekend special of khaman dhokla, a savoury sponge "cake" that is so wonderfully puffy and moist and made for dipping in the tangy sauces it comes with (I became a bit obsessed with this).
Khaman dhokla $5.90
Wash it all down with a royal falooda, a rose scented drink or the Kulfi falooda which is more like an ice cream laden dessert.
Dosa Plaza Harris Park: 56 Harris St, Harris Park NSW 2150. (02) 7805 9956.
2pm: Chulho
The menu at Nepalese restaurant Chulho on Wigram Street is written with a sense of humour. Laura points out dishes described as "awesome marination" and a section for "Buff lovers" (that's buffalo meat). However order anything but the momos at your own risk. We tried a few things and they didn't hit the spot but the momos certainly do.
Spicy Chicken Momos $14
Be prepared to wait, it took almost an hour for the momos to make their much anticipated appearance. They come as either stuffed with chicken (round) or vegetables (tear drop shaped) and can be steamed, pan fried or deep fried (or all on a platter). We both love the spicy chicken ones although the vegetable ones are also tasty.
Kothey Vegetarian Pan Fried Momos $15
Chulho: 59-61 Wigram St., Harris Park, NSW 2150; 0286775222
PARKROYAL, Parramatta
It's 3:30pm and time to check in to our hotel. Literally 5 minutes away from Harris Park is PARKROYAL Parramatta where we are staying for the night. Check in is smooth and the hotel is located in the heart of Parramatta on Phillip street. Our rooms are Club King rooms located on the 7th floor of the hotel. These are 30 square metres large and are modern rooms with king sized beds and a good range of amenities.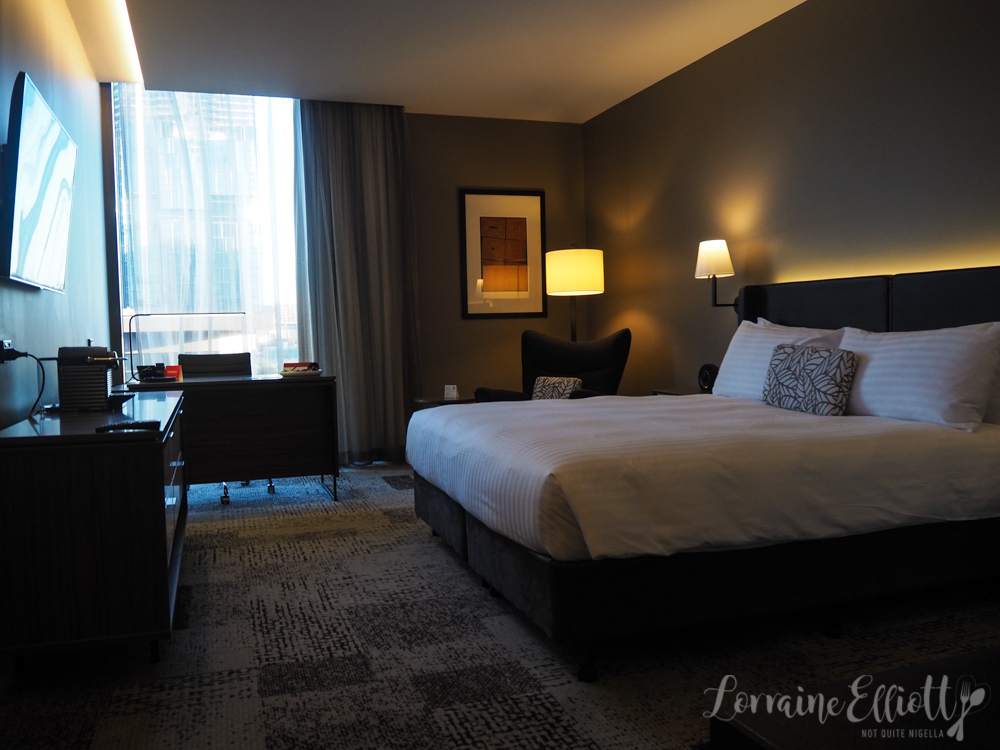 Club rooms are the pick as they include several things: complimentary self parking, breakfast, rooms on the top 7th floor, access to the club lounge on the 7th floor and a late checkout (subject to availability).
The club rooms are modern, very clean and well thought out with USB ports placed next to the bed, privacy buttons near the door rather than a sign and comprehensive amenity kids including toothbrush and shaver under the brand St Gregory. The staff are very service-oriented and nothing is ever too much trouble.
There's a Nespresso machine as well as a suite of teas by Dilmah, hot chocolate mix and cookies, robes and slippers. There is a pool and gym downstairs if you are so inclined. The main restaurant BAR 30 & Bistro hosts afternoon tea every Saturday.
The club lounge has all day drinks and at 5:30-7:30pm they host twilight canapes and drinks. There's enough for a light dinner there from cheese and fruit platters, prawn dumplings, Peking duck spring rolls as well as beers, wine, soft drinks and sparkling wine.
And one lovely feature is that if you have breakfast included in your stay you can have it in your room (tray charge extra $4). It includes one hot breakfast choice, a tea or coffee and a juice. The menu is on the television and you can call the day before or that morning to pre-order it and servings are generous and the breakfasts are tasty.
PARKROYAL Parramatta: 30 Phillip St, Parramatta NSW 2150. (02) 9689 3333
7pm: Momozz
After twilight canapes around 7pm, Laura and I hop into the car (although really, we should have walked the hotel is so close). As it was we immediately regretted it as we join the crowds of people circling the block hoping for a park. "Our parking spot isn't ready yet," says Laura and we both patiently wait. Then the benevolent parking gods help us out and we score a park right in front of where we are eating.
It's Momozz, a momo restaurant on Wigram Street. It is busy this evening but we wait 5 minutes for a table. There are over 20 types of momos available. There are even deep fried chocolate momos for dessert. Laura quips, "It's momowhelming," she says about the number of momos available.
Fried Chicken Momos $11.95
We try a couple of momo plates-the seafood momos are very fishy (as opposed to other types of seafood) but we love the deep fried chicken momos with the hot garlic sauce and the hot masala chai tea.
Momozz: Shop 8/104-108 Wigram St, Harris Park NSW 2150. (02) 9891 6893
8:30pm: Not Just Curries
Although the name says Not Just Curries but you'd be crazy to not order a curry here. Although it is very busy this Saturday night, they're very friendly and welcoming. The clientele is mixed with lots of Indian and non Indian diners.
Delhi Style Butter Chicken $22
We are here to try one dish that they're known for: the Delhi style butter chicken (they have regular butter chicken too). Usually butter chicken is a mild, creamy dish but Delhi style butter chicken is a gutsy, resolutely spicy dish with more chilli than creaminess. For me it's the perfect level of chilli spice and I will dream about this curry long after it is gone (although it's a touch too hot for Laura who is "Asian in training"). An order of garlic and cheese naan ($5.50) or a sweet coconut peshwari naan ($7) can also help to dampen the heat.
Prawn Pepper Fry $16
For Laura we order the Prawn Pepper Fry, a Kerala inspired dish with tiger prawns stir fried with black pepper and masala spices on a bed of crunchy cabbage. We pair this with a pitch perfect mango lassi, not too sweet and not too yogurty. Also if you pay by cash you get a 5% discount.
Not Just Curries: 66 Wigram St, Harris Park NSW 2150. (02) 9893
10pm: Rocket Kulfi
On our way to our last stop we stop by the Rocket Kulfi stand located outside an accountant's office on Wigram Street and buy an almond and pistachio kulfi. It's very creamy, if you like the intense flavour and mouthfeel of evaporated or condensed milk these are for you. They come in other flavours like strawberry, fig, saffron and paan and are $5 each.
Rocket Kulfi: 62 Wigram St, Harris Park, Parramatta, New South Wales 2150. 02 9687 7785
10:30pm: Sardar Ji's Original Hot Live Jalebis
I'm convinced that everyone that eats out in Harris Park ends their night with a stop at the jalebi stand. Jalebi are delicious Indian donuts in a swirly, round shape that once fried are soaked in a bright orange syrup. Sardar Ji's Original Hot Live Jalebis is open during the day but at night is when it really comes alive. The atmosphere is thick with excitement as people crowd around two people standing around two giant pots.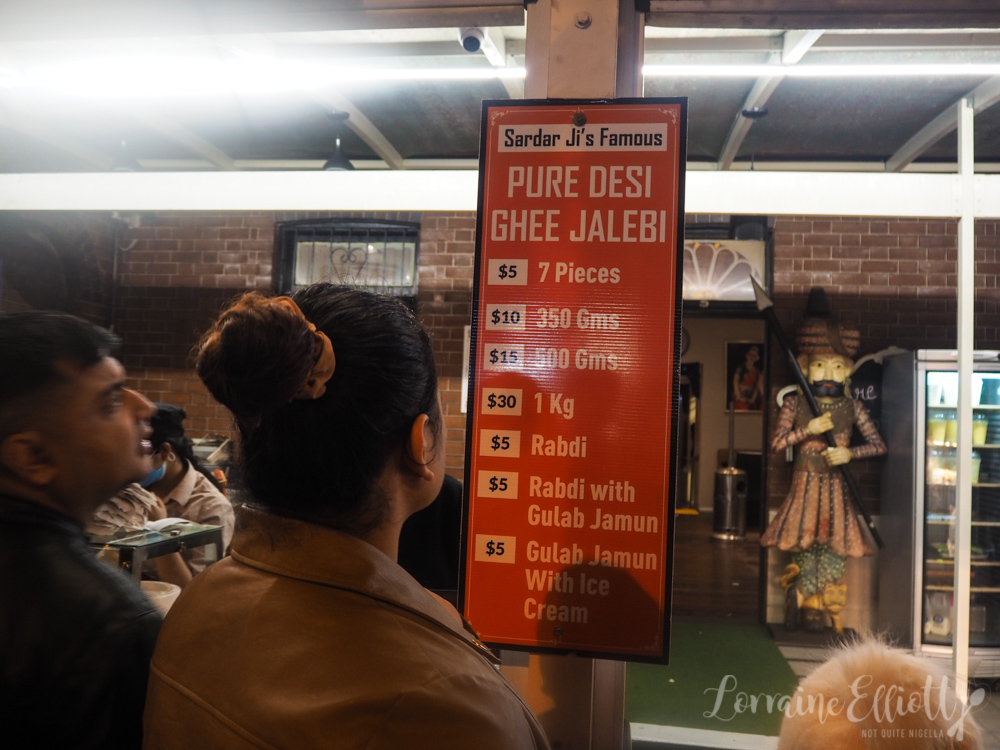 The woman frying the jalebi squirts the jalebi batter into the hot oil from a squeezy container making the circular motions. After a few minutes they are turned over and then dunked into the bright orange syrup. What results is a crisp fritter that absorbs the syrup and releases the sweet syrup with every bite.
Usually jalebi are sold cold in Indian sweet shops where they somewhat retain a bit of crunch but it's a real treat getting a fresh jalebi cooked in desi ghee (ghee without any hydrogenated vegetable fats). You order it by the weight with people ordering enormous trays. We settle for a 7 piece box for $5. Once you order you need to wait - for us the wait is about 45 minutes.
We are rugged up for the evening so we don't mind waiting. We watch as people take selfies and chat while waiting. Once your number approaches, you need to stand by the counter to collect your order, hence the people crowded around waiting for their number to be called.
Our number is finally called and Laura triumphantly brings the tray of jalebis over. I try one-the hot jalebis are wonderful but what really makes them over the top fantastic is the flavour from the ghee and the crisp texture. I eat one and then another and then another before almost all of the jalebis are gone.
Sardar Ji's Original Hot Live Jalebis: Marion Street, Harris Park
So tell me Dear Reader, have you ever been to Harris Park? Have you been doing more staycations nowadays because of COVID-19?
All meals were independently paid for. NQN stayed as a guest of the PARKROYAL Parramatta but all opinions remain her own.