My sometime vegetarian friend Laura and I were in need for another food adventure. Something to look forward to after a busy week. So on Friday night we ventured out to Harris Park, one of our favourite places for delicious food to try a lesser known subset of cuisine: Indian Chinese!
"Look over there at the sunset, "I say to Laura. The sky is painted a bright orange and looks like we're driving into the belly of the sun. Which is actually a nice change from our last adventure that involved hailstorms and parking in a stranger's carport to escape the dangerous precipitation.
To the tune of 80's love songs (one of Laura's favourite genres) we arrive at Harris Park and park her trusty mini. Getting out you can immediately smell the spices in the air. A hotted up car glides past pumping loud Hindu rap. During the night they'll continue to lap the five or so streets busy with people.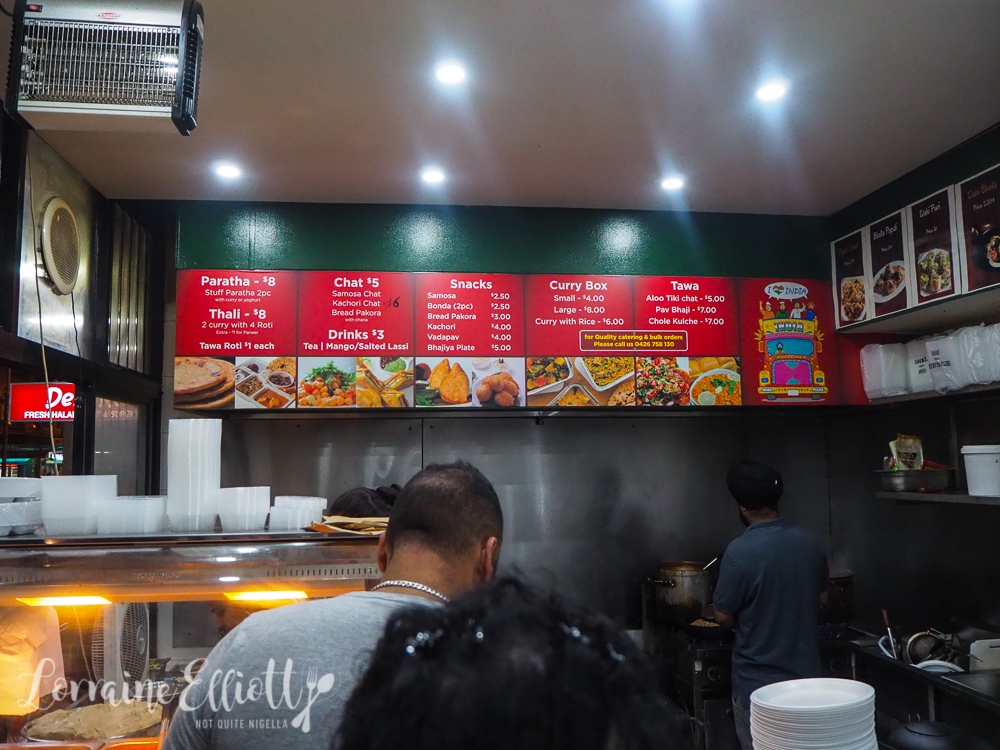 We had a booking at Bombay Talkies, an Indian Chinese restaurant at 8pm but we have some time to kill. We see a large crowd gathered at Shri Refreshment Bar. We go wherever a queue does and we join the queue. On the right of the shop is a drinks stand and at another there is a queue for food.
"What's really popular here?" we ask and then chop up a fried round of bread and serve it with a chole masala (chickpea curry), yogurt and tamarind sauce. It's like an Indian style nachos and is instantly appealing. Laura also liked the bread roll wedged with a potato patty and chilli sauce with a green chilli on top.
And to wash it all down? Alas we weren't very smitten with the buttermilk soda that reminds me of boiled eggs. So Laura orders a falooda kulfi drink.
Falooda Kulfi $8.50
The young guys behind the counter make this precisely and perfectly. There's pistachio, rose, basil seeds and cubes of rose kulfi and it's absolutely delicious-sort of like a drink dessert in one. And while this place doesn't get the most rave reviews, during the night we notice that this place is constantly busy with large queues.
Next door is a Turkish and Greek shop that we wander into. We buy some spices, large sheets of bread and green raisins that resemble pistachios in shape and colour and wander up and down the aisles.
We walk past people are queuing up at other places for some pani puri - those delicious crunchy shelled mouthfuls filled with potato and served with tamarind sauce and yogurt. By now it's time for our booking at Bombay Talkies.
Service is super friendly and lovely and there's a younger crowd here. We order a couple of things from the Indian menu but then flip to the Chinese Indian menu and order these because they're more unusual for us. Everywhere we go they're a bit worried at us being able to handle spice so we have to reassure them that we are fine.
Mango lassi $5 sweet lassi $4
We order a sweet and mango lassi and they're both delightful and not too cloying or sweet.
Chicken lollipop $14
I love the tandoori paste coloured chicken drumsticks that are deep fried and crunchy and come with a fabulous chilli sauce that has a real kick to it.
Chicken Kali Mirch $14
I hadn't really seen Chicken Kali Mirch or black pepper chicken on menus before so we ordered that from the Indian menu. The chicken comes as four boneless pieces of chicken flavoured with black pepper, garam masala, yogurt, onions and ghee and it's so tender and delicious I'm going to seek it out again or make it at home.
Jamai Raja Naan $8
The Jamai Raja naan (named after a popular Indian comedy) comes out and the puffy, soft quarters are filled with green, green chilli and onions and it's absolutely delicious.
Lung Fung soup $8
I hadn't actually tried lung fung soup before-it's usually made with snake but this one is a version made either vegetarian or with chicken mince. It's got that thicker, gelatinous texture to it as well as a resounding hit of pepper spice to it. We both really enjoy this especially on this rainy evening (it seems every time we come to Harris Park it rains!).
Shanghai Chicken Fried Rice $17
We had to give the Shanghai fried rice a go because I've only had fried rice with sauce once and it was delicious. And this basmati fried rice has a centre of deliciously rich chicken gravy to it. It's another comfort food that we both adore and we pack all of our leftovers away so that we can enjoy them the next few days.
"I need something crunchy," says Laura and I concur. So we trot off to Taj Indian Sweets & Restaurant nearby who are known for their Awe Samosa Chaat. It's an entirely vegetarian restaurant and the only restaurant where we see non Indian clientele. The service here too is absolutely lovely and when we order she tells us that we've ordered too much. Laura explains that this is actually our fourth meal of the night which she giggles about wide eyed. I think she thinks we're mad which is actually not wrong.
Awe Samosa Chaat $9.90
The samosas are kept in a Four and Twenty pie warmer and they bring it out covered in chickpea curry, yogurt, tamarind sauce and red onion. I'm convinced anyone eating a dry samosa is now getting a raw deal as this is so full of flavour and how I'd like all my samosas from now on thanks.
Taj Special Pav Bhaji $12.90
The Taj Special Pav Bhaji is said to be their specialty. It looks plain but is actually delicious. There are two soft, toasted white rolls and a vegetable curry and once you add the raw red onion it ends up being a delicious comfort food.
Masala Dosa $12.90
And the third item to arrive is the dosa, our friendly waitress's recommendation. It's enormous-see Laura for size and so crispy with a lovely potato curry, chilli sauce, coconut relish and a tangy sambar on the side.
Our next stop has us shopping for car dessert. There is a Chatkazz all vegetarian restaurant around the corner (the last time they invited us to join their staff only birthday celebrations, gave us some birthday cake and we sang happy birthday). They also have a sweet shop that is all pastel shades with an appealing display of goodies.
We ask the man behind the counter what they're known for and he offers to put together a box for us depending on whether we want half a kilo or a whole kilo.
We resist the temptation for a whole kilo and get a half kilo box for a reasonable $16.50. He explains all of the items to us and throws in a couple of pieces of Milo burfi. Car snacks are a thing.
It's time for our last stop. We walk towards the sweets shop stopping to say hello to a little Maltese Shihtzu on the way. At Durga Paan & Falooda House they're doing a busy trade. Paan are an after dinner snack popular for both its stimulant and psychoactive effects. Paan features betel leaves filled with a variety of things from candied fennel seeds, glace cherries, spices and jams. There are few types of paan here.
I have to admit I'm not really a fan of paan. I tried it Faheem's Fast Food and had to discreetly remove it from my mouth because it tasted quite antiseptic. But they're astute enough to realise that the "sweet Calcutti" paan is probably more to our taste so they hand us one of these.
For the sweet Calcutti paan it's a betel leaf with candied fennel, rose petal jam and coconut. Laura goes first. You don't bite into the paan, you shove it in your mouth whole and chew it. At first she shakes her head and during the next couple of minutes while she is chewing it she becomes more enthusiastic and by the end she likes it.
It's my turn and the hardest thing is fitting it into my mouth. There are such a range of flavours that come from this-first the fennel and then the rose jam gushes out flooding your mouth with sweet ooze. I have to say that the sweet paan is muuuuch better than the other one I tried. We also tried the falooda and it was fine but the main draw is the paan and we preferred the falooda at Shri Refreshment Bar. And we watch as people line up for their fix of paan. And Max the maltese shihtzu's owner is in the queue for paan so we get to play with Max more. Honestly food and dogs are my idea of heaven.
It's past 11pm and time to head home. But before we set off it's time for car sweets. There are a lot that are similar and they're generally all very sweet. There's a white one which is sweet boiled cottage cheese with citric acid, one with caramelised milk, a round ball coloured with saffron, chocolate burfi, saffron with coconut, cashew burfi, gulab jamun, cashew with fig rolls, pistachio with milk and saffron with cashew.
My favourite is the roll with a fig filling dusted in silver leaf. It's also the most different to the rest that are all delicious and we nibble and pick from the box. As we pick through the box sampling bites here the song Sweet Dreams by the Eurthymics plays in the background.
"You're the chutney to my samosa," Laura says to me.
"You're the gulab to my jamun," I reply.
And we're off home!
So tell me Dear Reader, have you ever tried paan before? And have you tried Indian Chinese food and if so, what did you think of it?
These meals were independently paid for.
Shri Refreshment Bar
53C Wigram St, Harris Park NSW 2150
Open 7 days 2–11:30pm
Phone: (02) 9891 7939
Bombay Talkies
46 Marion St, Harris Park NSW 2150
Monday to Wednesday 5–10pm
Thursday to Sunday 11am–2pm, 5–10:30pm
Phone: (02) 9891 6695
Taj Indian Sweets & Restaurant
91 Wigram St, Harris Park NSW 2150
Sunday to Thursday 10am–10pm
Friday & Saturday 10am–10:30pm
tajindianrestaurant.com.au
Phone: (02) 9633 2118
Chatkazz Sweets & Namkeen
Shop 2/2 Station St E, Harris Park NSW 2150
Open 7 days 10am–3:30pm, 4:30–10pm
Phone: (02) 9635 0075
chatkazz.com.au/
Durga Paan & Falooda House
3/14-20 Station St E, Harris Park NSW 2150
Open 7 days 1–11pm
Phone: (02) 9893 9425