Lobster and crab in this economy? Yes! New Pioneer Palace is a Chinese restaurant in Lakemba that is well worth a visit. The 20 year old restaurant has live seafood tanks with mud crab, lobster but with affordable prices, super friendly service and the snack spread at the end. There's also an incredible off menu item that you have to know to ask for!
The Chinese restaurant experience is generally a rather business-like experience in terms of service. Reservations are taken in a polite but perfunctory way and dishes are delivered in a brisk or brusque manner. So when I call New Pioneer Palace to make a reservation I'm sort of taken aback by their attitude. The woman that answers the phone is really friendly and when I ask to book at 8pm but mention that we may be running a bit late and it may be 8.30pm (we were doing a post-work Costco visit) she good naturedly says that it isn't a problem at all.
In November 2023 New Pioneer Palace will have been open for 20 years on Haldon Street in Sydney's Lakemba. There is just one other table dining there when we arrive but the restaurant will stay open until 2:30am for any night owls. There are plenty of signs that the meats are halal and some signs in Chinese and Vietnamese detailing the banquet dinners available for 6, 8, 10 or 12 people. The woman who answered the phone is there and she and her husband own the restaurant.
Laura and I have this thing that has sort of naturally developed where we celebrate with mud crab and noodles for our birthday. But given rising cost of living prices, crab isn't always an option but we are very pleasantly surprised to see a special for lobster and noodles for $88 (also a lucky number) and the mud crab is $72 a kilo which is about half the price of other places.
Pigeon $43.80
Pigeon is quite a delicacy and at $43 it's a bit of a splurge. It comes with a lemon juice dipping sauce seasoned with salt and pepper that is perfect for cutting through the crisp, glassy skin. There isn't a lot of meat on a pigeon but there's still enough for a flavoursome pre-dinner snack.
Mud Crab $75.60+$15 noodles
Then comes the mud crab in a sizzling pot with a tangle of vermicelli, crab pieces and XO sauce and the noodles soak up the sauce. I add a little chilli soy sauce to season the noodles but the crab pieces themselves are incredible. The meat is noticeably sweet and has a perfectly succulent texture and this is one of the best crabs I've ever eaten. When our waiter sees Laura pausing for a second on cracking the big claw (which she knows how to do, she was just taking a breather) he helps her with it in an avuncular fashion.
Stir Fried French Beans Malaysian Style $25.80
Normally the beans come with pork mince but as Laura doesn't eat pork they offer to change it out to chicken mince. The beans have the absolute perfect texture to them - bitey but still cooked and the chicken mince is a great substitute for pork because with the sauces you can't really tell the difference very much.
We ask about dessert but the woman explains that there's just deep fried ice cream available but to wait for the fruit. "Is there sweet soup?" I ask hopefully and they smile and say yes. They bring out the fruit plate with watermelon and orange as well as a plate of individually wrapped muesli bars, Tim Tams and Lindor balls and bowls of sweet soup. I love red bean soup having grown up on it but Laura isn't usually a fan of it but she loves this one with just a hint of citrus peel to it. The watermelon is very cold and very sweet, just what you want after a big meal and the chocolates and muesli bars, well who doesn't love this generosity.
When we go up to pay there are lolly jars and bowls of Tim Tams as well as Haighs chocolate macadamias that you can help yourself to. Curious about a pork cheek dish that the owner recommended and the lobster special I return a few weeks later with Mrs Martin, Martin, Lucy and Dan. This Sunday evening the restaurant is full and it's a different sort of vibe as they're short staffed and a bit run off their feet. We literally see our waiter run from one end of the restaurant to the other trying to attend to tables.
The price of the lobster special has increased from $88 to $128 but it is still great value for the roughly 900g/2lb lobster and noodles. We order a few other dishes to supplement this. Dan has a request for prawn toast while Lucy wants Kung Pao chicken and Mrs Martin wants a prawn hot pot. We also order the pork cheek dish that they recommended to us along with the beef with black pepper and honey and some mixed vegetables.
Prawn Toast $11.80
The prawn toast comes out first. It's freshly fried and comes as 8 pieces with a sweet and sour sauce but could use more prawn in the topping.
Lobster with Ginger and Shallots $128
Straight after we order our waiter reaches into the tank and netted a lobster for us and quickly shows it to me as he swiftly walks to the kitchen with it. A little later Larry the lobster arrives on a platter. It's perfectly cooked with plenty of meaty, chunky lobster pieces covered in a delectable ginger and shallot sauce. Whilst the lobster is very generously sized we do need some more noodles so Mrs Martin orders another serve for $15 although the flavour of the sauce on the additional lot of noodles is a bit diluted so I'd recommend asking for the extra noodles when ordering the lobster.
Beef with Black Pepper and Honey $33.80
This is another dish that the waiter suggested and it is one of my favourite dishes of the night. It's super tender chunks of beef, mushroom and broccoli in a delicious sweet and spicy black pepper honey sauce. The texture of the beef and mushrooms is so tender and succulent and I keep going back to more and more of this dish.
Kung Po Chicken $26.80
The kung po chicken isn't bad and there's plenty of vegetables and strips of lightly spicy chicken although I preferred other dishes that we ordered. There is a lot of celery in this which largely goes uneaten.
Stir Fried Mixed Vegetables $22.80
The stir fried mixed vegetables are a tasty dish to go with the meat heavy dishes. But out of the Malaysian beans that I had with Laura and this I preferred the beans.
Prawn XO Hot Pot $33.80
The prawn hot pot was a request for Mrs Martin as she doesn't eat beef. It comes out in a sizzling black cast iron pot in a tangle of vermicelli noodles. I find vermicelli can stick together in clumps and the flavour of the XO is quite mild in this (last time I had to add the chilli soy) but there's plenty of prawns in this hot pot.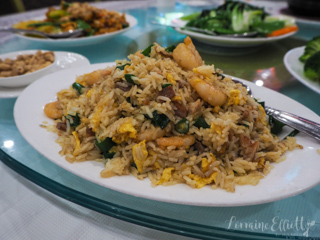 Prawn and Egg Fried Rice $20.80
A little tip that my family usually does when dining in Chinese restaurants is getting the fried rice instead of the steamed rice. Steamed rice is usually charged per person and here it is $4 a person which would mean that steamed rice is $24 but the fried rice is usually less. The fried rice is very tasty too with plenty of prawns, char siu and egg in it.
Pork Cheek $32.80
Then comes our last dish. A little about the pork cheek: it doesn't appear on the menu (nor do any pork dishes) so you have to ask for it and the waiter had warned us that the pork cheek takes around 30 minutes as they roast it fresh. But it's absolutely worth it. This is like the most delicious version of char siu made with succulent pork cheek. The texture of the pork is unctuous and it melts in the mouth. The dipping sauce goes with everything - dunk your lobster claw in it, dunk the vegetables in it. We ask what is in the sauce but the waiter doesn't know and is too busy to ask but it tastes like a base of kecap manis or sweet soy plus some roast pan drippings. Even Mr NQN who doesn't like pork loves this dish.
There's sweet soup and fruit to end off the meal. When the bill arrives we all take a guess at what our total will be with some guesses reaching towards $400 for 6 people. But it's a very pleasant surprise and $330 for 6 of us or $55 a person which is very reasonable as it includes lobster.
So tell me Dear Reader, are you good at estimating the bill at the end of a meal? Do you under or over estimate?
These meals were both independently paid for.
New Pioneer Palace
94 Haldon St, Lakemba NSW 2195
Phone: (02) 9758 9688
Hours: Monday closed
Tuesday to Sunday 5 pm–2 am
https://newpioneerpalacelakemba.yumbojumbo.com.au/menu