Dolan Uyghur in Campsie features the delightful cuisine of the Uyghur people. There are aromatic and rich flavours with lamb stews on a bed of soft, puffy naan bread, thick and toothsome noodles underneath a bed of spicy chicken and long hand pulled noodles!
Monica and I were down for a quickie - a quickie lunch that is. Monica suggested Dolan Uyghur (pronounced 'wee-gur') in Campsie, a place that she had found on Instagram.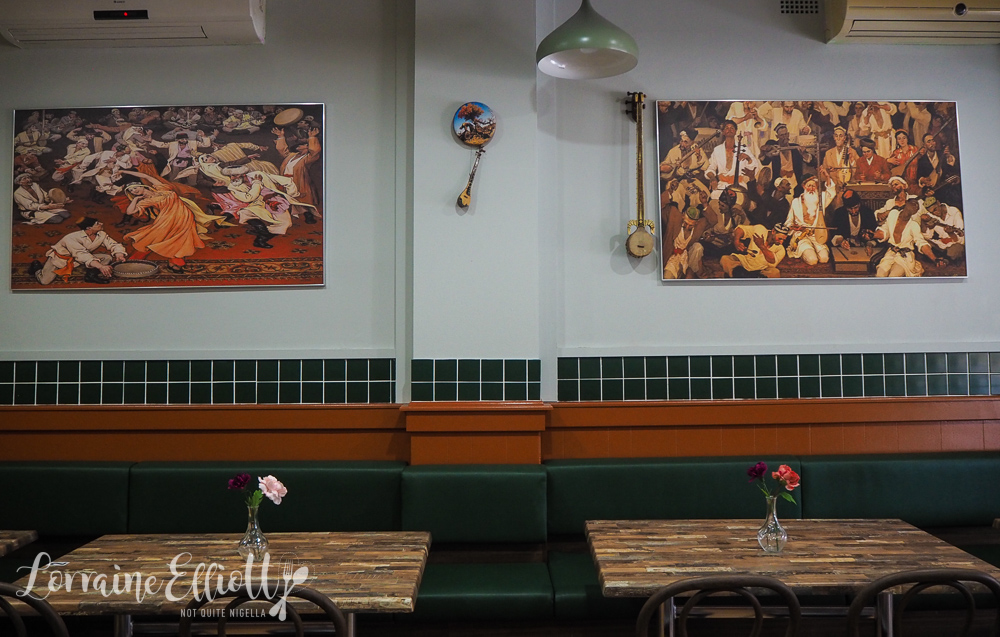 We walk into the restaurant located on Beamish Street and it's quiet. Dead quiet. The silence made even more deafening by the lack of music and the sparse but clean and tidy interior.
We look at each other in silent alarm. We've never dined at a restaurant where there are literally no other people. But once you step foot in surely it's rude to then extricate yourself from the premises?
We take a table and the man behind the counter gives us menus, a bottle of water and two glasses. The menu has helpful photos and it looks almost new (it isn't, the restaurant has been open for 1 year). We ask him for recommendations and he eyes us off asking if we like spicy. "Yes" we nod our heads. "Very spicy?" he confirms. "YES." Then he disappears into the back where we hear the faint sounds of cooking. "I think he's cooking it too," I whisper to Monica. "What?" she says surprised. During the day it is a one man show.
The name Dolan is the original word for the Uyghur people, an ethnic group of peoples that resides in Central Asia or North West China. Uyghur or Uighur people are one of China's 55 ethnic minority groups. Xinjiang province which is where the Uyghur mostly reside in China, was the area that linked the Middle East and Asia. Next to this is Kazakhstan, Tajikistan, Kyrgystan, Afghanistan and Mongolia.
As a result of the geographic location and history, the cuisine is punctuated with aromatic spices and flavours, rich sauces and gravies and a mix between Chinese, Muslim and Turkic cuisines.
Uyghur food can be mild or spicy and can be tailored to tastes and is also halal. The predominant meat is lamb and the spice cumin is liberally used. Vegetables like potatoes, carrots and tomatoes are commonly ingredients. Hand pulled Laghman noodles, meat kabobs, lamb broth based soups, cumin scented lamb skewers, polu (rice) and puffy filled flatbreads are some examples of Uyghur cuisine. Uyghur food features a lot in Xinjiang cuisine.
Dapanji $30
The dishes arrive one by one because he is the only person here. Our first item comes out and it is Dapanji or a spicy chicken stew, a supersized dish really designed for 2 or 3 people. We ordered a small but this and the price betray how enormous this bowl is and had we spoken Uyghur we would have known that this translates to "big plate chicken". It's bone-in chicken pieces that sit on a bed of hand pulled flat noodles in a rich tomato based sauce with Sichuan peppercorns, potato and carrot. The noodles are thick as a belt with a lovely chewy texture while the chicken is tender and sings with flavour thanks to that flavoursome marinade.
Tawa Kawap $38
There are a range of breads from naan to stuffed breads filled with pumpkin and lamb but we went for a Rawa Kawap which is a rich Uyghur style lamb stew with an aromatic cumin sauce that is deep and full of flavour. This sits on slices of a large, spongey naan bread that soaks up that wonderful sauce perfectly. We did ask for it very spicy and all of these dishes are the perfect level of spicy for us.
Kizil Kerin $14.90
Monica's favourite dish is the Kizil Kerin or the shredded lamb tripe. It's stir fried with red and green capsicum and onion and Aleppo pepper. It's absolutely delicious, the tripe perfectly cooked and it has been expertly cleaned so that none of the distinct tripe aroma remains.
Kawap $15 for 4, Koriga Kawap $10 per skewer
We later learn that the chef and owner's name is Murat Muhtar. Murat brings each course out and apologises for the quiet. "At night it is busier, now everyone is at work," he says. And we believe him, because with food like this, there's no way that this place isn't popular. Their signature item is the kawap or lamb skewers that come in either mild or hot. These are wonderfully spicy with a dusting of cumin and Aleppo chilli powder and the lamb is very tender.
We also couldn't resist the Koriga Kawap lamb skewers as we both love lamb ribs. There are 4 lamb ribs on the skewer, so juicy and fatty and luscious with chilli too. I actually prefer these to the kawap for the added lusciousness but those looking for leaner lamb would probably prefer the Kawap. The traditional manner in which to eat these is to hold the skewer horizontally or parallel to your mouth and then pull off the end piece of meat with your teeth.
Kuruh Lagman $16.90
Lagman or laghman noodles are hand pulled wheat flour noodles and there is a whole section of these with seven varieties to choose from. We gravitated to the pearled version, cut into tiny pieces that resemble pasta. It comes with diced meat, shallots, capsicum, Sichuan pepper and chilli with a lovely light sour flavour from tomatoes in the sauce. It's the perfect dish on a cold winter's night. What we also like is that each dish has a different flavour profile from the other. Also just a warning: the small size is actually rather sizeable!
So tell me Dear Reader, have you ever tried Uyghur food? Have you ever just walked straight out of a restaurant after walking in? Have you ever dined in a restaurant that is completely empty?
This meal was independently paid for.
Dolan Uyghur Restaurant
108 Beamish St, Campsie NSW 2194
Tuesday to Sunday 12–9:30pm
Monday closed
Phone: 0424 166 995