Jägerstube is a large beer hall and German restaurant in Schofields. It's a great place for groups and families with hearty, tasty German fare with juicy, crunchy pork knuckles, spaetzle, sauerkraut and delicious crepes as well as a large selection of beers.
"So we're going to a German restaurant. Well actually I think it's Bavarian but it's owned by an Austrian guy but it's at the Croatian club," I explain to Mr NQN as we get in the car for a drive on a Saturday night. Jägerstube is in Schofields which is a bit of a drive for us and we've got an early booking at 5:30pm. Jagerstube first opened in 2008 by two brothers with Austrian heritage. It's first location was at Hubertus county club in Luddenham. Owner Oscar Zechner says, "Our Austrian Grandmother was a professional chef in Switzerland. We are a Bavarian beer hall however food is lower German , Austrian and somewhat Croatian."
Monica, having Austrian heritage had found Jagerstube (meaning hunting parlour) and we were all set to go with her and Marco but then she came down with a debilitating migraine. Beer maker Marco was still coming, lured by the beer menu all in the name of research. And for Saturday nights (they're only open Friday and Saturday) booking is really recommended as it gets busy.
We drive up to the club and then another car screeches past us and slides into the spot that we were going for. "Are we in the 80s?" I say to Mr NQN as it's a move straight out of an 80s movie.
Erdinger Weißbier and Clausthaler
We walk in and are shown to our table. Although there are only three of us, the table we are given is huge because well, all of the tables are. Looking around, Jagerstube is popular with large groups of people. Ordering food and drinks is done at the bar and you just give them your table number. I take care of ordering the food while Marco takes care of the beer as that is his forte. Service is friendly and helpful and the woman behind the counter suggests getting the mushroom sauce as an extra.
The langos comes out first, all bubbly with crisp, large bubbles and brushed in garlic with a pot of sour cream. The crisp bubbles are the prizes and we love the garlicky flavour to this crisp, deep fried Hungarian bread.
Our mains take a while but not to worry because on Saturday nights there is entertainment. Our parking lot mate actually turns out to be the entertainment and he straps on an accordion and starts playing. He goes around to each group and makes small talk playing music to suit each group or on request. He asks Marco where he is from and Marco gives him three guesses-he guesses, Slovenian, German and Switzerland but doesn't pick Italian. Still he plays some classic Italian music for Marco before moving on.
Jaeger Platter for 2 $99 ($49.50 per person)
The platter arrives in all of its glory with two pork knuckles, one with a knife sticking out of it and they hoist it up on a stand. You can only get this platter in lots of 2 and there is a 2 person minimum but I'd say that with the trimmings there's definitely enough for three people (and really there's enough pork knuckle for 4 or 5 people). The portions are very generous and there are four delicious crumbed mushrooms (these were a nice surprise as they weren't mentioned on the platter menu but definitely worth trying). There's also two oozy centered deep fried camemberts and two long, fat weisswurst sausages that are very tasty. There really is nothing quite like a German platter of food with its strong commitment to meat and trimmings. I felt like a kid in a movie whose feast dreams have come alive.
The pork and beef rissoles are nice although I think they benefit a bit from dipping in the jus or the mushroom sauce. I always love vegetable sides and the pan fried potatoes are tasty as are the red cabbage and sauerkraut, all so necessary for balancing all of that meat. I also really enjoy the mixed salad with beetroot, sauerkraut and green leaves with a vinaigrette dressing.
Which brings me to the main event, the pickled and roasted pork knuckle. It has a wonderful crunchy crackling and a juicy interior. You can add pork jus to add a bit more porky juiciness to the meat. The cranberry sauce and the Bavarian mayonnaise (that is house-made with fresh herbs) is also good with the meat as is the mushroom sauce. Even Mr NQN who isn't a big fan of pork or pork knuckle dives right in because the meat is so tender. All of these are washed down with some beers - many of the beers have food match recommendations next to them. And even with three hungry people there's so much pork leftover afterwards and we end up taking three boxes home.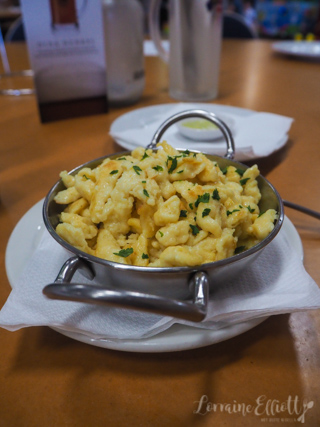 Spaetzle $8
The spaetzle or egg pasta has a nice chewiness to it and is served buttered with parsley although I don't think we really needed this.
Palatschinken $14.50
Dessert wise there are two choices: crepes or ice cream and I so glad that we got both. The palatschinken are thin crepes filled with a vanilla custard and drenched in butterscotch sauce with vanilla ice cream. I can't believe I have been serving my crepes without custard in them when adding custard is such a genius idea.
Mixed Gelato $12.50
Normally ice cream is something I order for Mr NQN but this has three scoops of mango sorbet, pistachio ice cream and strawberry ice cream. The mango sorbet tastes just like fresh mango and the pistachio is fine but I love the strawberry ice cream that tastes of fresh strawberries and cream, my favourite combination.
As we are finishing our dessert, musician Fritz is rousing the crowd using his accordion version of Sweet Caroline and then he segues into some Greek music and some women get up to dance Greek style. A cow bell rings as someone orders a schnapps paddle creating cheers and whoops.
So tell me Dear Reader, do you like German food? What is your favourite item?
Jägerstube
79 South St, Schofields NSW 2762
Friday 5–9pm Saturday 12–10pm
Jagerstube closes Christmas Day until January 13th, 2023