It's the best of both worlds with this incredible celeriac and potato mash! Celeriac makes this delicious mash less carby but upps the flavour. It is made creamy with cream, butter, garlic and is garnished with chives. I hope you'll try this version of mashed potato at least once - this is a pushy recipe Dear Reader!
Celeriac is a winter vegetable (technically a turnip rooted celery) that can be eaten both raw and cooked. It looks knobbly and quite frankly unruly to deal with. With some of the gnarled areas you may have to slice it with a knife and expect to cut or peel away quite a bit of a celeriac root's outer skin. Raw celeriac has a walnutty smell but tastes quite mild and vaguely of celery. Eaten raw its crunch makes for a wonderful celeriac remoulade but when cooked it makes a wonderful mash when combined with potato. I like a 50/50 mix of celeriac and potato that delivers creaminess from the potato as well as flavour from the celeriac.
I served this celeriac mash with some lamb and rosemary sausages with home made gravy and it was a wonderful winter dinner on a night that we felt chilled to the bone. I know we're only just starting onto winter but I can't wait for it to be over. I normally love going out but I really just want to stay home and eat mash, stews, curries and roasts and have friends over and be a homebody.
In between this we've been doing the rounds with house inspections. I was warned from some friends that it can often take up to a year to try and find the house that is right and some Saturdays we have a look at half a dozen places. There have been some really unique houses. There are some that are crazy narrow or tiny and almost all look wonderful in photos but less so upon inspection. Other houses are enormous but have a strange sense of flow. There was one massive house with an enormous tapestry of "The Last Supper" with the laundry located just next to the living room and while sleek and modern had the pokiest, old fashioned furniture. And of course the house that we liked the most had a tiny kitchen with a miniature oven - clearly not everyone loves cooking as much as you or I might!
So tell me Dear Reader, what is your kitchen like? Would the size of a kitchen make a difference in choosing a house? Do you preferceleriac raw or cooked?
Did you make this recipe?
Share your creations by tagging @notquitenigella on Instagram with the hashtag #notquitenigella
Celeriac & Potato Mash
An Original Recipe by Lorraine Elliott
Preparation time: 15 minutes
Cooking time: 40 minutes
Serves: 4 as a side dish
500g/1.1lbs celeriac
500g/1.1lbs potatoes (I used Dutch creams)
1/2 cup/125ml/4flozs cream (or milk but I prefer cream)
100g/3.5ozs butter
1/2 teaspoon finely minced garlic
Salt and pepper for seasoning
3 tablespoons finely chopped chives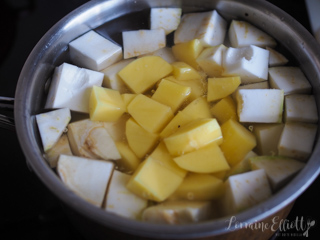 Step 1 - Peel the celeriac and potatoes and chop into chunks roughly the same size. Put in a pot of water and bring to the boil and simmer until soft (around 30 minutes, depending on how big the chunks are). Drain and then place back into the pot and allow excess water to evaporate.
Step 2 - Start to mash the celeriac and potato. Add the butter and melt and then add the cream with the garlic and season with salt and pepper. Garnish with chives.