Ibu Dian Catering delivers authentic mouth watering Indonesian food right to your door. There's enormous, puffy delicious fritters and plump dumplings with eggs and a peanut sauce. For lovers of chilli, there's chilli lemongrass chicken or chilli sambal prawns and potatoes. The food is 100% halal and it's easy to order, just send them a DM and they will deliver or you can pick up from the Wolli Creek location. The dishes are also incredible value!
Ibu Dian means Mrs Dian in Indonesian and the Mrs Dian in question is a home cook whose business Ibu Dian Catering grew through word of mouth. The family first migrated to Australia in 1988. The lifestyle change was significant as in Indonesia they had maids and food carts for food. She had never cooked in her life but had no choice but to learn how to cook. It first started with her friends placing orders for her food. It was so tasty that she started catering parties, wedding and special events and supplying to Asian grocery stores and supermarkets.
Her daughter Yani says, "Due to the pandemic half of the stores have shut down. My mum isn't quite computer savvy so I decided to open up an Instagram account in hope to make more business for her and to help her out anyway I can." Yani is a reader of NQN who contacted me through Instagram.
They deliver on Saturdays from 10am - 12pm but pick up orders can be collected at Wolli creek between 12:15 - 1pm. Then they continue with their deliveries from 1pm onwards. The minimum for delivery is $50 over and the delivery fee is usually between $5-$10 up to 10km away from Wolli Creek although they are looking at outsourcing delivery.
I wanted to find something delicious for Mr NQN's birthday weekend so I made an order with her for her best dishes. The 10 item menu is full of delicious Indonesian classics like congee, noodle soup and chilli lemongrass chicken combined with some more adventurous items like cow's leg skin curry, chilli chicken liver and gizzards. Prices are phenomenal and they are $10 per box and the fritters are just $2 each.
Bakwan $2
Bakwan are enormous vegetable fritters and whatever you do, you have to get at least one Bakwan per person. I like fritters but sometimes they can be crispy and dry. These vegetable fritters made with flour, cabbage and carrot are not. They're SO puffy, moist and delicious and topped with a prawn with green chillies. They're enormous so I cut one in half intending just to have that but then I devour the other half as it's so moreish. And I'm amazed by the price at $2 each.
Siomay $10
The siomay plate comes with an assortment of goodies. Mrs Dian makes a prawn and chicken siomay paste and stuffs tofu and dumpling skins with it and steams them. These are served with a boiled egg, peanut sauce and kecap manis. They're very tasty with a good, bouncy texture to them and the peanut sauce adds another level of flavour.
Bakmie Ayam Chicken Noodles $10
Mr NQN makes fast work of the Bakmie Ayam noodles with a delicious chicken broth, pieces of chicken and mushrooms and greens. It comes with two sachets of chilli sauce and the soup is separated from the noodles so that the yellow egg noodles retain a good texture and don't become soggy. Mrs Dian also makes the beef balls herself and they have a wonderfully bouncy texture. This is such delicious comfort food.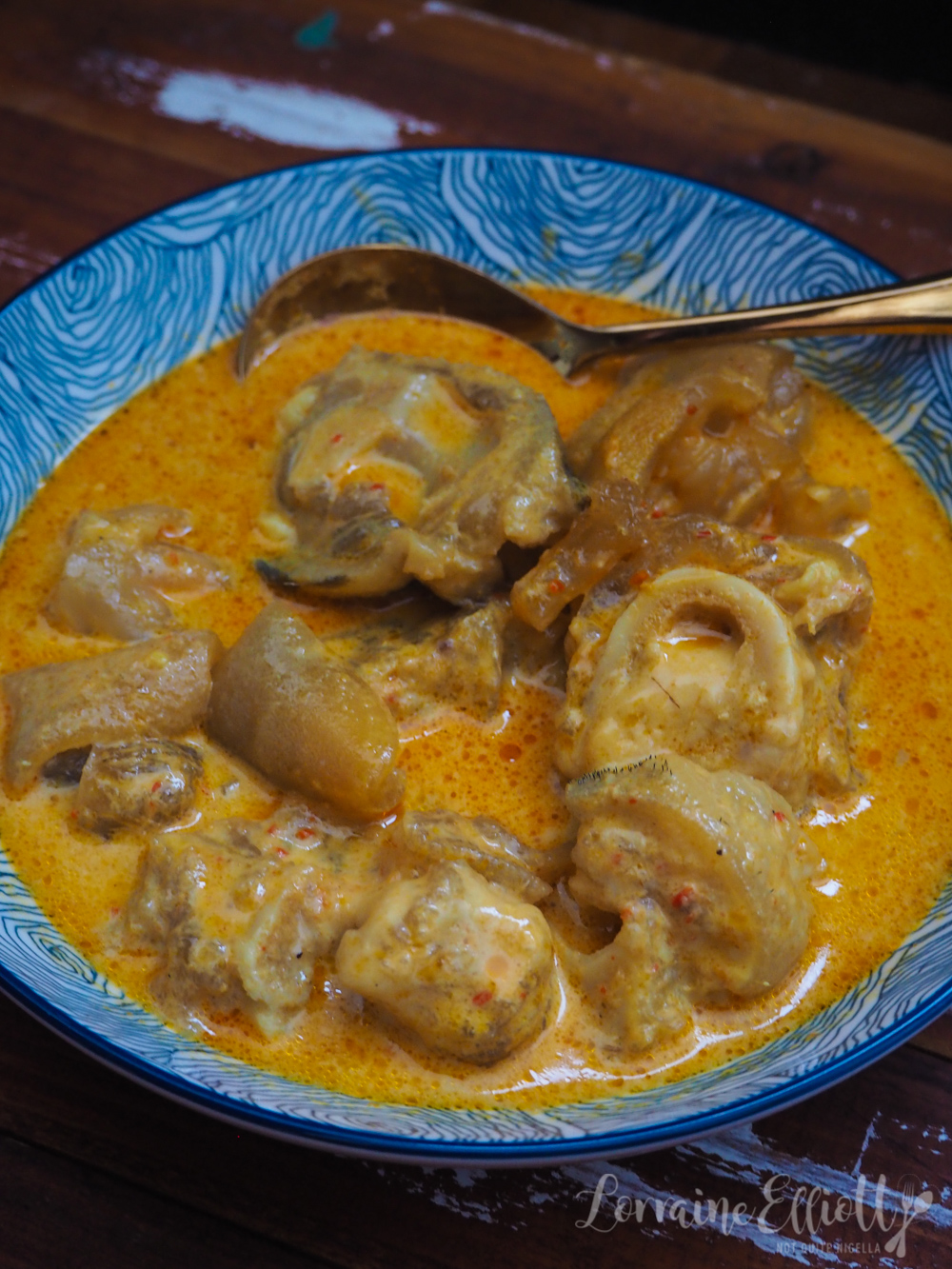 Cow's Leg Curry Kikil $10
The cow's leg curry is made from beef tendon which is very high in protein and low in fat although it has a gelatinous fatty texture. Mrs Dian boils cow feet and then once ready cuts the skin from the meat then adds this to the curry. The curry is a sweet, spiced coconut milk curry with a hit of chilli right at the end. As for the tendon the texture takes a little getting accustomed to as it's really unique but the curry sauce is so delicious you persist. I ended up putting half of this away and then craving it again the next evening.
Chilli Lemongrass Chicken Ayam Sereh $10
The chilli lemongrass chicken or Ayam Sereh is a popular Indonesian dish. It has pieces of bone-in deep fried chicken that is smashed with a mortar and pestle. The chicken is then coated in a rich chilli lemongrass sambal. This is bold, tasty and redolent with chilli and garlic. Memories of eating this in Indonesia come flooding back with every bite.
Chilli prawns and potatoes Udang Belado $10
Another must have is the chilli prawns and potatoes. Cubed potatoes are cooked and served with shell on prawns and bitter beans (ironically they aren't very bitter at all). Like the chicken it comes with a slick of scarlet oil but if you don't fear oil, it is so deliciously flavoursome. I serve this with steamed rice and it soaks up that delicious sauce. This and the bakwan are my favourites although there isn't a dish that I didn't enjoy. And as for Mr NQN he loved his birthday feast!
So tell me Dear Reader, what is your favourite Indonesian dish? Which dish appealed the most to you? Have you ever tried beef tendon or skin?
Ibu Dian sent the food as Yani is a Dear Reader but all opinions remain my own.
Ibu Dian Catering
https://www.instagram.com/ibudiancatering/