Tokyo Lamington in Newtown delivers lamingtons across Sydney in whimsical flavours like Fairy Floss or ones inspired by their travels like Yuzu Meringue, Thai Milk Tea or Black Forest. If you're after something a bit savoury you can also order from their range of onigiri or rice balls filled with traditional fillings like sake cured salmon or fusion versions with bacon and eggs and curry chicken.
Tokyo Lamington is by Eddie Stewart formerly of Black Star Pastry and Min Chai of N2 Extreme Gelato and started in 2019. It was a concept originally slated to launch in Tokyo but COVID-19 put that on hold. Eddie says, "It was never our plan to bring this brand to Australia. Tokyo Lamington was destined for Tokyo; we opened N2 brunch club in Tokyo and lamingtons became so popular Tokyo Lamington was born. We were about to open then COVID hit so we had to hold those plans till a later date, in the mean time we did a collab with Koko Black for World Chocolate Day in 2020, it was a great success so we found the Old Black Star store vacant (my old work place) and decided to open here in Sydney!"
I order a range of the lamingtons and a couple of onigiri online which are reasonably priced at $7 per lamington and onigiri. You can pick up the goodies from the Australia Street store in Newtown or have them delivered. You can pre order for the next day or for within 30 minutes prep time while they are open. I decided to pick up contactless as we don't live far from Newtown. I just popped in my car details and arrived at the time specified.
I call the number and Eddie answers and he appears in less than 5 minutes and passes the paper bag through the car window. The packaging nowadays is in cardboard containers. Some of the more delicate lamingtons are placed in a box with a lift out insert. This works well except for the onigiri and the yuzu lamington where the rice and the meringue stick to the box.
I just had to order the fairy bread lamington because I adore hundreds and thousands for both happiness inducing colour and satisfying crunch. I take a bite and taste...popcorn? Yup it's popcorn buttercream (the website also cites ingredients of "children screams and unicorn tears" ha). The difference between Tokyo Lamington's lamingtons and others is the dip in white chocolate. This is my favouite lamington and I especially love the popcorn buttercream with a hit of saltiness and that wonderful texture of the chocolate dip and crunchy non pareils. Eddie explains, "How do we make the popcorn butter cream? This one took a while to get right till we where 100% happy. It's funny sometimes we get it first go and others it's takes a few attempts. The Popcorn butter cream has real Popcorn in it, it has to right! You can't have popcorn with out that texture."
They devised the Thai Milk Tea lamington because the duo weren't able to visit Bangkok due to border closures. This lamington is made with Thai milk tea cream, boba pearls and is dipped in white chocolate and rolled like a traditional lamington in Thai Milk Tea flavoured roasted coconut shreds. The cake is so soft and fresh and I love the texture of the bouncy bobas and coconut. The white chocolate dip on the outside is less apparent on this one and the outside finish is more soft like a traditional lamington.
I didn't expect to love the Black Forest Lamington as much as I did as sometimes kirsch can be strong but here it is perfectly balanced. It's a chocolate cake filled with cherry and Kirsch cream, dipped in dark chocolate with chocolate flakes on the outside. Out of all the lamingtons, the texture of this is the moistest inside and similar to a tres leche cake.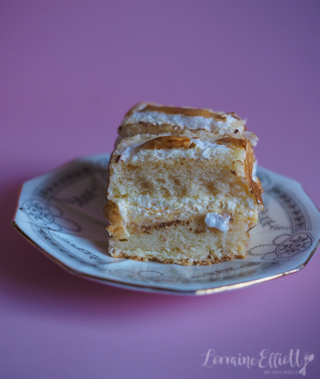 A lamington without coconut? Sure that's the yuzu meringue lamington. These have a limited run and the first day I wanted to order these they were sold out so I had to try again. This is a vanilla sponge filled with Yamaguchi yuzu juice curd, fresh cream and dipped in meringue and then blowtorched. The texture of the cake itself is wonderfully soft and I like the tart flavour of the yuzu and sweet torched meringue.
Onto the onigiri! I ordered the bacon and egg and the curry chicken onigiris. I like onigiri but sometimes find that the ratio of rice to filling is more rice. The bacon and egg one comes with half a soy boiled egg and finely diced bacon and is best eaten straight away while it is warm. The curry chicken is nice although I do crave more filling for the rice but that's onigiri.
So how do they come up with the lamington flavours? "We just come up with flavours we like to eat and try and make it work. Most the Japanese flavours have a story behind them or a memory or something we have eaten in Japan. We have two chefs also so we all chip in on coming up with flavours. Right now I'm working in a lot of nostalgic flavours from my childhood," says Eddie.
So tell me Dear Reader, what is a favourite food from your childhood? Do you like lamingtons?
This meal was independently paid for.
Tokyo Lamington
277 Australia St, Newtown NSW 2042
Open 7 days 7am-3pm
https://www.tokyolamington.com/