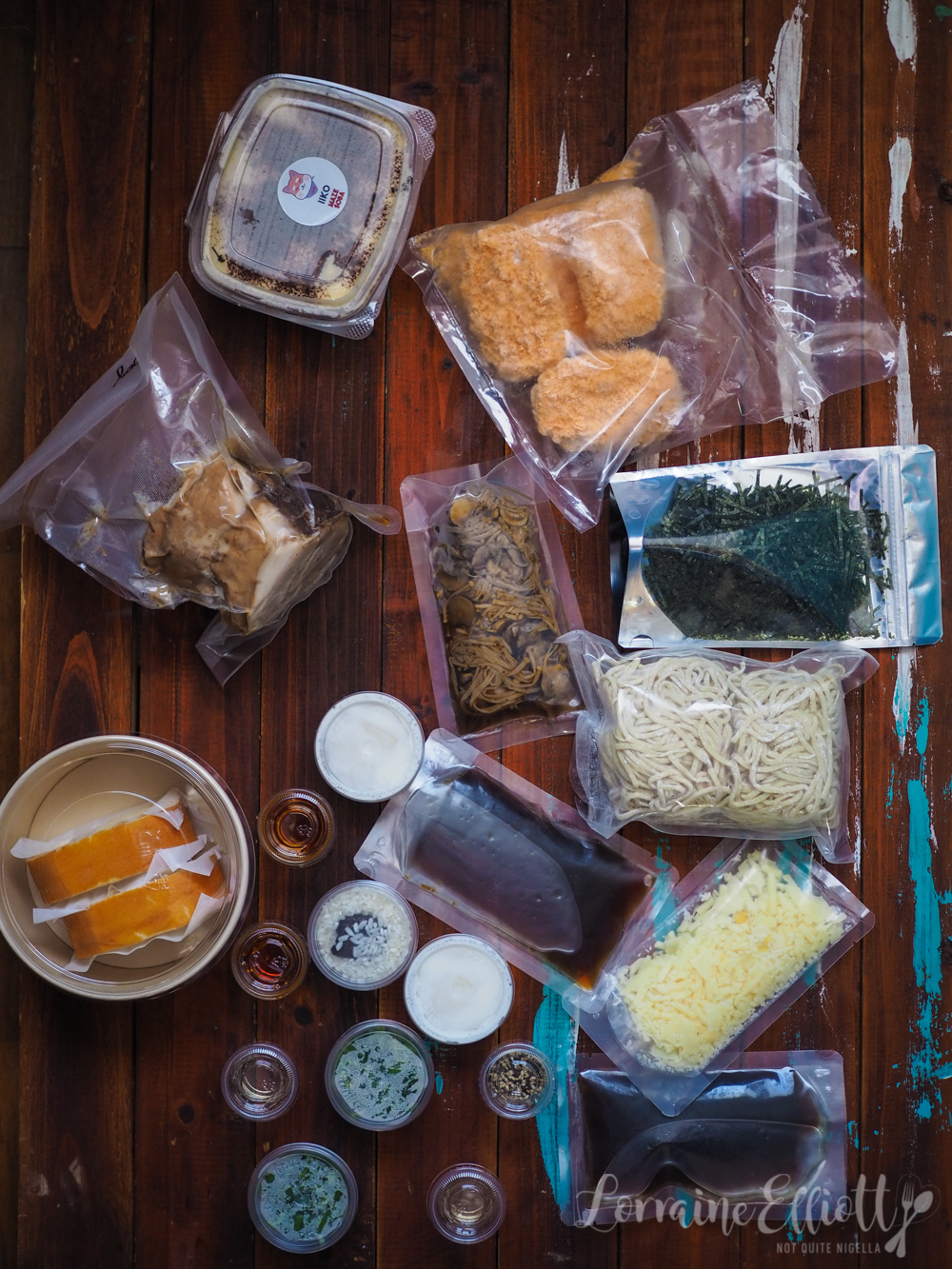 Want to spoil yourself with some winter truffle but don't want to break the bank? Iiko mazesoba delivers a delicious truffle (and non truffle) menu. On the savoury side there are hand made noodles or Mazesoba (a broth-less ramen) where you can shave fresh truffle on top and on the sweet side there's also a truffle tiramisu!
"COVID has been tricky this time around - in a way we were much more prepared to adapt for it (as we had experience from last year) but it is harder on morale as this time around, the outbreak seems to be much worse and there's a lot more uncertainty. The lockdown duration was also extended a couple of times, so it's always a bit difficult to forecast," says Michelle Widjaja owner of IIKO mazesoba.
Browsing their website I ponder what to order and settle on the truffle noodles for two plus a truffle tiramisu for dessert. The most popular item is their variety Family Pack. "We've had feedback that some of our customers live alone and want some variety in the kit - so we've created a pack that contains 2 servings of Original mazesoba, cheese mazesoba and xo piggy mazesoba (6 servings in total)," says Michelle.
For good measure, I also ordered two other things: their 500g chashu pack and their frozen prawn croquettes because I love both of these items and they're also an excellent price ($8 for 4 prawn croquettes and $12 for 500g of free range pork chashu). Delivery was free and delivery dates are grouped according to area so Wednesdays she delivers to the Eastern suburbs. They deliver 15kms from the Haymarket restaurant as far as Ryde, Chatswood and Hurstville and delivery orders close at 9am on the day of delivery.
At-Home Truffle Mazesoba Twinpack $48.00
There are a few types of noodle twinpacks and I was tossing up between their Wagyu Marble Score 8-9 or the truffle but since we are in our last month of winter and truffle season will be over soon I went with the truffle that comes with a 10g portion of whole truffle. The twin pack comes in a cardboard box with the noodles, sauce and all of the fixings to make the noodles. There are two portions of noodles (160g each), 10grams of First Grade Australian winter black truffle, soy sauteed mushrooms, cheese, fresh cream, truffle mazesoba sauce, kombu vinegar and chilli oil. Then there is a set of toppings with nori, chopped shallots, seasoned bamboo shoots and roasted mixed sesame seeds.
There are instructions online and it's very easy to prepare. Most of the items can be heated on the stovetop or microwave and the noodles only take 3 minutes to cook. I added a truffle infused fried egg on top and a pan fried slice of chashu on top along with the other additions. The base sauce is the vegan version of their signature sauce and is strongly flavoured but absolutely delicious and there's just enough soup to lubricate the noodles without submerging it with broth. Mr NQN was a massive fan of these noodles and could have wolfed down a second serve if there was one. As for the chashu it is delicious as it is an absolute bargain and they use Borrowdale Free Range pork belly chashu. They suggest cutting it into whatever thickness you want and then searing it in a pan to reheat it or blowtorching it for additional smokiness.
Prawn Croquettes $8
Confession: I love these croquettes so much that I asked Michelle if I could buy some and she put them on the store. The croquettes are full of prawn and while they are usually deep fried in the store, you can also air fry them or bake them in a fan forced oven. I love these croquettes for their crunchy texture and generous prawn filling inside.
Truffle Tiramisu $15
I know truffle desserts aren't for everyone but I had to try at least one and there was also a truffle Basque cheesecake available too. The truffle tiramisu has black truffle infused mascarpone cream and black truffle shavings on top. It has a good flavour of truffle that permeates through the whole tiramisu via the black truffle infused mascarpone cream and shavings on top. The truffle does make it very rich however and it's a bit too rich and unusual for Mr NQN.
So tell me Dear Reader, have you tried truffle in desserts and do you like it? Do you drink the broth with your ramen or do you leave it behind?
This meal was independently paid for.
IIKO Mazesoba
https://mazesoba.com.au/
Delivery available within 15km of Sydney CBD only. Min. Purchase of $30 for home delivery. Free shipping available for home delivery orders over $65.