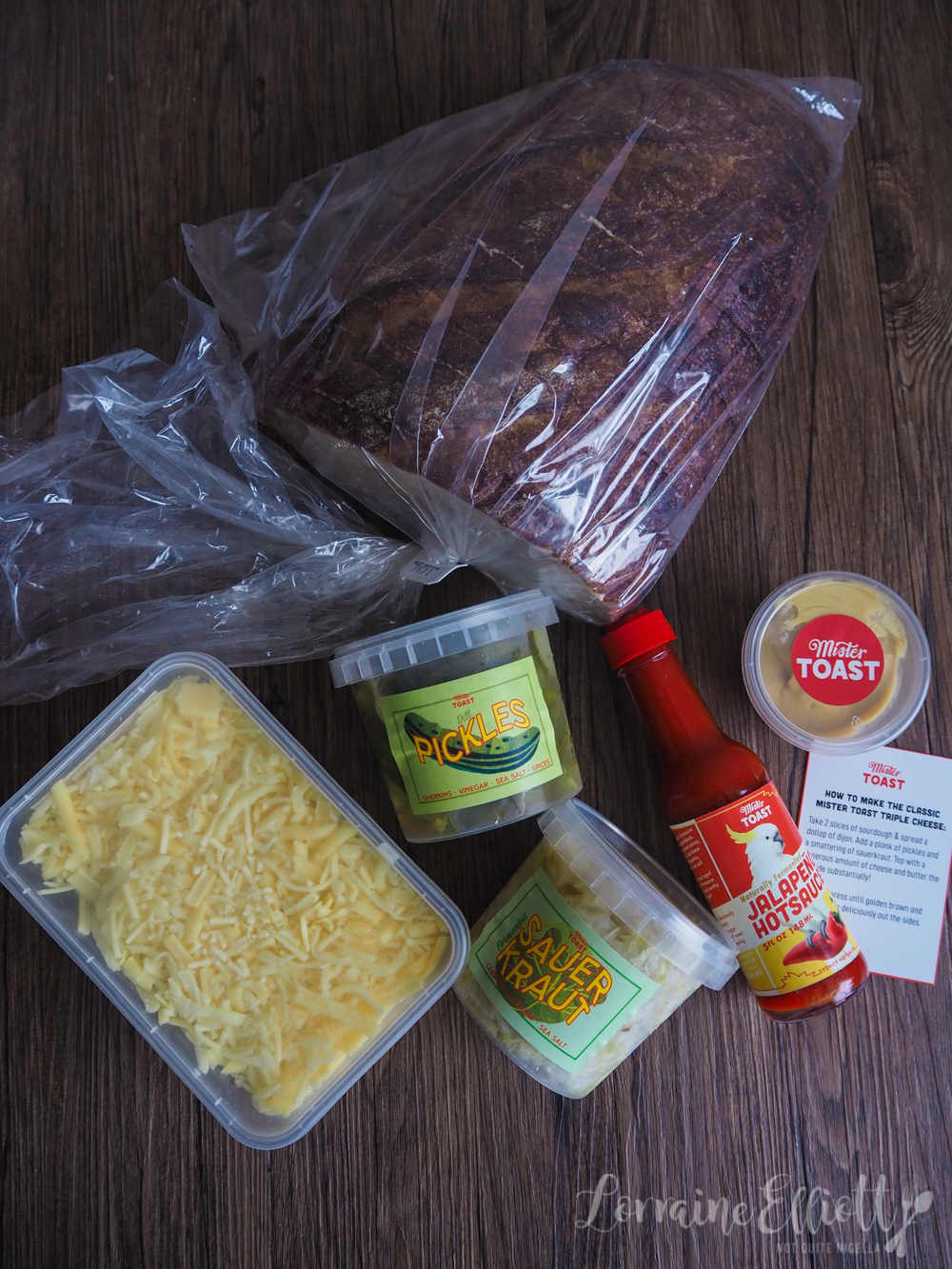 Mister Toast is a popular market stall that has pivoted to offer cook-at-home toastie kits. These toastie boxes have enough for six of their signature triple cheese toasties with their secret three cheese mixture, house made pickles and sauerkraut as well as Dijon mustard. All ready for you to cook up at home!
The couple behind Mister Toast are Heidi Abraham and Zac Wolf who started the business in 2015. "Our menu centered around toast not toasted sandwiches as such. However we quickly noticed that the best market food is hand held and so we added our first toastie. Toasties fast took over the menu and the Mister Toast grilled cheese was born," says Heidi.
So what makes a great toastie? Heidi says, "We do hand grate our Australian cheddar of choice along with a mozzarella and and a tasty. That's all we'll say about our blend. It is of course one of the most important factors in creating a good toastie. The cheese has to have good melt factor and the right amount of bite! We make both the pickles and caraway sauerkraut. It's these house made goodies that we believe make a good toastie. We've found store bought stuff doesn't have the flavour and we prefer to honour simple, traditional ingredients and processes." Zac adds, "You want a gooey, oozy centre, a crispy outside with a thin slather of butter and a few pickles and sauerkraut to balance the richness."
To order a toastie box you DM Mister Toast on Instagram. Delivery is $5 within 5kms of Five Dock or $10 within 10kms and they don't deliver to any high risk LGAs. You pay online into their account.
I receive my delivery around 9am on the Saturday morning and there's a loaf of pre-sliced rye sourdough, caraway sauerkraut, dill pickles and Dijon mustard. I'm also lucky enough to nab a bottle of their own brand of jalapeno hot sauce.
There's a card with instructions on how to make a toastie. The only thing that you will need to supply is butter to spread on the outside of the toastie. The enormous half loaf of sourdough is super fresh and the amount of ingredients is generous and I can easily see this making 8 toasties which is the amount of sliced bread given.
I spread garlic butter on the outside, layer the mustard on one slice of bread and then top it with the three cheese blend pressing it down tightly and then add sauerkraut, pickles and a bit of hot sauce. It's quick to cook up and these resulting toasties are absolutely delicious, very much like the ones at the market stall. It makes me wistful for food markets where you could sit down and eat with friends!
So tell me Dear Reader, would you order a cheese toastie box? What sort of cheese do you put on your cheese toasties?
This food was independently paid for.
Mister Toast
https://www.instagram.com/mistertoast/?hl=en