KeenTown Project is a Brazilian food caterer, events, takeaway and delivery business that delivers delicious Brazilian food across Sydney. The menu changes weekly but it can be something like the famous Brazilian Feijoada stew or an Escondidinho pie (think shepherd's pie casserole) filled with house cured beef or bacalau. And no Brazilian meal is complete without a dessert, especially a dulce de leche one. There's a churros cake smothered with dulce de lech or for Flan fans, the best flan or Creme Caramel in the world!
KeenTown is the phonetic pronunciation and play on the Brazilian word for backyard "Quintal". It is owned and run by Chef Cristina Nascimento and her partner Murilo Macedo. The two live in Marrickville where they started hosting dinners and events and in 2019 they launched cooking classes, a range of preserves and salts and their dining experience menu. Cris is the chef while Mu handles the business and management side.
While both are from Brazil they met here in Sydney. Cris says, "I always wanted to be a journalist but ended up in Cooking University in 2007." She followed this up working on a Royal Caribbean Cruise, at banquets of Hyatt Hotels in Sao Paolo and studying for her Masters in Gastronomy. "As it was quite hard to find a good position as a chef in Sao Paulo, I followed a friend's advice from the ship and decided to come to Australia as a student. After working for so many years in cafes I decided to get involved with more sustainable business and joined Cornersmith for a while and OzHarvest," says Cris.
Mu says, "Different from Cris I don't have a hospitality background. In Brazil, I did a Bachelor in Management and post graduation in logistics and worked for Pirelli Tyres for 5 years. I decided to come to Australia to run away from what I considered a boring life. Here I was a kitchen hand, soccer coach, project manager and worked for a butcher shop. In parallel, I started studying Homebrewing and I just fell in love with it,"
They launched KeenTown @ Yours the takeaway and delivery service in March 2021, cognisant that their dinners and events could stop at any time. You can order online and have it delivered or pick up the food. I ordered a range of things and picked it up from their Marrickville location and it came boxed up with a cute personalised label with a pamphlet that explained how to heat it all up. It was easy and you basically pop it all into a 180C oven for 20 minutes or so. They also had individual use by dates printed on each item which I found helpful because sometimes you order more than you want to eat that night.
Escondidinho de Carne Seca (Serves 2) $55
This is my first time trying Escondidinho. Cris explains the dish, "Escondidinho" is a dish very popular in Brazilian Cuisine, in Portuguese when we use "inho" or "inha" at the end means 'small', but it is also used to show affection, for example, something that is cute or someone that is close to you. And, 'Esconder' means to hide. 'Escondidinho' ends up being the good old Shepherd's pie because too often, we separate dishes but in reality, there are similarities in every cuisine. Our Brazilian version has jerked beef filling, cassava (our native root vegetable) mash, and Brazilian-style cream cheese, however, that are different versions using other ingredients but this it the classic one."
There are two types of Escondidinho pie on offer, one with bacalau or salt cod or one with beef. Mr NQN isn't a big cooked fish fan so we went with the beef version. This is a substantial sized portion and could feed 2-3 quite easily. I love the flavoursome filling and the texture of the cassava mash. It is very filling but you just want to keep eating it. The Escondidinho also includes a side of broccolini served with handmade roasted garlic butter and garden salad with rapadura balsamic vinaigrette and the whole dish is gluten free. There's also a vegan version of this made with mushrooms and vegan halloumi.
Tapioca Dice with Halloumi Cheese (450g frozen pack) $13
I also ordered some of their tapioca dice made with halloumi cheese. You pop these in the oven for a tasty, cheese and savoury snack and it's best paired with a dipping sauce.
Creamy Cocada $13 for two 300g jar
We tried a few different desserts. The first is a Cocada. "'Cocada' is a traditional coconut candy found in different flavors but the base ingredients are coconut, condensed milk, and sugar. At KeenTown we make a creamy version adding coconut milk and we make it more special by mixing roasted coconut and rapadura sugar," says Cris. It's intense, sweet and very creamy and coconutty.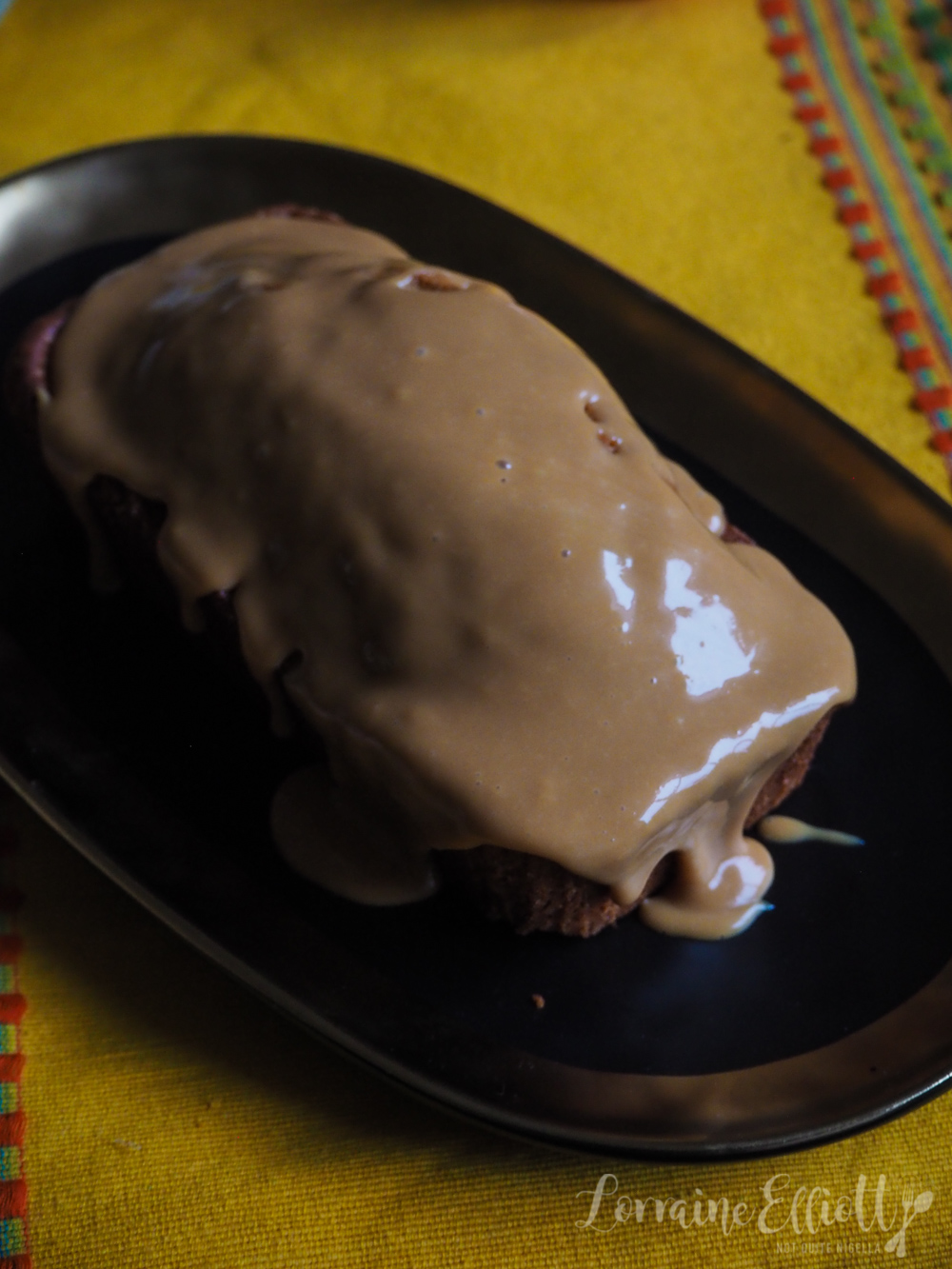 Churros Cake with Doce de Leite (serves 2 to 4) $13
The churros cake is a baked cake that is aromatic with cinnamon and smells just like churros. Like churros it's paired with doce de leite but this time it's smothered on top. Although this says it feeds 2-4 there's enough for 8 slices to have with coffee.
The Best Cream Caramel of the World $8
It's always a big claim to say that something is the best in the world but indeed this flan or creme caramel is incredible. The key is the crunchy coconut which is such a genius idea. The flan is smooth and wobbly with wonderful crunchy bits and I wish I had bought more of this because Mr NQN and I compete for every last spoonful.
One of their passions, apart from food and cooking and bringing Brazilian culture to Sydney, is to reduce waste. "Over the years we have learned many things about sustainability...however more important than the action are the vision and mindset," says Cris. They avoid using ultra-processed ingredients as most things are made from scratch, reduce the use of plastic in their packaging and do home composting. Cris says, "We love engaging people about composting and this even took us to expose our project at TEDx Sydney 2019 where we taught the audience how composting at home could be easy."
To complete the Brazilian experience for KeenTown @ Yours they also have a QR code so that people can access a music playlist on Spotify of a "we are all connected" playlist. "We LOVE music and especially Mu has a big connection to it. We are very proud of Brazilian music and we think it has the power to transport us in time and place and make people happy. Every song on the playlist is chosen carefully and we know how it makes the experience even more special," says Cris.
So tell me Dear Reader, have you ever tried Escondidinho? Do you like Brazilian food? Do you have any tips on sustainable living?
Some tips on how to live more sustainably from Cris and Mu that people can do at home during lockdown:
- Support your local community, buying from small businesses: a single coffee or a veggie box, every item counts. Keep buying from them.
- Start a garden: It was during the lockdown last year when we couldn't leave our house that we dedicated most of our time creating our garden and it was the best therapy ever. You can start small with a few herbs and plants.
- Cook more: We believe everyone can cook, it is a natural instinct that people lost connection with especially because of our busy life. Now with more free time, cooking can be a great activity especially if you have kids.
This meal was independently paid for.
KeenTown @ Yours
https://www.keentownproject.com/