If you fancy a 3 course meal from Quay's Peter Gilmore, a ready made lasagna from Elizabeth Hewson or Caribbean meatballs and rice from Momofuku Seiobo's former chef Paul Carmichael then hop onto FIX. dining at home and order top restaurant quality food that can be made at home. Some meals involve an element of cooking while others simply require reheating in the oven, microwave or stove. And good news, delivery is to areas in NSW, ACT, Victoria and Queensland!
One of the things that really saved our sanity (or at least mine) during COVID was the ability to order great food to eat or cook at home. A lot of businesses pivoted to offer this but now that lockdowns have stopped have returned to regular offerings. But the team at FIX. (a portmanteau of the Fink Hospitality Group that owns Bennelong, Firedoor, Gildas, Quay, OTTO and STIX farms, cafe and catering) created a new offering in 2022.
There are three pillars in FIX. Dining. The first is "FIX. Chef Dining Menu" that are the three course restaurant menus. The second are "Quick FIX." and are quick meals you just heat up and the third is "FIX. Store" that sells pantry items. There are four chefs that offer a 3 course meal for $220 (Analiese Gregory, Lennox Hastie, Paul Carmichael and Peter Gilmore) and we opted for Peter Gilmore's 3 course meal. Each menu details cooking instructions, producers, drinks matches, preparation instructions and nutritional information. Some are a bit more complicated than others to prepare so it's worth looking at these before you choose. You can order up to a month in advance and cut off is around 48 hours prior to delivery and delivery takes place from Thursday to Saturday. The minimum order is $100 excluding delivery fees and if you spend $175 you get free delivery and they deliver across selected areas in NSW, ACT, Victoria and Queensland. New chefs will be added as time goes on (Palisa Anderson's menu will be added in November) and the menu will change according to the seasons.
We were laying low before our big holiday to Hawaii so it came at an ideal time during the weekend when we'd normally be seeing friends and family. The day before it arrives you receive a delivery tracking link. Don't be alarmed, while it says delivery can take place from 7am-6pm this narrows down on the day and you end up with a four hour time frame (perhaps this even narrows down further but I didn't check).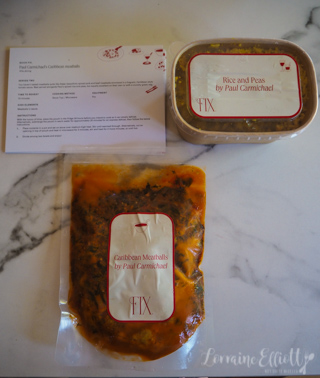 Everything arrives well packaged in a chilled box with recipe cards and a teatowel. The Quick FIX. items are frozen while the chef meals are fresh and they provide salt, pepper and butter and all you need is oil. There are also tips on what to do with the packaging and how to recycle it. All meals are prepared in the STIX kitchen and the bags of sauces are all garden compostable.
That evening I go to make Peter Gilmore's e course meal. The scallops are easy, all you need to do is sear them on both sides while heating up the eggplant XO sauce. Then you sprinkle it with a crunchy mix of nuts and sesame seeds and dot with edible flowers. The scallops are delicious and the bread is handy to mop up the delectable sauce. I would also make sure to heat the bread before serving.
Roasted pork belly, spinach purée, potato galette, green beans, shiitake mushrooms with yuzu miso butter, smoked trotter sauce.
The main is a roasted pork belly which comes with already cooked pork belly that you just have to crisp the skin and then bake to heat through. This is pretty straight forward and takes around 25-30 minutes total. First you crisp the skin and then heat it in the oven. Then while it cooks you crisp up the potato galette. Then you stir fry the mushrooms and green beans in oil adding in the yuzu miso butter at the end. While this is all cooking heat up the spinach puree and smoked trotter sauce and serve all together with the red baby gem lettuce salad with sherry vinaigrette. The pork belly was delicious and melted in the mouth and the potato galette was so crispy too (and it is something I'm unlikely to make at home). I added some chives to the simple salad and the vegetables were also very good and it was so filling I couldn't finish my serve. One thing that I would have found a little handy was having a picture of the finished dish (it's on the website but I didn't think to look there while cooking). You can get away with using less pans if you heat things up in the microwave but for this meal you want to use a separate pan for the scallops and the pork belly.
The dessert needs no preparation apart from taking it out of the fridge 5 minutes before serving. MasterChef fans may recognise it as the dessert Peter created for the 2021 MasterChef challenge and it is a dome with a whipped caramel centre, light as a feather chocolate mousse, and a delicate chocolate sponge, which are then hand-coated in chocolate pearls. It's a beautiful dessert and very rich and after all of this food we can't finish it all.
The next night was lasagna night with Elizabeth Hewson's Saturday Night Pasta offering. Elizabeth is a food writer and is also the Marketing and Brand Manager for the Fink Restaurant Group who started detailing her adventures making pasta as a form of self care therapy. I always knew that the lasagna would be a favourite. Mr NQN and I love the stuff more than Garfield and the day before we took it out of the freezer and defrosted it in the fridge. It was very easy to prepare, just rub the edges of the pasta in a little oil to crisp them up as per the instructions and then bake in the oven. There's plenty of sweet, soft pumpkin and cavolo nero which gives it an appealing sweet, savoury quality and Elizabeth is right, the crispy bits are the best. It's also fantastic value as you get around 4 serves of the lasagne.
I have a real love for Caribbean food but when it's a dish by Momofuku Seiobo's Paul Carmichael you know it's going to be superb. This Quick FIX. meal is also very easy to prepare. All you do is defrost it in the fridge the night before and then heat up the meatballs on the stove and the rice in the microwave or a pot. These meatballs are a combination or pork and beef mince habanero chilli, pecorino, ricotta, egg and curry powder and they come in a delicious tomato based sauce with lots of softly cooked cavolo nero to give it added texture. The rice and peas are pure comfort food, soft textured and tinted yellow by the turmeric and there's an aromatic spice blend strong with black mustard seeds. It was a meal prepped in less than 10 minutes and devoured in less than that.
So tell me Dear Reader, which meal would you order? Would you enjoy meals that are simple to prepare or ones where you have to do a bit more cooking?
FIX.
https://fixdining.com.au/