These incredible Greek lamb shanks are slow baked with pasta until wonderfully tender in one of the most delicious and easy lamb recipes you will ever eat! This is a dish that requires very little hands on time, you leave the oven to do all the work. This is a pushy recipe Dear Reader!
The recipe comes from my friend Valentina who is a wonderful cook. She has a Cypriot Greek heritage and when she showed me a picture of her lamb shanks I asked her for the recipe as it looked so delicious. This is a great dish because it's one that you leave to cook in the oven and you absent mindedly attend to it every 2 hours or so and even then the attention is minimal. I also love this dish because the ingredients list is simple - almost too simple so that you might think that what results could not possibly be as tasty as it is but I trust her sense of taste and it totally delivered.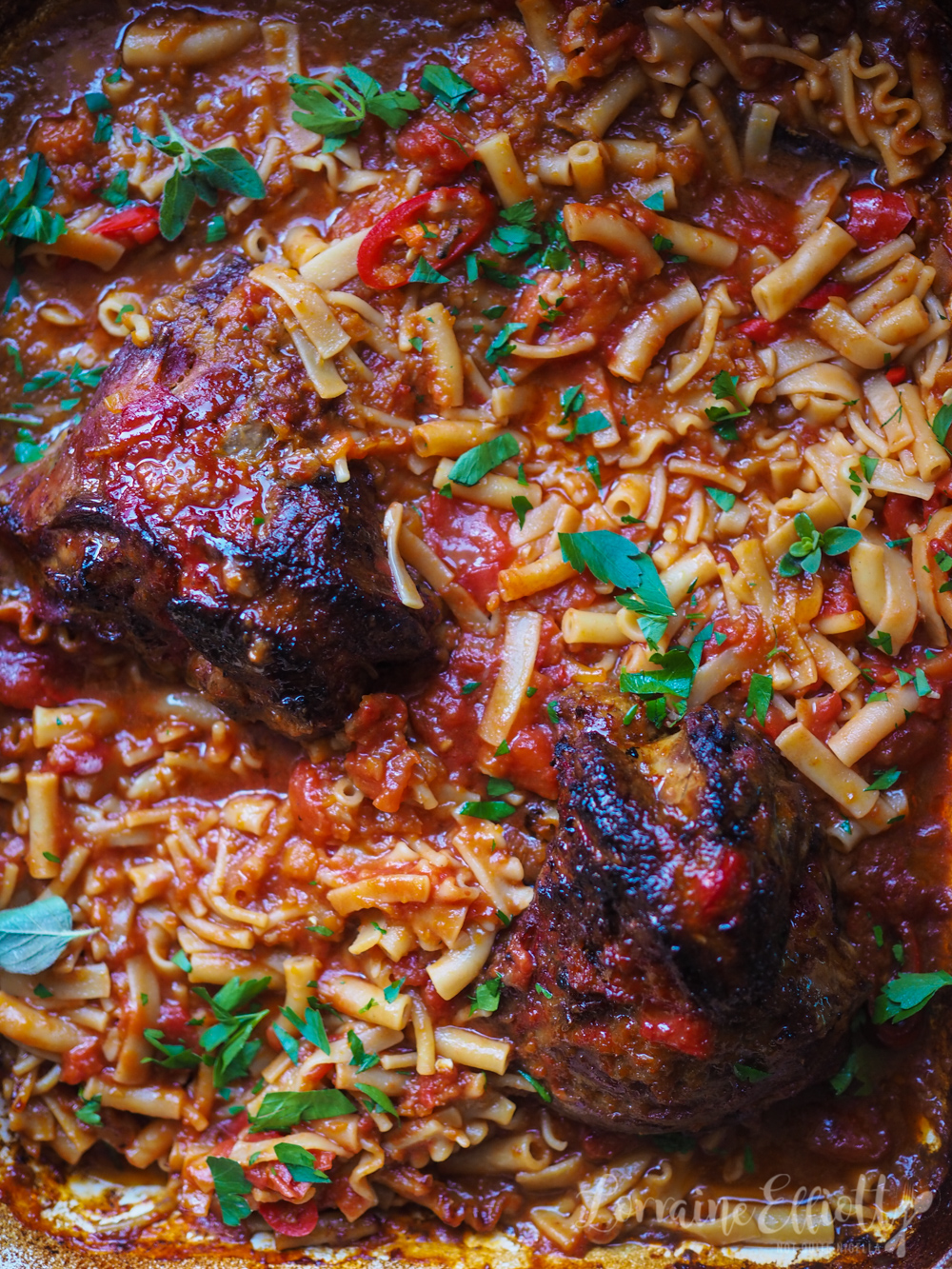 This dish is called "Giouvetsi" in Greek although Valentina explained that her mum used to just called with "Meat with pasta" in Greek. Her mum most commonly used lamb chops or a whole leg of lamb for Giouvetsi. Lamb shanks are one of the more expensive cuts especially considering that most of the weight is made up of bone. But they're perfect for slow braising and baking. I promise you this recipe is worth it. You can of course use other cuts of lamb - a small lamb shoulder, lamb chops, lamb leg or shoulder shank would be great. Alternatively you can use beef short rib (this will take longer to cook), oxtail or veal shank.
September in Australia is a funny month with huge variations in weather - one day it can be 17°C/62.6°F and others it can be 27°C/80.6°F. And if you're in the Northern Hemisphere you're getting coats out for Autumn so this recipe is perfect for those days that are a bit chillier. And even Mr NQN who doesn't like lamb liked this. I think it's because the tomato and spices really helped. The cinnamon and bay leaves adds warmth and aroma. Mr Teddy Elliott was a massive fan of this. I know I've hit the mark on a recipe if he "serenades" a dish while it cools. His serenade is a plaintive meeping song wishing for the food to come to him. He is a pretty good judge of food and he will only serenade the tastiest dishes.
Sometimes I think Teddy is the smartest boy in the world. They do say poodles are very smart and he is very fast at learning things, mostly tricks in aid of him getting food. However I found Mochi, a maltese shihtzu also quick at learning tricks too. But sometimes I think perhaps high intelligence is a rosy patina that an owner bestows on their precious dog.
Every night after work and before dinner we take Teddy for his second walk. And although he loves walks he sometimes takes a bit of convincing to come over so that we can put his harness on him. It's not the harness, he seems totally fine with it and some nights he comes straight to the spot that Mr NQN is pointing to which is where we don his harness.
One night Mr NQN kept pointing to the spot and Teddy wouldn't come over. He just stared at us, almost confused and trying to figure out what we wanted from him.
"Can I get you to do something?" Mr NQN said to me, "Just duck down out of his view."
So simultaneously Mr NQN and I crouched down out of Teddy's view. And within a second Teddy panicked seeing his parents disappear and ran over to see where we had gone! So he might know his meat but sometimes he doesn't know what to do!
So tell me Dear Reader, have you ever tried Giouvetsi? Do you think we are biased towards children/pets/loved ones?
DID YOU MAKE THIS RECIPE? Share your creations by tagging @notquitenigella on Instagram with the hashtag #notquitenigella
Valentina's Giouvetsi Baked Lamb Shanks & Pasta
Rated 5.0 out of 5 by 6 readers
An Original Recipe by Lorraine Elliott
Preparation time: 10 minutes
Cooking time: 3.5 hours
Serves: 4-6 people
2 large or 4 small lamb shanks equivalent to 1.3kgs/46ozs. (I used 2x650g/23oz lamb shanks)
Salt and pepper
1 onion, peeled and diced
1 carrot, finely diced
3 cloves garlic, peeled and diced
2 bay leaves
1 cinnamon stick
4 cups/1 litre/2.1pint beef stock
3 cups/300g/10.6ozs dried pasta
400g/14ozs tin diced tomatoes
4 tablespoons/80g/3ozs tomato paste
3 cups/750ml/1.6pints beef stock
1 chilli, sliced
Step 1 - Preheat oven to 180C/350F. Season the lamb shanks with salt and pepper and massage into lamb shanks. Then heat a frypan on medium high heat and brown the lamb shanks all over - this takes around 10 minutes. Remove from pan and set aside.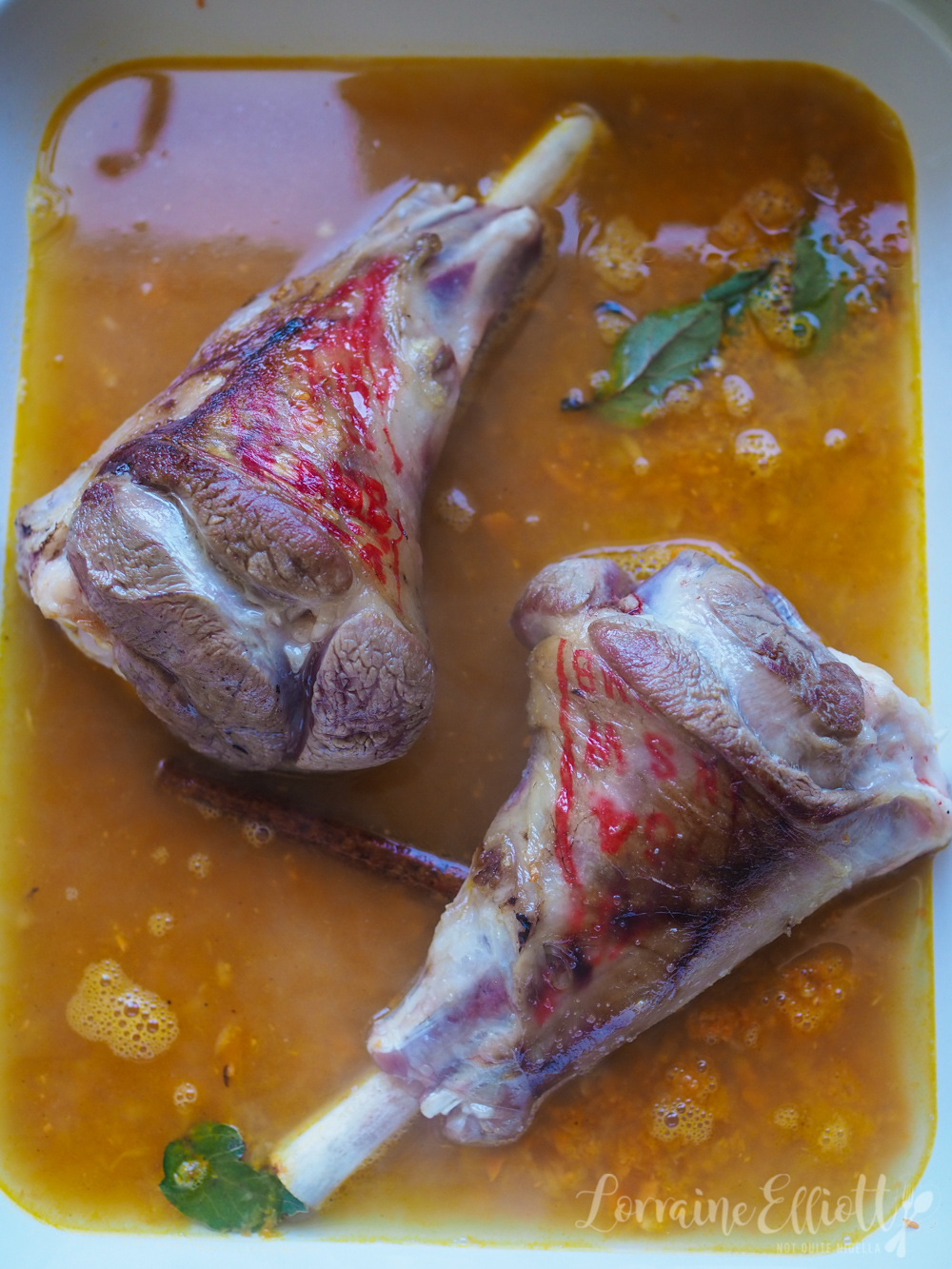 Step 2 -Add the onion, carrot and garlic to the pan and cook until softened scraping up any of the pan bits and juices adding oil if needed. Place this mixture into a large deep baking dish (or in a pot that fits them)-mine was 32x27x5cms/12.5x10.6x2inches. Add the lamb shanks, bay leaves, cinnamon stick and 4 cups of beef stock-it should go 1cm/1.2 inch up the sides. Bake for 1 hour uncovered. Then spoon juices over the lamb and cover with foil and bake for another 1-1.5 hours (as my shanks were so big it took 2.5 hours total but smaller ones should take less than 2 hours).
After 1 hour in the oven, then cover with foil and bake for another 1 - 1.5 hours
Step 3 -In a jug mix the tomatoes, tomato paste, beef stock and chilli with the pasta and then pour around the lamb shanks making sure that the pasta is submerged under the liquid so that it cooks properly. Bake uncovered for 30 minutes. scatter chopped oregano and parsley over the dish and serve. Pull the meat apart with forks and enjoy.
After adding tomatoes and pasta, before baking
Ready to eat!