It's almost national egg day and to celebrate here is a recipe for egg fried rice! This is a classic staple in homes everywhere and this version of egg fried rice is both delicious and easy. It has a delicious egg net on top which is so easy to make and elevates the presentation. If you love fried rice this is a pushy recipe Dear Reader!
If you have leftover rice then fried rice is the most delicious way to use leftovers. I grew up eating egg fried rice and it was a special treat on weekends for us as kids.
Tips for making egg fried rice
1 - The number one tip for fried rice is to use day-old long grain rice which is why fried rice is a great frugal and leftover recipe. Using freshly cooked rice makes fried rice too soft and gluggy. You can also use those microwave ready pouches of ready cooked rice too.
2 - I always season fried rice with salt and chicken stock powder. I use chicken stock powder so much that it sits on the side of my cooktop I use it so much. I use the kind that you buy from Asian grocery stores only and I get whatever brand is on special because I swear they all really taste so similar. It can be sold under Knorr or Lee Kum Kee and is called chicken bouillon powder.
3 - Making the eggnet bowl is easy: to make the eggnet just whisk two eggs together until mixed well. Then pass through a sieve. The sieve will remove the large gluggy bits of egg white which will get caught in the piping bag that prevents a smooth piping action. Then make a hatch or zig zag pattern on a non stick frypan that has been brushed with oil. There's no need to turn it over, just slide onto a plate and let it cool enough to handle.
4 - To assemble the egg net fried rice, place the eggnet omelette in a rice bowl and then fill with the rice (slightly cooled is easier to handle). Pack the rice in firmly and then fold over the sides of the omelette. Place a plate on top and upturn. It will turn out like a perfect half sphere!
This makes a lot of fried rice so feel free to halve the recipe if you want. It's enough for 4 people easily or 6 if you're having it as part of a bigger meal with other dishes. We were eating the fried rice with dumplings so this lasted over a couple of meals. I also gave a plate of it to my upstairs neighbour Cheryl.
Our neighbours are a real mix of people. The renters obviously come and go so we don't even get to see or really know them but Cheryl is a fellow owner and she and I bonded over our mutual dislike of Henry the self-important head of the strata committee. She is also an amazing gardener and does a lot of gardening work for our apartment block for free. She definitely has a green thumb and her plants often trail down into our apartment below giving our balcony a pretty pop of colour.
Of course Henry shows her no gratitude at all even when she contributed a monstera which was promptly stolen by someone! Yes people steal plants apparently. I know monsteras are pricey but it takes some nerve to dig up a massive plant in the front of an apartment garden. He refused to reimburse her for the plant that she could have quite happily kept to herself in her apartment. And I learnt that plant stealing is a real thing here too!
So tell me Dear Reader, have you ever heard of plant theft? Are you friendly with your neighbours?
DID YOU MAKE THIS RECIPE? Share your creations by tagging @notquitenigella on Instagram with the hashtag #notquitenigella
Egg Fried Rice With Egg Net
Rated 5.0 out of 5 by 2 readers
An Original Recipe by Lorraine Elliott
Preparation time: 10 minutes
Cooking time: 20 minutes
Serves: 4-6 people
500g/1.1lbs cooked long grain rice (ideally cooked the day before) or 2x250g packs SunRice Microwave In Bag long grain rice
1 teaspoon salt
1 teaspoon chicken stock powder
1 teaspoon sesame oil
1 teaspoon ground white pepper
2 eggs, beaten well for egg net
2 eggs, beaten well for fried rice omelette
Oil for frying
1 onion, peeled and diced
1 cup/150g/5ozs. finely diced carrot (around 1 carrot)
1 cup/150g/5ozs. peas
200g/7ozs. ham (I use ham steaks)
This recipe is best made with all ingredients already whisked and chopped up (mise en place).
Step 1 - Place the rice in a large bowl and break up any lumps with a spoon. Add the salt, chicken stock powder, sesame oil and white pepper and stir to coat all over. Set aside.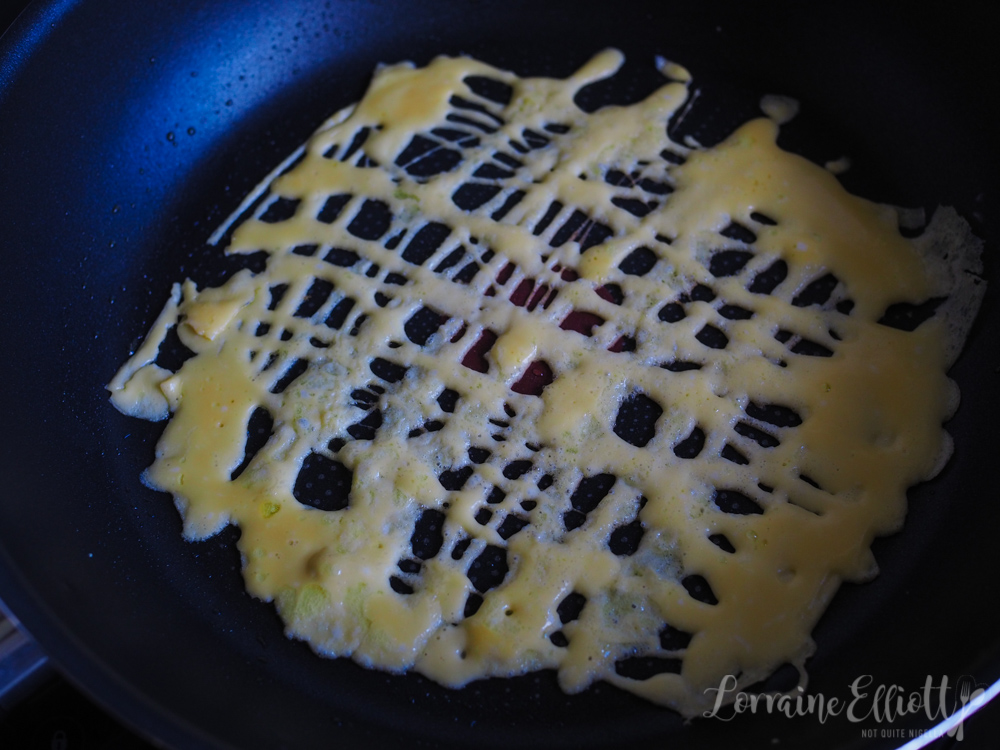 Step 2 - I fry the eggnet first because the frypan is cleanest. Whisk 2 eggs together until smooth and then pass through a sieve. Place this in a piping bag but don't snip the tip yet. Heat a non-stick frypan on medium high heat and snip a small hole off the tip. Quickly pipe a hatch pattern on the frying pan and allow to cook for 1-2 minutes. Slide out of the frypan (you don't need to flip it over) onto a plate and allow to cool so that is easier to handle.
Step 3 - Add a bit more oil in the pan and pour the second lot of beaten eggs in the pan and make an omelette turning it over. Remove from the pan and place on a chopping board to cut up when it's a bit cooler.
Step 4 - Add oil to frying pan and sauté onions until softened. Add carrots and continue to cook until carrots are tender. Then turn heat up to high and add the peas and ham and cook for a minute or two. Then add the seasoned rice and a bit more oil and toss gently to combine. While it is frying chop up the egg omelette and add this to the pan. Cook until rice is cooked through and season with more salt and pepper if needed.
Step 5 - Take the eggnet and place it in a rice bowl or a small bowl. Spoon in the rice into the bowl reaching the top (it's easiest to do this once it has cooled for 15 minutes or so but will still work on hot rice). Press it down firmly-this is key to it releasing from the bowl. Fold over any edges back onto the rice so that it becomes a neat little mound. Place a serving plate on top and then turn over and remove the bowl and serve.