This recipe is brought to you by Woolworths
These hokkien noodles are the bees knees. It's what I always ask my mother to make for any sort of family picnic or gathering. They're a flavoursome mix of chicken, prawn and stir fried vegetables topped with egg omelette.
It has been a good 10 years since my mother first shared her hokkien noodle recipe and in that time it has actually evolved quite a lot. I think it has improved and I love these hokkien noodles so much that I although I love eating new things, I always ask her to make these. She is probably bit sick of making them but they really are so popular at picnics and family gatherings and easy to make.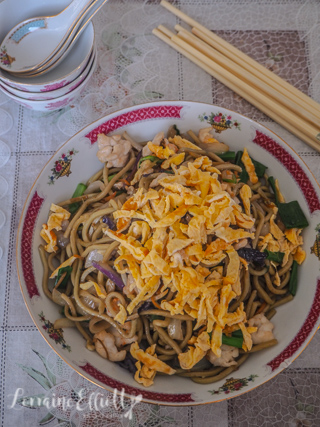 My mother's method for making these noodles is to layer things and cook everything separately so that it doesn't stew in juices but instead fries properly. What I also like about these is that they aren't oily or greasy whereas I find a lot of hokkien noodles tend to be.
To make these noodles, we used Woolworths Simply Stir-fry Hokkien Noodles as well as a shortcut using the Woolworths Layered Stir-fry Kit With Honey Soy Sauce for convenience.
When you use both of these the cooking and prep time is less than 30 minutes. The Woolworths Simply Stir-Fry and Simply Cook range are designed to do all the prep for you so you are still cooking from scratch but save time on prep.
We didn't use the honey soy sauce packet in the vegetables for this particular recipe because my mum makes her own sauce, but you certainly could especially if you were just stir frying the vegetables and were short on time but the honey soy sauce is delicious and full of flavour
These noodles are comfort food to me. I will say one thing now that we're moving into cooler weather, comforting Winter food is my favourite part of winter. That and barricading yourself in and cooking food.
I ventured out the other night to a food festival but I sort of wished I had stayed at home. My friend Sophia and I were standing there minding our own business when a woman hit Sophia on the head with her phone while she was busy taking a video. I guess she didn't see a human standing there.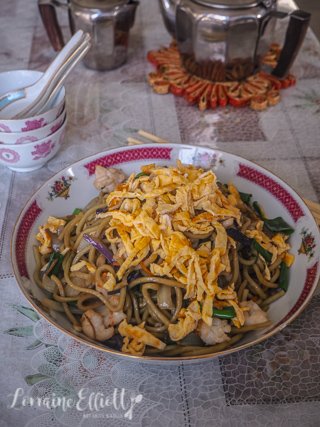 Then a couple of minutes later a woman walked straight into me. Then she rolled her eyes and said to her phone, "Well I guess SHE ain't moving!". I was caught in that moment between being flabbergasted at her rudeness and laughing. I don't know who she was speaking to, maybe she was live streaming but yes I wasn't moving. So perhaps it's safer to stay at home, bury yourself in and make the most of winter and comfort food!
So tell me Dear Reader, what is your favourite comfort food? And have you had any incidents like that where people have been caught up with technology or rude with their phone?
Did you make this recipe?
Share your creations by tagging @notquitenigella on Instagram with the hashtag #notquitenigella
My Mother's Hokkien Gathering & Picnic Noodles
An Original Recipe by Lorraine Elliott
Preparation time: 20 minutes
Cooking time: 15 minutes
Makes enough to feed a crowd of around 8, halve if you would like but this also freezes well and is great for lunchboxes
2x 500g/1.1lb Woolworths Simply Stir-fry Hokkien Noodles 500g
200g/7ozs. peeled prawns, sliced down the back and deveined and chopped
200g/7ozs. chicken tenderloins, sliced
4 teaspoons cornflour
1 teaspoon salt
1 teaspoon sugar
2 eggs, beaten
1 large onion, peeled and sliced
1 large clove garlic, peeled and diced
1cm ginger, peeled and diced
1/2 cup green shallots, cut into 1 inch lengths
Sauce
2 tablespoons soy sauce
2 tablespoons oyster sauce
2 tablespoons water
4 teaspoons sugar
2 teaspoons salt
2 teaspoons sesame oil
Pinch white pepper
Mise en place
Mixing the prawn meat with the cornflour, salt and sugar
Step 1 - Place the Woolworths Simply Stir-fry Hokkien Noodles in hot water for 2-3 mins, then drain. Set aside. In a bowl, mix the prawn meat and chicken and add the cornflour, salt and sugar and stir to season the meat. Set aside. Then in a bowl mix all of the sauce ingredients together and set aside until needed.
Frying the omelette
Step 2 - Add 3 tablespoons oil and heat a wok or a large frypan until very hot. Add the scrambled eggs and fry on both sides. Remove from the frypan and set aside. Fry the prawn and chicken mix until cooked through and remove from the pan. Then fry the Woolworths Layered Stir-fry Kit vegetables adding more oil if needed. Remove from the pan.
The chicken, prawns and egg cooked through
Step 3 - My mother now cleans the wok or frypan with hot water and dish soap - this is to prevent anything from sticking to the bottom. Return to the heat and turn to medium high heat, add oil and then add the onion, garlic and ginger and fry until translucent. Add the noodles and the sauce mixture and fry until softened. Then add the stir fried vegetables, the prawn and chicken mixture and then the shallots.
Stir frying the vegetables
Cutting up the egg omelette
Step 4 - Using scissors or a knife, finely slice the egg omelette and scatter on top of the noodles.