Chicken cacciatore or hunter's chicken is a DIVINE chicken stew with tender chicken thighs, mushrooms, capsicum, olives, capers and full of flavour and vegetables. It's one of the tastiest yet healthy recipes ever! This is a pushy recipe Dear Reader!
I love chicken cacciatore because it's a wonderful one pot or pan dish with lots of vegetables and is richly flavoured. Sometimes you don't want something heavy but you don't want something rich and creamy. That's where this wonderful chicken cacciatore comes in. It's perfect for all weather conditions, especially if things are a bit chilly.
Chicken cacciatore is also called Hunter style chicken as cacciatore means "Hunter". It was actually made traditionally with rabbit or wild game instead of chicken. It is a dish that comes from Central Italy from the 14th century during the renaissance but over time has spread all over Italy. The mushrooms were wild too and if this was made in the South of Italy red wine was used but in the North it was white wine. The addition of tomatoes that you see nowadays are actually a modern addition as they were only introduced into Italy from the 15th or 16th century. Instead of tomatoes, the meat would stew in the wine and the juices of the meat and vegetables.
Chicken thighs or breast with chicken cacciatore? Chicken thighs mimic the texture of rabbit or game better and remain juicy so I always make it using chicken thighs, skinless or skin on depending on what the butcher has in stock. If you use thigh meat with the bone please increase the cooking time to 1 hour. The shorter cooking time below is for boneless chicken thighs. You can also use chicken breast, rabbit or game in this cacciatore.
This chicken cacciatore can be cooked in a cast iron pot or a very large, deep saucepan as shallow pans will not hold all of the delicious sauce and vegetables. Olives and capers give this chicken cacciatore a wonderful acidity and depth of flavour. Please don't be tempted to skip these as these are major flavour contributors in this recipe.
Cutting around the top of the capsicum to make a "lid"
How to cut up a capsicum or bell pepper: I thought I'd share my favourite way to cut up capsicum or bell pepper that is also the best way to slice a capsicum for chicken cacciatore. I make a cut around the top of the capsicum lifting the "lid" off. I then reach inside and grab the seeds and the centre and discard. Then I cut the remaining capsicum in half and then slice into strips. I always thought that this was how everyone cut up capsicum until I saw how other people do it so I thought I'd share this way.
There's even a chicken cacciatore day (15th October). I had actually planned to make this around then but got caught up with Halloween preparations and all I served that week was a range of Halloween inspired spooky food. This year I was so happy to be able to celebrate not just one but two Halloweens. You see Mr NQN's niece Aura Lily decided to have her birthday two weeks early and to to celebrate it on Halloween complete with Halloween dress ups! I couldn't be prouder or happier about it.
I thought that I had a Morticia dress in my closet but when I went to search for it it wasn't there. I did however find another dress that I had no memory of buying (sleep buying costumes is a distinct possibility). Mr NQN shook off an old medieval knight costume and I got my cheese platter ready for the picnic party.
Well it turns out that I no idea what 11 year old kids like. I also assumed that there would be heaps of adults but it was basically half a dozen adults and dozens of kids. And as it turns out kids DGAF about French cheese and sun dried fruit.
"Um are you a vampire?" one girl Elle said to me quietly, eyes as wide as saucers.
"Yes I am," I said conspiratorially.
She was delighted at this discovery and gave me a secret "thumbs up" sign.
"That vampire dress really suits you," said another ghoul girl gnawing on the corner of a bright scarlet corn chip, her eyes ringed with dark eyeshadow.
While I find babies terrifying once they get a bit older and can communicate they're much easier to deal with and these 11 year olds were the sweetest. It also turns out that all of these 11 year old kids are very familiar with Squid Game having seen the show (how? I had nightmares!). When I suggested to Aura's mum Araluen that we play the Red Light Green Light game they were very excited.
"Are we playing the Squid Game version?" Elle asked excitedly.
"What do you think happens in the Squid Game version?" I asked curiously.
"Everyone gets shot," she said deadpan. Yup she was asking if we'd be playing the version where everyone gets shot LOL.
Mr NQN played the red light green light doll turning around and another adult played adjudicator. The kids were brilliant at the game and enjoyed it so much (even without the shooting haha!). And in the end Aura suddenly lost a tooth which was very on theme for Halloween.
I can't even imagine what will be the theme for next year's birthday. Perhaps it will be even grislier!
So tell me Dear Reader, have you ever played the Red Light Green Light game? And do you like chicken cacciatore?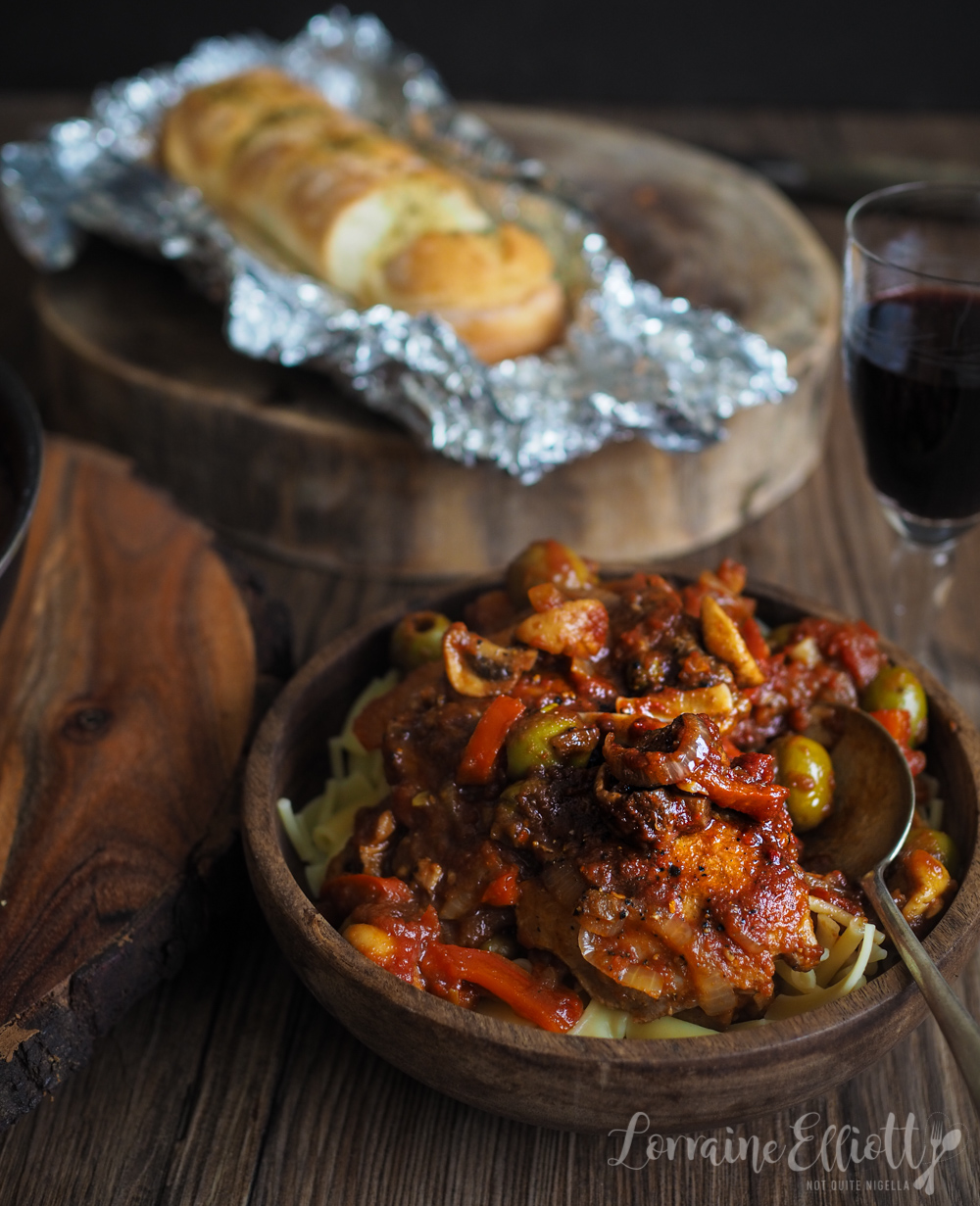 DID YOU MAKE THIS RECIPE? Share your creations by tagging @notquitenigella on Instagram with the hashtag #notquitenigella
Chicken Cacciatore
Rated 5.0 out of 5 by 3 readers
An Original Recipe by Lorraine Elliott
Preparation time: 15 minutes
Cooking time: 60 minutes
Serves: 4 (generous serves)
Oil for frying
800g/28ozs. or 8 skinless chicken thighs, kept whole
Salt and pepper for seasoning
1 large onion, peeled and sliced
200g/7ozs. mushrooms, cut into quarters or sliced
350g/12.3ozs. red or yellow capsicum, seeded and sliced
6 cloves garlic, peeled and sliced
1/2 cup red wine
800g/28ozs. tin diced tomatoes
3 tablespoons tomato paste
1 cup green or black olives, pitted
3 tablespoons capers
1/2 cup/125ml/4flozs. chicken stock
Fresh parsley or oregano to serve
Salt and pepper
1-2 teaspoons sugar
Step 1 - Season the chicken well with salt and pepper on both sides. Add a tablespoon of oil to a large, deep frypan (28cm or above) and heat on medium high heat and fry the chicken for 4 minutes on the top side and then turn over and fry for 4 minutes on the other. Put aside.
Step 2 - Add a bit more oil and fry the onion until softened scraping up any bits left from frying the chicken from the bottom of the pan. Add the mushrooms and fry for 3-4 minutes. Then add the capsicum and garlic and fry until starting to become softened. Add the red wine, tomatoes, tomato paste, olives, capers and chicken and place the lid on and bring to a simmer for 35-40 minutes. Add the chicken stock halfway through if the liquid dries out. Season with salt and pepper. I also add 1-2 teaspoons of sugar as well to balance if the tomatoes aren't sweet. Serve with fresh herbs and pasta, bread or potatoes.