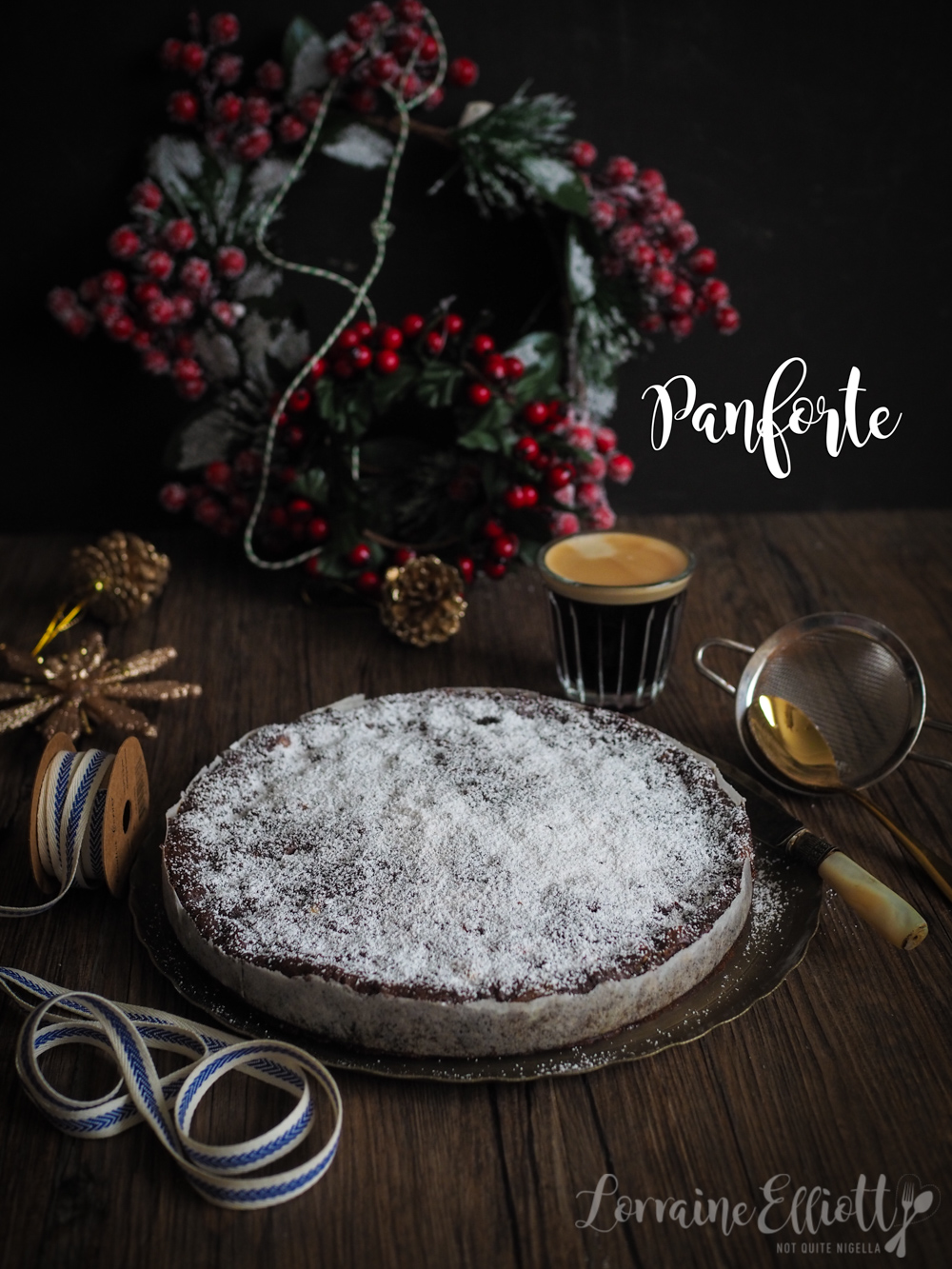 Panforte is a traditional Italian Christmas-time treat that hails from the Siena in Tuscany. Panforte is a rich nut and fruit cake that is served as slender wedges with a cup of coffee. It's much more straightforward to make than a traditional English fruit cake but like a fruit cake it keeps well for a month, some say even more - if it lasts that long! If you love fruit cake this is a pushy recipe Dear Reader. I called her Elisabetta.
I'm so excited to share this Panforte recipe with you Dear Reader! I've wanted to make panforte for so long and this week I tested a few versions of it arriving at my favourite recipe below. This panforte has chocolate in it that enriches the the panforte but still retains the distinct spiced fruit flavour.
The recipe for panforte is simple but is steeped in tradition. The name panforte means "strong (forte) bread (pan)" as it is a dense, thick cake with strong spices. It dates back to medieval times in Italy where it was called Panpepato (peppered bread) by the Sienese which was said to be a reference to the addition of black pepper in the spice mixture. Some also say that you must use 17 ingredients in a Panforte because that is the number of wards or districts in Siena. Panforte can be expensive to buy as they contain a lot of fruit and nuts.
Panforte is often served as small wedge in the afternoon with coffee or at any social obligations or when the need for a little pep of energy arises. It also makes a wonderful gift and is great for bringing to a friend's house around Christmas time as it can be made ahead of time and keeps well and is rather special too. I'm bringing this to Valentina's house this coming week for our pre-Christmas Christmas dinner (why have one Christmas when you can have a few?).
10 Tips for Making the Best Panforte!
1 - Always toast your nuts first. Even if you have already roasted nuts, refresh them in a 180C/350F oven for 5 minutes. This will bring out the flavour and make the texture of the nuts crisper.
2 - Panforte doesn't contain any eggs or butter so it is easy to make it vegan. You can easily make panforte vegan by subbing the honey for a similar syrup like maple syrup or rice bran syrup.
3 - For those of you that don't like candied fruit peel you can sub this with some medjool dates or dried figs. Dates will make the panforte sweeter because dates are very sweet so just be aware about that. Figs strike a nice balance of sweetness and tartness and also look pretty.
4 - This panforte has 17 ingredients (as per tradition) but don't worry much of the list is made up of spices and salt and you may have a lot of the ingredients at home already.
5 - You can omit the chocolate and you don't have to replace it with anything, simply leave it out. This will make it easier to mix too.
6 - My panforte is quite spiced and I added a bit more clove than is probably appropriate but appropriateness is overrated and cloves are to me, the quintessential Christmas spice.
7 - Panforte is a slight test of strength once you add the chocolate caramel to the fruit and nuts (and don't be tempted to don latex gloves, the mixture will only stick to them). It is a sticky mixture but a strong silicon spatula will help.
8 - When smoothing over the panforte batter in the tin, dampen your hands as the mixture is less likely to stick to damp hands.
9 - Try not to overcook your panforte. Check on your panforte at 25 minutes and if the centre is still slightly soft but set then it is ready.
10 - Dust the panforte with icing sugar once it is cool. You can also rub the icing sugar in with your hands to create a thicker layer. You can also dust your panforte with cocoa powder if you prefer a more intense and less sweet finish (a good idea if you use dates instead of citron).
On the day that I made this I woke up with a spring in my step ready to make my panforte and then went to the fridge which is where I store my nuts (the oils in nuts can make them go rancid quickly so keeping them in the fridge helps keep them fresh). But when I went to open my box of nuts all I could find was almond meal and no whole almonds! The horror! My cooking schedule in December is tight and I didn't have time to go to the shops. So I tossed up whether I should text my neighbour upstairs Cheryl to see if she had a cup of almonds. Is asking for a cup of almonds is like a healthier version of borrowing a cup of sugar?
I didn't like my chances because really who asks if someone has a cup of almonds but Cheryl texted me back straight away. She had a big bag of almonds that she was going to give me but figured that my cupboards were super full and that she'd be happy to drop them off at my door!
She was at my door in a flash - I didn't even have a chance to change out of my pyjamas which didn't seem to faze her. She handed over the bag of nuts and we had a chat. I also handed her a box of cookies. "Oh no! Now I owe you!" she exclaimed. The cool thing about nice people is that they're not takers and always try and even things out. "No you don't owe me anything! This bag of almonds is huge!" I told her hauling the big bag of almonds to my kitchen. And panforte day was saved!
So tell me Dear Reader, do you ever ask your neighbour for random things? And do you try and keep things even?
DID YOU MAKE THIS RECIPE? Share your creations by tagging @notquitenigella on Instagram with the hashtag #notquitenigella
Panforte
Rated 5.0 out of 5 by 4 readers
An Original Recipe by Lorraine Elliott
Preparation time: 30 minutes
Cooking time: 35 minutes
Serves: 12-14 people
1 cup/140g/5ozs. hazelnuts
200g/7ozs. candied citron, medjool dates or dried figs diced
3 tablespoons cocoa powder
2 teaspoons ground cinnamon
1 or 1.5 teaspoons ground cloves
1/2 teaspoon ground black pepper
1 cup/220g/7.7ozs white sugar
130g/4.6ozs. dark chocolate
Step 1 - Take a 20cm/8inch springform tin and line the base with parchment and line the sides with rice paper (or parchment). Preheat oven to 180C/350F and toast the nuts - spread them out in a single layer on a tray and roast for 6-8 minutes at 180C/350F or until they start to smell fragrant and toasty. Set aside to cool and mix with the diced citron or dates.
Step 2 - In a large bowl whisk the flour, cocoa, cinnamon, cloves, nutmeg, ginger, allspice, black pepper and salt together. Add the nuts and fruit and mix to coat all of the nuts and fruit with the spiced flour. Set aside.
Step 3 - In a saucepan heat the honey and sugar on medium heat until it becomes a syrup (it should take about 5-7 minutes or so to reach 115C/239F). Remove from the heat and then add the chocolate and vanilla and stir these in melting the chocolate. Add this syrup into the flour and nut mixture and use a sturdy silicon spatula to mix this up. This is a firm mixture so you do need a bit of strength.
Step 4 - Scoop into the prepared tin and press out to reach the edges with damp hands and smooth the top. Reduce the oven temperature to 160C/320F and bake for 25-30 minutes (check at 25 minutes, if the centre is like custard but not sticky then it is ready). Take out of the oven and allow to cool in the tin. Then unclip the ring and place on a serving plate and dust with icing sugar. You can also rub the icing sugar into the panforte. Serve in small wedges.