Looking for a show-stopping Christmas dessert? These Top 5 Christmas Cakes or desserts will finish off your Christmas dinner in style! From a life sized snow beanie ice cream cake to an easy Christmas fruit cake, to a towering Christmas tree pavlova, eggnog cupcakes or a festive red and green Christmas custard tart!
DID YOU MAKE THIS RECIPE? Share your creations by tagging @notquitenigella on Instagram with the hashtag #notquitenigella
Rated 5.0 out of 5 by 1 readers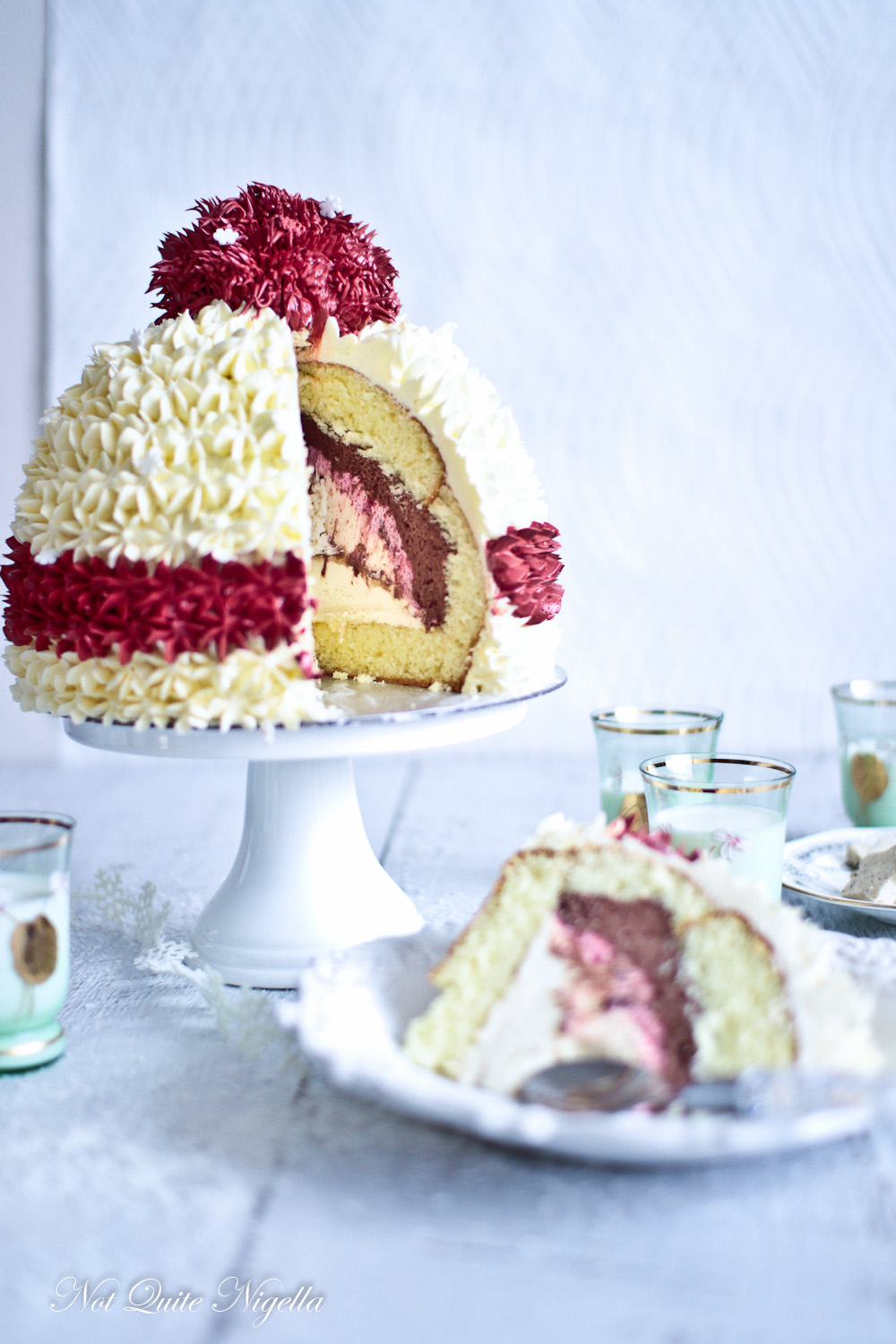 Ok stop hyperventilating. I promise I'm not completely crazy and I wouldn't make you bake anything like this for Christmas so last minute. This snow beanie Christmas Ice Cream Bombe is super easy and all you need are two bought sponge cakes! It's filled with chocolate, cherry and vanilla ice cream ie a Cherry Ripe ice cream and decorated like a snow beanie!
Fruit cakes can be intimidating but this 3 week spice cake gets better by the day. There's nothing complicated about this Christmas cake at all and it is ready in either 3 days or 3 weeks!
This Christmas Tree Pavlova was last year's Christmas dinner centrepiece. While this Christmas Tree Pavlova may look crazy it's actually one of the easier pavlovas because it's a series of small pavlovas graduating in size so they are a bit easier to deal with. Construct this beauty just before serving and then everyone can pick one layer to eat depending on how much pavlova they want! It's one of the most copied recipes on the blog!
If you want to serve up a Christmas treat that is individually portioned then you have to give these eggnog cupcakes a try! They're a soft vanilla cupcake filled with eggnog rum flavoured custard with a vanilla buttercream on top!
This tart is one of my favourite ever tarts, not just for the Christmassy look. It has a creamy, wobbly raspberry baked custard, a crisp green pandan pastry and is decorated with fresh pomegranate seeds and cherries as well as redcurrants and raspberries!
So tell me Dear Reader, what are you having for dessert at Christmas this year? Which cake do you like the best from this selection?