This Green Goddess Salad is my twist on the TikTok Green Goddess Salad with a few ingredients that elevate it. Bursting with nutrients, fresh flavours and crunchy vegetables it is also an easy salad to make vegan too. The dressing is made up of the goodness of baby spinach, herbs, lemon juice, nuts and parmesan (or nutritional yeast) and has a wonderful pesto-like quality to it. Serve this as a salad dip with corn chips and you've got a delicious starter for dinner with friends! This is a pushy recipe Dear Reader!
Green Goddess Salad was originally from San Francisco. In 1923, Chef of the Palace Hotel Philip Roemer created the dressing for actor George Arliss. He was staying at the hotel while acting in the play "The Green Goddess," by William Archer. The original Green Goddess dressing is made with parsley, chives, sour cream, anchovies, mayonnaise, lemon juice and vinegar. This TikTok version by BakedbyMelissa is a lighter version and is vegan friendly too - a real sign of the times. Truthfully because it varies so much I often don't like the original Green Goddess dressing so it took me a while to get around to making this even after it took off on TikTok. But when I got all of the ingredients for the TikTok version in my vege box (baby spinach, tarragon, green onion, lettuce, cucumber and avocado) and Valentina brought me some summer basil from her garden I felt like it was a sign.
Melissa's salad is very good as is but I wanted to play with it a little and I added one of my favourite salad ingredients: avocado! It makes the dressing soooo much creamier and moreish and it's full of the good fats. The dressing looks like it has a cast of thousands but if you have a closer look they're very simple and healthy ingredients and it makes enough for an enormous salad to feed 4 people. I loved this salad so much that I made it 5 days in a row-her tip of eating it with corn chips is kinda genius and transforms it from salad to salad dip. We ate it for dinner every night and then when Monica and Marco came over one weekend afternoon I served it with drinks.
"Is this too much?" I asked Mr NQN before they arrived
"Yep," he said spying the large platter with dip piled high. But then this enormous platter of Green Goddess Salad quickly disappeared!
This Green Goddess Salad is:
Versatile: use your favourite soft herbs and use cabbage, cos lettuce of petite panache salad or whatever salad leaves you like! You basically want 4 cups or 1 litre or 1 quart's worth of salad.
Keeps well: It keeps well as long as you store it in an airtight container and it can keep for a couple of days and not many dressed green salads can last that long. If you use cucumber be sure to de-seed it unless you are going to eat it straight away as water may leech out from it otherwise.
It's absolutely delicious! The most important thing! It has such a delicious creamy pesto dressing thanks to the herbs, cheese, nuts and avocado. The avocado mimics mayonnaise smoothing out the dressing and making it so much creamier.
No more vege graveyard in your crisper! I also loved it because it basically cleared out most of my vege crisper!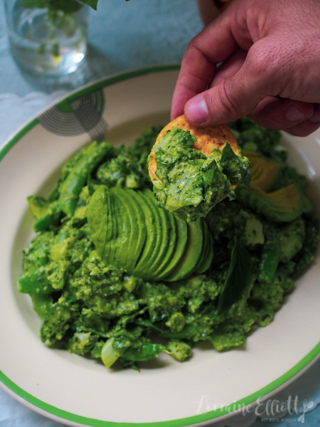 I'm going to keep making this salad. It will definitely be on the table at any barbecues and it will be served at Elliott family picnics because it is so easily made vegan. I always save up my favourite vegan recipes to make for Elliott picnics because it's easier that way and there are certain vegan recipes that are so good that you'll happily eat them and this is one of them. It's definitely in my top 5 TikTok recipes.
Family gatherings with the Elliotts (and most families I guess) end up with retelling of stories of youthful hijinks and Tuulikki absolutely loves to tell stories of her children in her sing-song fairytale voice. When they came over a couple of weeks ago she shared some stories of Mr NQN's older sister Araluen, who had also brought along her new boyfriend Ben. Araluen is actually Mr NQN's cousin who was adopted by Mr NQN's parents and shortly after she was adopted, they all set sail for a 2 year trip around the world with Mr NQN, his baby sister Amaya and his parents Tuulikki and Roger.
Araluen, having had to fend for herself for years as a small child, developed a nifty skill of being able to charm the pants off anyone that she met. Tuulikki told us tales of their time living in America. On her birthday Araluen knocked on the door of everyone in their street and informed them that it was her birthday. Tuulikki remembers coming home from an outing and finding a big pile of presents in their house, the product of Araluen's labour. There was another time in India when Araluen was talking to a women who lived on the streets and she remarked about how much she liked her hair clip. The woman took it out of her hair and gave it to her. Present-day Araluen hid her face when these tales were told but then added her own.
"You were a grifter!" I exclaimed laughing.
"I think I was," she said laughing.
The lunch wound down after a few hours and everyone went their separate ways. Araluen and Ben headed to a show that he was playing at and the rest of the Elliotts packed their items into Manu's car. I was standing in the doorway holding Teddy and I went to take a photo of him. I didn't have my phone on me so I went to the lounge room where I had left it. It was gone! Panicking, I hit the button on my watch that makes the phone ping loudly from wherever it is. Silence.
"Honey honey!! I've lost my phone! Araluen has it!" I said. Everyone else was still there Araluen was long gone so it could only be her. Mr NQN called her and she picked up the phone.
"Hello?" she said answering my phone, cool as a cucumber.
They turned around to return to our house. "I don't know how I grabbed it, it's pink and has your initials on it and a picture of Mochi," Araluen said innocently, handing back my phone.
"Grifter!" I said.
Ben had certainly gotten a taste of the Elliott way of life. And I can't say that I wasn't warned!
So tell me Dear Reader, have you tried this TikTok Green Goddess Salad or the original? Is there a salad that you make over and over again?
Did you make this recipe?
Share your creations by tagging @notquitenigella on Instagram with the hashtag #notquitenigella
Green Goddess Salad
An Original Recipe by Lorraine Elliott
Preparation time: 20 minutes
Cooking time: 1 minute
Serves: 4
For Dressing:
1 cup firmly packed baby spinach leaves
1 cup firmly packed basil leaves
1/4 cup tarragon leaves
2 large cloves garlic, peeled and halved
1/2 onion, peeled and quartered
Juice of 2 lemons
2/3 cup/55g/2ozs. grated parmesan or nutritional yeast
1/4 cup/40g/1.4ozs. toasted nuts (I used macadamias and pine nuts)
1/4 cup/60ml/2flozs. extra virgin olive oil
2 tablespoons rice vinegar
1 teaspoon fine salt
1 large avocado or 2 medium avocadoes (you really can never have too much -err on the side of more than less avo)
For Salad:
3 cups cos lettuce leaves, washed and chopped (try and chop to bite sized pieces)
2 Lebanese small cucumbers, deseeded and diced
125g/4ozs. super snap peas, tailed and blanched for 30 seconds and cut into 3 pieces
4 stick green onions, chopped
1 Granny Smith apple, sliced and diced
1 avocado to fan on top
Corn Chips to serve
Step 1 - Make the dressing first. In a food processor blend the baby spinach, basil, tarragon and garlic cloves, together first just to tamp them down. Then add the onion, lemon juice, cheese, nuts, oil, rice vinegar and salt and blend until you get a smooth paste (keep blending if it seems too chunky at first). Then add the peeled and deseeded avocado and blend until you get a creamy dressing.
Step 2 - Mix the lettuce, cucumber, sugar snap peas, green onions and diced apple in a large bowl and pour over the dressing and mix well to coat with the dressing. Scoop out onto a serving plate or bowl. Slice avocado and fan out on top and then serve with corn chips