Pepper Seeds is a Thai restaurant at South Eveleigh. There's a menu full of classic Thai dishes as well as some Northern Thai specialties with reasonable prices that belie the photogenic setting. There's also a spacious undercover outdoor area (that is dog friendly) or indoor area to dine in.
We were on our quest to find outdoor restaurants that were also undercover in an effort to dodge COVID and La Nina downpours (I mean did 2022 just ask 2021 to hold their beer?). That's when we decided to go to Pepper Seeds Thai at the South Eveleigh precinct. I had been here for an event and enjoyed the finger food and it sprang to mind when we were looking for undercover outdoor places to eat for Monica, James, Ben and I.
It's quiet this rainy, sodden Thursday night. We have one of the outdoor undercover tables and there are a couple more tables of outdoor diners some with dogs enjoying the warmth from the outdoor heaters. After greetings we tell each other our COVID statuses (James says that he has had it a month ago and Ben works from home) which is a reassuring detail and hopefully something we look upon with humour in the future.
Pepper Seeds Thai has been going strong for 10 years in Balmain with a loyal, local clientele and in 2021 they opened up at South Eveleigh. It is owned by head chef and co-owner Jane Sangpoowong and her husband Tom Sangpoowong who looks after the front of house and business side. The picture menu resembles a newspaper and we flick through it before getting some recommendations. Prices are very reasonable perhaps to appeal to the lunchtime crowd.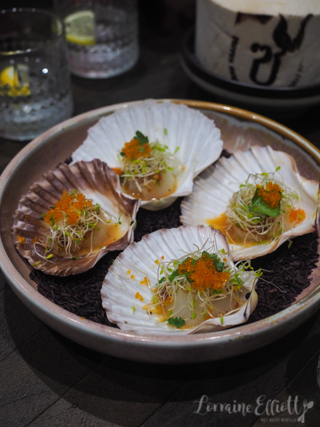 The front page of the menu features a gigantic picture of grilled scallops on the shell. They have a sweet spicy lime dressing, tobiko and alfalfa. They're nice although I find the alfalfa a bit distracting with its wispy texture.
The egg lace omelette is filled with a flavoursome mix of prawn and chicken mince, spiced crushed peanuts, garlic and coriander with an onion, chilli and vinegar dressing on the side. It's very tasty and I particularly like the prawn and chicken filling. Just a tip: it's a bit hard to share these so I'd recommend getting one per person.
I remember really enjoying the curry puffs when I went to the event here so we ordered a serving of them. These are delicious, piping hot, deep fried pockets filled with spicy mixed vegetables and served with a side of sweet chilli dipping sauce.
We also went with two recommendations from our waiter and they ended up being my favourite dishes. One of the dishes is a Northern Hung Lay Curry. This is served in a golden wok above a flame and featured slow cooked beef pieces with lots of spices, peanuts, pineapple and ginger. It's a bit sour and sweet at the same time and is absolutely delicious. Make sure to get some rice to go with it to go with that delicious soupy sauce (we ordered some coconut rice which was very good). This is one of the most well known and iconic dishes from northern Thailand and there are a few Northern dishes on the menu like this and Nam Prik Ong and Khao Soi at lunchtime.
The eggplant wonder is my another fantastic dish with soft, grilled eggplant topped with chicken mince flavoured with a rich bean paste and fried basil leaves on top. It has a distinct sweetness to it and a richness to it and I can't help going back for seconds and thirds of this.
Monica said, "I need salads, can we get two salads?" and we were happy to oblige. The chicken larb is a chicken mince salad with plenty of chilli and lime juice and crunchy roasted ground rice.
You can order the papaya salad with soft shell crab or grilled chicken and we went with the crab as we already had two chicken dishes. The soft shell crab is my favourite part as it's so crunchy and light. The salad is very lightly dressed, I think I prefer a bit more dressing as that provides most of the flavour.
We always seem to have this compulsion whenever we see roti on the menu and we ordered some with peanut sauce on the side. It's good although quite a small roti and I think we should have perhaps ordered one per person.
There are three desserts on the menu and we decide to share a couple of them. The first is the grilled sticky rice steamed in a leafwith banana inside and shredded fresh coconut, crushed peanuts and banana sauce on top. It's not overly sweet and served warm.
The steamed palm sugar pudding is a bright yellow steamed sponge with lashings of fresh whipped cream and ground pistachios. There is usually Persian fairy floss on top. I actually really enjoy this simple dessert even without the flourish of fairy floss. And they actually take 10% off the dish because it doesn't have fairy floss which is a nice surprise.
So tell me Dear Reader, what is your eating out status? Doing it? Outdoor only? Indoor is fine?
This meal was independently paid for.
Pepper Seeds
Shop 4/1 Locomotive St, Eveleigh NSW 2015
Monday to Wednesday 10:30am–3pm, 5:30–9:30pm
Thursday to Friday 10:30am–3pm, 5:30–10pm
Saturday 5:30–10pm
Sunday Closed
Phone: (02) 9310 3083
pepperseeds.com.au