Winter is just around the corner so that means pears, lemons and passion fruit are in season! This delightful pear cake is moist thanks an almond meal filling and a wonderful passion fruit and lemon syrup! This is a pushy recipe Dear Reader! Her name is Kirsi.
Lemon and passion fruit are two of my favourite cake flavours because they give buttery desserts a beautiful tangy flavour. I received pears, passion fruit and lemons in my vege box and I knew that I wanted to make a cake with these. This cake has a wonderfully soft, tender texture and a buttery flavour. Using the almond meal gave it such a lovely moistness too and adding syrup really imbues the cake with so much tangy flavour. I loved this cake so much that I almost didn't want to give it away.
Most people associate passion fruit with summer but it actually has two seasons: in summer and in winter. Lemons are harvested in late Autumn and Winter and pears are a stalwart winter fruit.
Tip for coring pears (and apples!): One of my favourite tips to core pears and apples is to use a melon baller. I like having kitchen tools that can do more than one thing and pears are especially good for this tip as they are softer than apples.
This cake is versatile: if you don't have passion fruit you can use lemon or orange juice in the syrup, If you don't have pears you can make this with apples or other soft fruit like plums. Or you can double the cake recipe sans pears and make this an almond cake with syrup!
Our lounge room fireplace
This week, along with making this cake we've been trying to get ourselves prepared for the chillier weather. This house is a bit colder than our former apartment and it's an issue not helped by the age of this Federation house and the high ceilings. We did get our fireplace working this week as the temperatures and rains proved that winter was here early. I'm very excited at finally living in a house with a fireplace - we actually have two in this house, one in the lounge room and one in my office. Every day Mr NQN and I say to each other, "Is it time to turn on the fireplace?". It's easy to use and just requires pressing a couple of buttons as it is gas and before you know it, the room warms up quickly and within a bit of time this does stretch out to the rest of the house.
I was so delighted with this but Mr NQN sighed. "It's good but nothing beats a real fireplace," he said. He loves watching a real fire burn and can spend hours just watching over a wood fire. I've watched him hypnotised by the flames to the point of worry. We had a taste of this obsession a couple of days before when we went away to Morpeth and stayed at a house with a wood fire. I drove up on Friday afternoon by myself (my first big drive alone!) and one of the first things I did was try and make a fire. I haven't had huge success with wood fires in the past but I really wanted to make one. I looked in the basket and saw firelights and twigs and underneath the fireplace were the larger logs.
At first I thought that the kindling was the wood to burn (big mistake, huge!). Then once I realised that that was the kindling I just couldn't get the fire to keep going and even googled directions but this proved useless. I just kept adding firelighters and newspaper until finally, an hour later one of the large logs caught and I had a fire! Sure it wasn't a roaring fire, really it was more a city girl fire made with tonnes of firelighters (like a box) and an entire newspaper but at least I got the large logs to catch which was a first for me. But I have to admit that I was relieved when I saw how quick it was to start one at home. And this cake? Much easier than building a wood fire!
So tell me Dear Reader, are you good with building fires in wood fireplaces? Are you ready for winter (or summer if you're in the Northern Hemisphere)? And do you have a favourite winter fruit?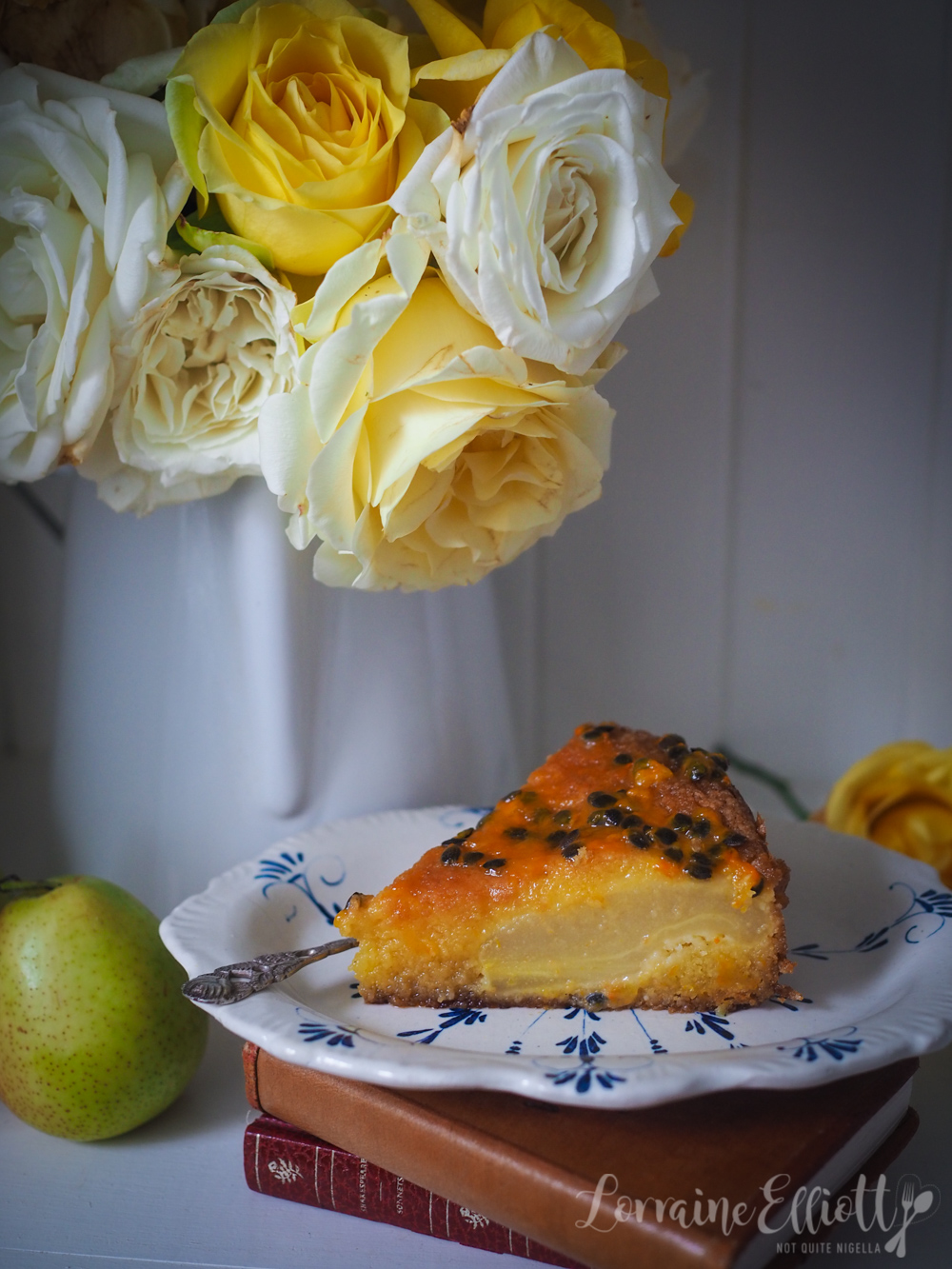 DID YOU MAKE THIS RECIPE? Share your creations by tagging @notquitenigella on Instagram with the hashtag #notquitenigella
Pear, Passion Fruit, Lemon and Almond Cake
Rated 5.0 out of 5 by 8 readers
An Original Recipe by Lorraine Elliott
Preparation time: 20 minutes
Cooking time: 45 minutes (concurrently)
Serves: 6-8
180g/6ozs. butter, softened
180g/6ozs. caster or superfine sugar
3 eggs, room temperature
140g/5ozs. almond meal
1 teaspoon vanilla bean paste
70g/2.4ozs cake flour*
2 teaspoons baking powder
3 small pears (Corella)
For Syrup
60ml/2flozs. hot water
75g/2.6ozs. sugar
100g/3.5ozs. passion fruit pulp
Zest and juice of 1/2 lemon
Buyer's tip: you can buy cake flour at the supermarket or make it yourself. For every cup of flour, replace 2 tablespoons of plain all purpose flour with cornflour/fine cornstarch
Step 1 - Preheat oven to 160C/320F and line the base and sides of a 20cm/8inch round springform tin with parchment. Fit a mixer with a beater attachment and beat the butter and sugar together for 5 minutes until pale and smooth. Add eggs one at a time beating well between each addition. Add the almond meal and vanilla paste on the lowest speed (or do this by hand). Then sift in the flour and baking powder and mix by hand, making sure not to overmix. It will have a buttercream-like texture. Spoon into the prepared tin.
Step 2 -Peel the pears and core them. I like using a melon baller for this. Place each half cut side down submerging them into the cake batter. Bake for 45 minutes until the skewer inserted in the centre of the cake comes out clean.
Step 3 -While the cake is baking bring the water and sugar to a boil in a small saucepan and dissolve the sugar. Add the passion fruit pulp, lemon zest and juice and turn down to medium heat and allow to simmer for 5 minutes until slightly thickened (you don't want a thick syrup). Remove the cake from the oven and allow to cool for 10 minutes. Then poke some holes in the cake and pour over the passion fruit and lemon syrup.