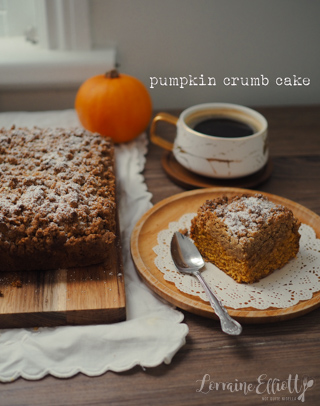 Try this delightful New York style crumb cake with a moist pumpkin base. This pumpkin New York Style crumb cake has a layer of spiced pumpkin flavoured cake with a generous top layer of streusel crumbs. If you love pumpkin cakes and crumble or streusel then you will love this classic New York cake. This is a pushy recipe Dear Reader and is perfect for Thanksgiving or any time really!
The origin of crumb cake is Germany where streusel comes from. Most likely German migrants brought it over the America where it became a popular morning or afternoon item called crumb cake. It also reminds me of the Danish Drømmekage or Dream Cake. The base is usually a yellow cake and it is topped with a delicious, crumbly topping of flour, butter and sugar. Streusel translates to "something scattered" referring to the crumbs and often today crumb cakes have half a layer of cake and half of crumb or streusel. This is an Autumn or Fall version using pumpkin.
As soon as I saw it on my friend Faith's instagram I knew that that was what I was going to make with my leftover pumpkin puree. I actually think that the pumpkin improves the texture of it - keen bakers will know that adding vegetables to a cake will make them more moist and the pumpkin spice mix adds a gorgeous aroma to it. This cake is best with a cup of coffee or tea and a scoop of vanilla ice cream to balance the dry crumb topping.
Tips For Pumpkin New York Crumb Cake