Small Bar is a popular bar on Willoughby Street in Crows Nest. Not as small as the name suggests, there is an indoor as well as an outdoor, covered area that is also dog friendly. The menu is made up of cocktails, wines and snacky, shareable bites and a range of soft tacos.
Sammie and I look around wide-eyed. Willoughby street is so busy on this Friday night that there's a vibe like we're overseas pre-covid with a distinct convivial atmosphere. We walk towards Small Bar, one of her favourite bars and look down to make sure that we don't accidentally collide with a range of dogs that we encounter. Crows Nest seems to surpass Potts Point as the Sydney suburb with the most dogs per capita. There is around one dog per group of people dining out on the busy restaurant strip. Sammie managed to pre-book a table here in the covered outdoor area with a mix of low and bar tables. There is also a Small Bar in the city but as poor Sammie is incapacitated with a knee injury so we are sticking close to her home.
Pineapple Express $19.50 Japanese elder $18.50
Sammie and David order negronis while Mr NQN has a Pineapple Express made with KIS O Gin, house made pineapple & jalapeño syrup, fresh lemon juice while I order the Japanese Elder with Tanqueray gin, Umeshu, elderflower liqueur, fresh cucumber, lemon & egg whites. My cocktail is nice enough but I would have loved a stronger elderflower flavour to this as it mostly tastes of cucumber and lemon.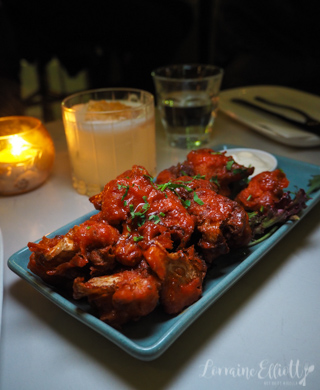 Vegan Cauliflower Wings $14.50
My favourite item are the vegan cauliflower wings (I think I actually prefer these to chicken wings!). They're cauliflower florets that have a lightly spicy batter and the chicken wing hot sauce served with a tangy vegan aioli.
Cheese Croquettes $14.50
These cheese croquettes aren't quite as cheesy as we had hoped although they are piping hot with a light golden crumb on the outside and a slightly smokey flavour to them. They come drizzled with a spicy mayonnaise on top.
Jalapeno Poppers $16.50
Another favourite are the Jalapeno poppers stuffed with with chorizo, cream cheese and relish. They've got such a nice heat and sweetness that I can imagine popping back lots of these.
Beer Battered Chips $9
Is a meal complete without chips? There are French fries available as well as thicker beer battered chips which we go for. They're hot and fresh and come with tomato sauce and a very mild garlic aioli (a little bit more garlic wouldn't have gone astray).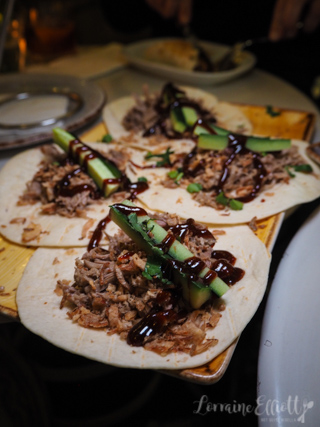 Hoisin Duck $18.50 for 4
Then the tacos arrive. The tacos are served on flour tortillas and there are a range of fillings and they're also great value too. I'd usually go for a fish taco but they're barramundi so we try a few others and they're really well priced. The duck tacos are a favourite with sliced duck, fried shallots, cucumber & coriander with hoi sin sauce for a Peking duck sort of vibe.
Smoky Pulled Pork $17.50 for 4
I usually don't really like pulled pork but this is quite luscious and tasty with a delicious jalapeño jam and slaw. There's also a good amount of filling in each of the tacos for each bite.
Jerk Chicken $17.50 for 4
I also really love the spiciness of the jerk chicken which is soft and spicy. It is paired with guacamole and coriander and I think these are my favourite taco of the three but they're all very good.
Sticky Date Pudding $14.50
Although we are all full we tried one dessert and it's the sticky date pudding with butterscotch sauce on top with vanilla ice cream. It's not bad and it's served warm although I think I'd probably go for another round of tacos, poppers or cauliflower wings instead.
So tell me Dear Reader, do you tend to order classic cocktails or do you try a bar's signature cocktail? What is your favourite classic cocktail?
This meal was independently paid for.
Small Bar
85 Willoughby Rd, Crows Nest NSW 2065
Monday to Wednesday 4–11pm
Thursday to Saturday 12–11pm
Sunday 12–10pm
Phone: (02) 8084 5118
smallbar.net.au