The Hayberry in Crows Nest is a small bar located on Willoughby Road. The back courtyard section is dog friendly and there's a range of craft beers on tap. Food wise there's a range of burgers, tacos, dips and snacky, shareable options.
I'm standing outside The Hayberry and I'm slightly confused. Last year I went to a bar with my friends Sammie and David on Willoughby Road in Crows Nest and wondered if this was the same bar. The menu and interior are similar but after checking my blog it's Small Bar a few doors up the road. It's 4pm and Mr NQN and I are catching up with Lucy, Dan, Martin and Mrs Martin for Sunday afternoon drinks and food.
We are sitting in the back area of The Hayberry which is the dog friendly area. It has sort of Wild West crossed with urban theme and the front of the bar has raised leather booths with lots of framed photos of outlaws but the back area is a bit like a covered courtyard with a graffiti mural. When we had planned our catch up we had all intentions of bringing the dogs but we decided to leave them at home. We like leaving Teddy and Milo at home some days so they don't get separation anxiety. Now I wish we had brought them as I watch a cute little black toy poodle wandering around hoping to grab a fallen chip or morsel.
P'No Colada $12
But back to libations. There is craft beer on top that Dan and Martin are having. Mr NQN is drinking a kombucha, Mrs Martin is having red wine and Lucy water. I'm sipping on a P'No Colada with Lyre's cane spirit, pineapple coconut cream and lime which is pretty good.
Mixed Tacos $25
"I've got bad news, it's all deep fried," says Lucy picking up the food menu and perusing it for something to eat. Everyone goes off to order what they want and I order for Mr NQN and I. I choose the soft tacos with fish, prawn and beef. These all use flour tortillas and the Baja Fish is made with NZ hoki, lettuce, citrus sour cream and pico de gallo. The prawn taco is made with lettuce, corn, tequila salas and Hayberry sauce and the chilli beef is made with lettuce, cheese, citrus sour cream, chilli and spring onion. Surprisingly my favourite is the beef with the lightly spicy beef and citrusy sour cream but they're all pretty good tacos.
Spicy Texan Burger $20
It's probably just me but when I envisaged the Spicy Texan I thought it was be well enormous given the name (also every time I have a burger in Crows Nest it's gargantuan). It's a mid-sized burger with beef patty, cheese, bacon, jalapenos, caramelised onion, lettuce and Hayberry sauce. It's a good burger although you do have to bit quite far in to get a bit of everything.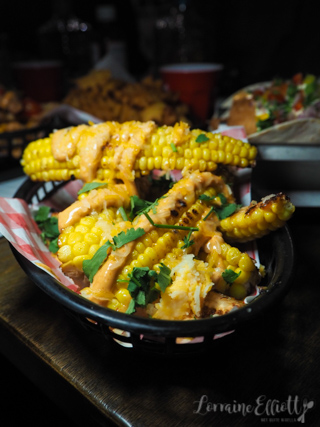 Corn Ribs $12.50
The corn ribs were the closest thing I could find to a salad. The corn ribs I've tried are usually a bit more grilled and blistered. These corn ribs are still very juicy and coated with cheese, mayonnaise and coriander. I would definitely order these again.
Southern Fried Chicken Fries $19.50
I would have ordered the Southern Fried Chicken loaded fries in a heartbeat except Dan and Mrs Martin already ordered these and she was was kind enough to share them around. They're shoestring fries topped with chopped Southern Fried chicken, chilli, cheese, spring onion and spicy mayo. They're kind of devilishly delicious combining two of my favourite ever foods. This and the corn ribs and waffle fries are my favourite.
Waffle Fries $15.50
Mrs Martin also order some waffle fries for the table that are very addictive. They also bring us one of each sauce (tomato sauce, chilli sauce, barbecue sauce) and we dip the super crunchy, puffy waffle fries in it. And we we leave and check the time we notice that we've been busy chatting and catching up for four hours!
So tell me Dear Reader, do you ever do late afternoon catch ups on the weekend? And how long do your meals usually last?
This meal was independently paid for.
The Hayberry
97 Willoughby Rd, Crows Nest NSW 2065
Phone: 0412 438 140
Hours: Monday Closed
Tuesday 4–10 pm
Wednesday 4–11 pm
Thursday 12–11 pm
Friday & Saturday 12 pm–12 am
Sunday 12–10 pm
https://www.thehayberry.com.au/