This Erbazzone or Silverbeet Pie is a wonderful Cucina Povera recipe from the Reggio Emilia province in Italy. It was originally created to make use of seasonal silverbeet and chard and uses up the whole bunch including the stems. The ingredients are simple and easy to find and the taste? Well if you're a big fan of spinach pies or just delicious pies then this is for you. This is a pushy recipe Dear Reader!
Erbazzone (or scarpazzone in dialect) is a humble, rustic dish and one of the many delights from Italy's Cucina Povera "poor cuisine" where simple ingredients are cleverly combined to make something absolutely delicious. Erbazzone comes from the word Erbe that means herbs or grass and is usually made using a mix of greens, especially chard, silverbeet, spinach, leeks and herbs and lots of Parmigiano Reggiano cheese. Pancetta was sometimes used too and the pastry was traditionally made with lard. This is a thin pie with thinly rolled pastry on the top and bottom. It can be either round or rectangular and cut up into squares. It's popularly made during the summer months when the ingredients are abundant and served as a savoury snack with wine.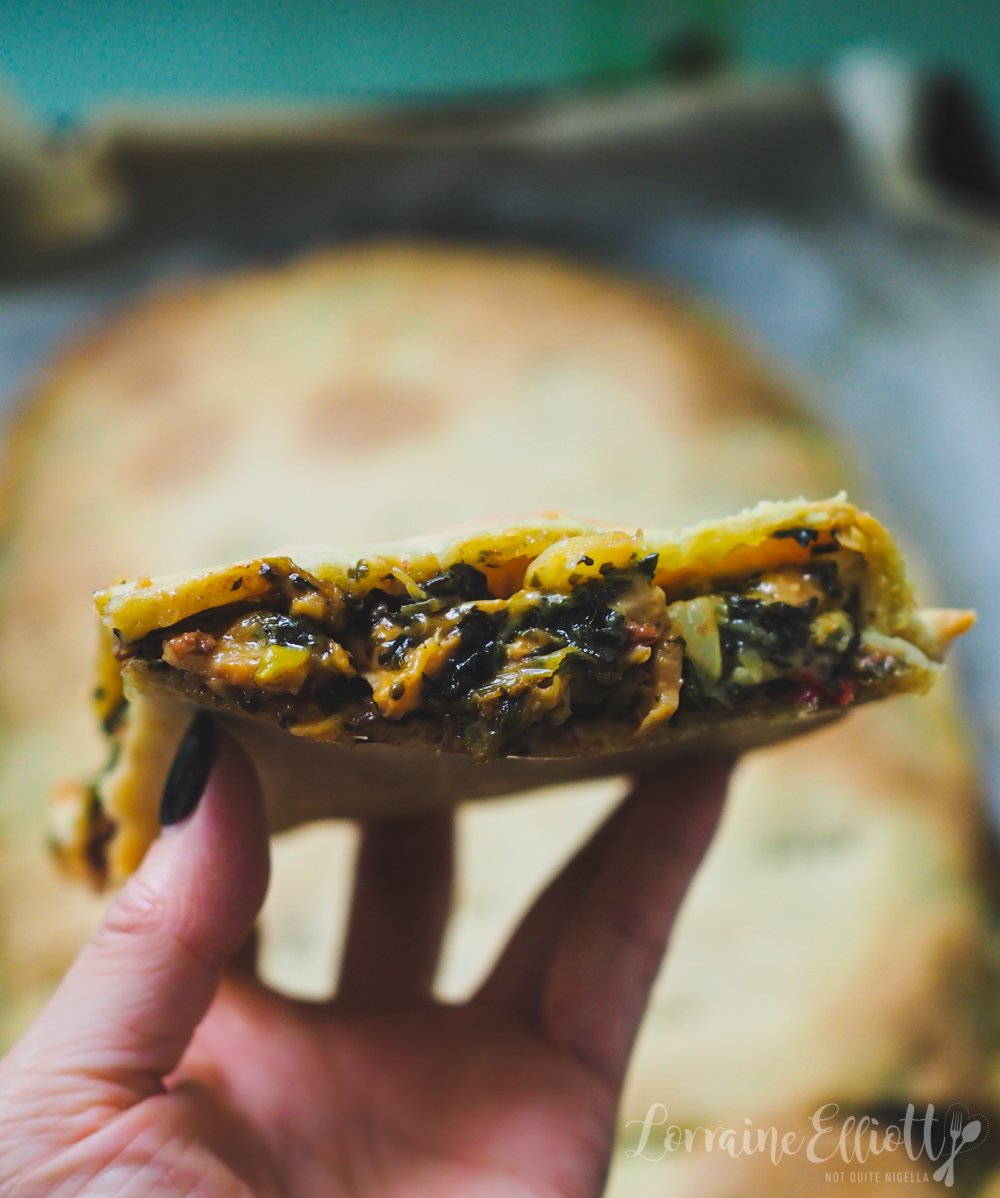 I absolutely love spinach pies and when I received a bounty of silverbeet in my vege box I wanted to make this immediately. The pastry is wonderfully thin and has this lovely bitey texture to it thanks to the olive oil and the filling is full of soft cooked greens and cheese. This silverbeet pie recipe uses up 1.25kgs/2.7lbs of silverbeet or spinach (Popeye would be proud). The key to a really wonderful erbazzone is the very thin pastry, the softly cooked down vegetables and the generous amount of Parmigiano Reggiano cheese.
There are two main parts to a Erbazzone: the fuiada pastry and the filling
The pastry dough is actually really simple to handle and roll out thinly. I am always a bit wary when it comes to rolling dough out very thinly but this is a very simple dough that is easy to handle that produces delicious results.
The filling uses up two giant bunches of silverbeet. You can also use a mixture of greens and can include a bit of chicory or other bitter greens. You can also use spinach. I also ended up using beet greens too to make up the weight. There is quite a bit of preparation for this pie and honestly after cutting up that amount of greens I needed a bit of a rest.
I had Monica coaching me on making this as it is a favourite dish of hers and she is from Emilia Romagna. She described Erbazzone as "The crust is very thin and its quite greasy in a good way with lots of olive oil and veggies very, very cooked down. Also if you can have a mix of greens usually there's some more bitter ones in there as well. And lots of reggiano!!".
This recipe does take a bit of time so I wouldn't recommend it for a weeknight dinner. Rather, I'd say that it's delicious enough to serve on a weekend to guests. Also the filling can be done ahead of time and then it can be put together and then baked and then warmed up to serve. It's also absolutely delicious cold or lukewarm too. I've got plans to make this for the next Elliott family get together as it feeds so many people (I'll just omit the pancetta to make it vegetarian).
We tend to have these get togethers when it comes to birthdays as everyone's schedules are usually quite hectic. Everyone seems to like coming to our house for them because there's more space and we can sit outside in the garden if the weather is good. I usually bake something big because there can be up to a dozen people. The last Elliott get together was a smaller one than normal as a few days before, Mr NQN's sister Amaya messaged us to say that she and her husband Laporello and their kids couldn't make it as they had all come down with the flu so it was a slightly smaller crowd. Mr NQN's cousin Sam was also coming to see our new house.
Because it was an Elliott gathering we gave them fake times. Do you ever give someone that is chronically late a different, earlier time so that they actually just turn up on time? We wanted everyone to arrive at 1pm so we told them 12pm.
"What about Sam? Did we give him a fake time?" asked Mr NQN and he then reminded me that Sam had once turned up to a Christmas lunch 2 hours late so everyone got a fake time. Unfortunately Sam came close to 12pm so our carefully orchestrated fake time scenario didn't exactly work to plan. Mr NQN's sister Araluen arrived around 30 minutes late and his mum Tuulikki and his brother Manu arrived 50 minutes late.
For the first time this year we were able to sit outside and enjoy the sunshine (thanks La Nina!). Tuulikki had recently had a cataract operation so she was wearing dark sunglasses. Reminded of her own mortality she actually allowed herself to be in a photo and we tried to take a family selfie. Leena has an app that allows her to take time to photos using the front facing camera because she has one of those phone covers with a flap that makes it hard to take out the phone (side note: you can really tell which generation someone belongs to if they have a flap phone cover).
Tuulikki angled her phone so that the focal point were the plates, hummus and bread and we asked her about it but she wanted it that way. And so we ended up, 20 minutes later with a rather strange family portrait - see pictured!
Family portrait with Mr NQN blanked out (he's very shy)
So tell me Dear Reader, do you have odd family portraits? Is a family portrait hard to get? Do you ever give fake times or have you ever received a fake time? And are you a fan of spinach pies? Have you ever tried erbazzone?
DID YOU MAKE THIS RECIPE? Share your creations by tagging @notquitenigella on Instagram with the hashtag #notquitenigella
Erbazzone or Silverbeet Pie
Rated 5.0 out of 5 by 2 readers
An Original Recipe by Lorraine Elliott
Preparation time: 40 minutes
Cooking time: 1 hour 20 minutes
Serves: 8
For pie crust
400g/14ozs. plain all purpose flour plus extra for rolling
210ml/7.4ozs. warm water
2 teaspoons salt
30ml/1oz extra virgin olive oil or lard
For filling:
1.25kgs/2.7lbs silverbeet
Olive oil for frying
200g/7ozs bacon or pancetta, diced
1 leek, bottom part only or 1 large white or yellow onion, sliced
3 cloves garlic, peeled and thinly sliced
150g/5ozs Parmigiano Reggiano cheese, grated (if you omit the bacon upp the amount of cheese to 250g or to taste)
Salt and pepper
Step 1 - First make the dough. Add the flour to the bowl of an electric mixer fitted with a dough hook. Add the salt to the water and dissolve. Then add the salted water and olive oil to the flour and mix with a spatula. Then knead with the dough hook on low speed for 6-7 minutes. The dough is ready when you poke it and the depression disappears after a few seconds. Oil two bowls and divide the dough into two equal halves, cover and rest for an hour (I like to do this while I make and cool the filling).
Step 2 - Wash the silverbeet leaves well and cut the stems out of the silverbeet in a V shape and then dice the white stems up. Then chop up the leaves but keep these in a separate bowl. Place a large pot of water onto boil and simmer the diced stems only for 5 minutes. Then add the leaves and simmer for a minute or two until wilted and then drain in a colander. Put the same pot on to medium heat and add a tablespoon of oil and fry the pancetta until starting to crisp up. Add the sliced leeks and sauté until translucent. Add the garlic and cook for a minute. Then add the drained greens back into this pot. Add a couple of tablespoons of olive oil and stir well so that the pancetta isn't at the bottom. Place the lid on and cook for 20 minutes on medium heat stirring about 4-5 times in that time just to ensure that it doesn't catch and adding oil if needed. You want the greens to be soft and cooked down and any excess liquid evaporated by the time that you have finished. Cool the greens mixture and then mix in the Parmigiano Reggiano cheese and season with salt and pepper. If you make the filling ahead of time you can refrigerate it at this stage and use it over the next 2-3 days.
Step 3 - Preheat oven to 200C/400F. Take one ball of dough and lightly flour a large sheet of parchment. Roll out the dough into a large rectangle, mine was around 43x26cms/17x10inches. You want the dough to be very thin. Cover the dough with the filling leaving an inch at the side unfilled. Smooth the filling flat with an angled spatula. On another large sheet of parchment repeat the process with the dough. Then place the other rolled out dough on top of the filled one. Seal the edges by folding it over and then crimp the edges.
Crimping the edges
Docking the pastry
Step 4 - Take a fork and prick the pie all over making sure to pierce the dough so that steam can escape. Brush with a couple of tablespoons of olive oil including the crimped crust. Bake for 50-55 minutes turning halfway to brown it evenly. Allow to cool for 20 minutes and then you can slice it up.
Brushing with olive oil