Halloween is a season full of candy but how about some healthy Halloween but no less delightfully creepy options? There's a vegetable packed skull soup, candy corn fruit kebabs, a grotesquely realistic sushi brain, "pumpkin patch" strawberries and baked apple zombie heads!
Did you make this recipe?
Share your creations by tagging @notquitenigella on Instagram with the hashtag #notquitenigella
Watch as the humble mushroom transforms into a skull thanks to a few clever cuts in mushrooms! I bet you've never seen such a wholesome, creepy Halloween soup before ;)
Sometimes you just want some fresh fruit at a party and I promise these fruit kebabs have more flavour than candy corn! You use banana, rockmelon and pineapple in these easy to assemble fruit kebabs!
A sushi brain fun, healthy and tasty way savoury snack idea. All you need is a brain mold and then you can create your realistic ripples of brain using smoked salmon!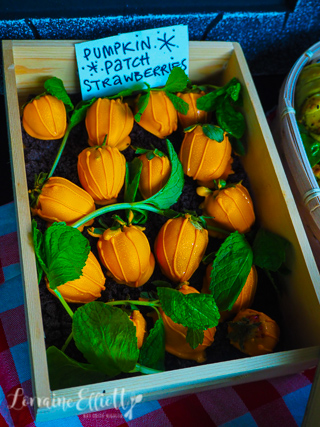 When are strawberries vegetables and not a fruit? When they are dipped in orange chocolate and look like little pumpkins! This cute little pumpkin patch makes the most of seasonal strawberries in a simple but fun way to decorate them!
These zombie heads looks scary but they're anything but! These baked apples with a delicious brown sugar, coconut and cinnamon fruit filling. You can make their expressions scream with laughter or howl in pain!
So tell me Dear Reader, which is your favourite idea of these 5? Do you have a healthy Halloween recipe?