It's Halloween season Dear Ghouls and I've got a healthy, hearty Halloween recipe for you! This Halloween soup uses mushrooms to make the skulls and carrots to make mini pumpkins. It's super easy to make, full of vegetable goodness but is given heartiness from fast to cook red lentils. This ghoulish Halloween soup contains no actual humans or animals (it's vegan/plant based!).
This skull and pumpkin soup is so easy to make and although this is a lentil and vegetable soup you could make this with meat or make this with your favourite soup recipe. Hell you could even used tinned soup and just simmer the carrots and mushrooms until tender and add them to the soup. This is based on a witches brew stew here but I made this a rich vegetable soup instead of a meat based stew. All you have to do is add the carrot pumpkins in when you're starting to cook your soup and the mushroom skulls in right at the end. I was surprised at how easy it was to carve the pumpkins out of carrots and to make the skulls out of halved mushrooms. You can also make this in a slow cooker too and cook it for 6 hours on high and then add the mushrooms in during the last 30 minutes. I wouldn't make this in a pressure cooker as the carrots can become a bit too soft and it's hard to tell when it is ready while it is cooking as you can't just lift the lid off easily.
How to make pumpkin shaped carrots
Peel carrots and cut into discs (not too thin) or the stem will break off in the soup. I cut my carrot coins around 4mm/0.15inch thick. Cut two small lines for the pumpkin stem and then cut a small arc on each side to create a pumpkin shape. I also put the little bits of carrot that I cut off in with the onions and garlic to saute.
How to make mushroom skulls
Cut mushrooms in half and then poke eye sockets out with a straw (you may need a small, sharp knife to hollow out the eyes and remove the little bits still left in the holes). Make small, shallow cuts to form teeth.
I've been trying to come up with savoury Halloween food ideas because there seems to be a preponderance of sweet offerings at Halloween but less savoury ones and not so many wholesome or healthy ones. And while I like sweets I tend to eat more savoury food at parties. For a while I wasn't sure if Halloween was going to happen this year. It looks like (barring a series of unfortunate events) we can have a small outdoor Halloween party although the idea of having an outdoor party fills me with dread. Last year's was supposed to be a Halloween picnic but the weather was hideous and rained all day and night and we were just lucky to have it at Valentina's house where we could have it undercover.
And although the current number being bandied about is 20 I'm still not sure if I want to have the full cohort of 20 people. Also since only double vaxxed people are invited that means the Elliotts won't be able to come because only some of them are vaxxed. For the moment I'm keeping it small for now and we are going to be coming out of lockdown with some caution and cautious optimism.
So tell me Dear Reader, once lockdown lifts are you going out straight away or are you being cautious?
DID YOU MAKE THIS RECIPE? Share your creations by tagging @notquitenigella on Instagram with the hashtag #notquitenigella
Skull Soup
Rated 5.0 out of 5 by 2 readers
An Original Recipe by Lorraine Elliott
Preparation time: 30 minutes
Cooking time: 55 minutes
Serves: 8 people
1 onion, peeled and diced
3 cloves garlic, peeled and diced
400g/14ozs. potatoes (2 large), diced into small cubes
400g/14oz tin diced tomatoes
3 tablespoons tomato paste
4 cups/1 litre/2.1pint vegetable stock
1 red chilli (small or large, depending on your heat tolerance)
140g/5ozs. dried red lentils, rinsed
3 zucchinis, diced
150g/5ozs mushrooms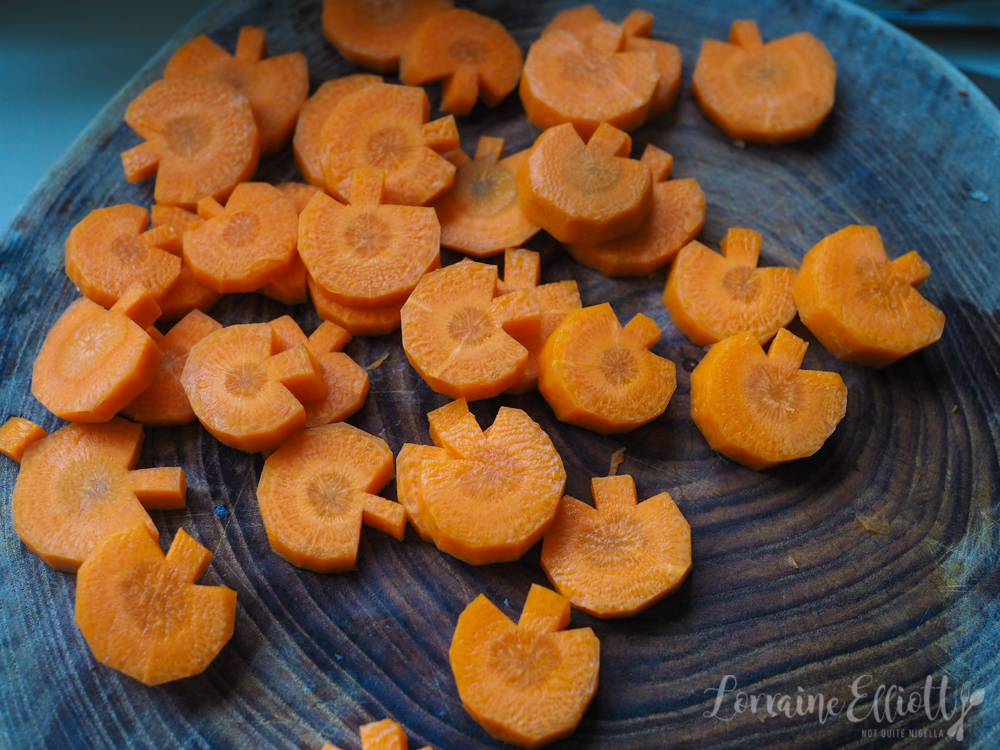 Step 1 - I prep the carrots first as they take a bit longer. Peel carrots and then slice into coins. With a small, sharp knife carve out a pumpkin shape (see tips above). Set aside. Then heat a large pot on medium heat and add some oil and fry onions and garlic until softened. Add the potatoes, tinned tomatoes, tomato paste, vegetable stock and chilli and bring to a simmer. Add the carrot "pumpkins" and simmer for 20 minutes.
Step 2 - While it is simmering I make the mushroom skulls. Take each mushroom and cut in half and then use a straw to poke two holes in the side of each mushroom half (you may need to use a sharp knife to remove the little bits of mushrooms as you want the eyes to be hollow and dark). Use a knife to make teeth under the eyes. Set aside.
Step 3 - After simmering for 20 minutes add the red lentils and zucchini and simmer for another 20 minutes until zucchini and red lentils are cooked. Add the mushrooms and cook for 5 minutes. Season with salt and pepper and serve skull side up!