Charlie Phi Pork Rolls is located on New Canterbury Road in Petersham and sells delicious banh mi, noodle bowls and rice paper rolls to take away or eat in. All washed down with a strong Vietnamese iced coffee of course!
When I learned that my amazing builder Peter Swindail also owns a pork roll store called Charlie Phi I had to visit. Monica (who introduced me to Peter) and I head there on a Wednesday as Charlie Phi is open only on weekdays. Charlie Phi is run by Myn Swindail, Peter's wife.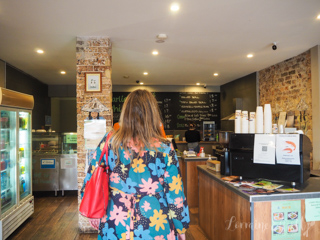 Charlie Phi is named after their 13 year old son. "The name Charlie Phi comes from our little boy Charlie. Phi is his Vietnamese name. How it came about is since the day he was born everything you put in his mouth he would gobble it all up. Since being able to talk, always critiquing everything on the plate and eyeing everyone else's plate. We thought if we are still standing Charlie Phi would be handed down to him and he could tweak and modernise but still keep it authentic. Mum and dad didn't push him into his school selective subjects. We just sat back and see what he has chosen but surprise but no surprise really where one of the main selectives was cookery. He just really loves food," says Myn.
Myn and Peter met at the local pub - she worked there and Peter was a patron. "Myself and family were refugees from Vietnam. Like most refugees we escaped by boat and Thailand picked us up. I don't remember much at all being only 2 or 3 years old but we arrived in Australia in 1982. We camped at a hostel in Cabramatta and it went on from there. Since leaving school I've been in hospitality for over 20 years to date. How we decided to start Charlie Phi is I was actually working at a hotel in Petersham for over 10 years. My bosses decided to sell up, I thought it's now or never. Let's start up our own business. I know most of the locals and those locals are now our bread and butter. Almost 7 years on the rest is history," says Myn. She makes the food and Peter built the interior (and also painted one of the paintings on the wall).
It's a popular place for takeaway and especially popular with tradies. There are also tables for eating inside and a bench outside. Everything in the cabinet looks fresh and colourful. Monica and I order five banh mi between the two of us (we wanted to add the ginger soy chicken but this isn't available today). There are classic pork and chicken banh mis as well as other varities with hot fillings and for breakfast you can get a bacon and egg banh mi or an egg banh mi with fried or scrambled eggs.
Prawn Banh Mi $10
The prawn banh mi is one of the specials and it's a prawn and salad roll with pâté on it to give it that extra pep of flavour (their pâté is made in-house). I can imagine having one of these on a really hot day when you just want something cold and tasty.
Curry Pulled Beef $8
There's a sign that says "Curry pulled beef is back by popular demand" and I'm down for anything curried. Myn slow cooks the curry for 4-5 hours and keeps it purposely mild so that it works with the Vietnamese salad and pickles. Heaven.
Meatball banh mi $7
Confession time: my favourite banh mi is always the meatball. I know people love pork and chicken but to me, nothing beats the lusciousness of a soft meatball and the sauce. And no surprise this ends up being one of my favourite banh mis with the soft, melting meatballs and texture from water chestnuts.
Lemongrass Pork Chop $11
There are a few other banh mi with hot fillings like the meatball as well and to me, the warm filling really makes these next level. The lemongrass pork chop has plenty of slices of lemongrass scented pork loin with a good amount of salad and sauce. The meat is really the star of this sandwich.
Vietnamese Beef Cube $11
But equally as good but richer is the Vietnamese beef cube. The beef is tender and luscious and so moreish. The fillings are perfectly portioned to the bun and it's hard to pick a second favourite.
I was remiss in not getting a photo of the Vietnamese iced coffee but it's fantastic and packs a punch and for the rest of the afternoon I'm buzzing!
So tell me Dear Reader, what is your favourite banh mi filling? Do you like the hot fillings?
This meal was independently paid for.
Charlie Phi Pork Rolls
87 New Canterbury Rd, Petersham NSW 2049
Open 7:30am-4pm Monday to Friday