Newtown's King Street is the location for Sydney's newest vegan eatery. Vegan Fried Chick'n serves up fried "chicken" aka seitan in either burger, fillet or tender version with "cheese" fries and gravy.
A week ago my food twin Monica sent me a picture of Vegan Fried Chick'n when she walked past it. She said she thought about which one of her friends would go and try it with her and I popped into her mind first. It's true, I do love fried chicken and will give the vegan version a go too.
We're the only ones in the Vegan Fried Chick'n store at 1pm which worries us a little although Monica says that it was busy the day she walked past. The woman behind the counter is slightly terrified of the two small women in active wear that are asking her for recommendations (that's us). We make our order and take a seat. Everything is fried fresh and it takes around 10 minutes for it all to arrive.
I have to be honest, I'm not the hugest fan of soy or seitan products. They're ok in a pinch but when you're basing a whole menu around it, it can be too much for me. I prefer vegan substitutes like Beyond Meat although they are often more expensive than meat.
We cut the double patty burger in half. These patties are thick (thicc) and there is faux bacon on it as well as what looks like an undressed coleslaw. They tell us that there is mayo and barbecue sauce on it too but it's a tad dry, probably not helped by the double patty which on a regular fried chicken burger add extra juiciness.
In terms of the chilli, I don't taste much of it at all. Also the breading needs some spices added to it as it lacks a distinct taste and adding spices would also help to distract from the seitan flavour. The sauces are all complimentary and the barbecue and tomato sauces sit on the table so we add some of those.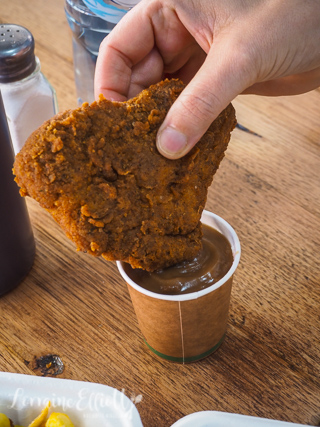 Monica doesn't mind the fillet but for me, it's too much seitan. It is hot and crisp though with what seems like a rice flour coating. The gravy actually tastes pretty much like a real gravy. We ask for some chilli sauce which is a Frank's hot sauce and a mayonnaise that is strangely sweet. Vegan mayo or aioli is really easy to make and delicious so we're both quite perplexed by this mayo.
The sticky popcorn could do with a bit more stickiness. The pieces on the bottom have a sticky Asian style sauce on them but the ones on top are a bit dry. The popcorn chick'n really benefits from being dipped in the barbecue sauce.
As for the popcorn chicken fries with cheese I like the actual fries and cheese sauce a lot. The cheese sauce is very similar to a non vegan cheese sauce. The popcorn chicken on top would be better if it were the sticky popcorn chicken though as the cheese seems to emphasise the drier quality of the seitan vs chicken.
I bring what I have left over home to Mr NQN to get his opinion as someone that grew up eating vegan food. He simply shrugs and wolfs it down.
So tell me Dear Reader, do you like seitan? Have you tried a good vegan meat substitute that you think tastes like meat?
This meal was independently paid for.
Vegan Fried Chick'n
215 King Street, Newtown, NSW, 2042
Monday closed
Tuesday - Thursday 11am - 3pm, 5pm - 10pm
Friday & Saturday 11am - 10pm
Sunday 11am - 9pm
www.facebook.com/veganfriedchickn