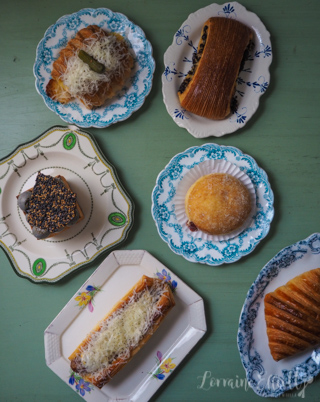 Please note that Kym's pastries are no longer available in Tempe
Kym11m Pastry is pastry business run by a self taught pastry chef Kym Fulko Lim. Customers can get his pastries delivered or pick them up from a cafe in Tempe. There are classics like ham and cheese croissants, pain au chocolate and pain au Suisse as well as Kym's own creations like the Cube, a multi layered puff pastry filled with flavoured cream where the flavours change weekly.
Kym was born in Cambodia and arrived in Australia at a young age growing up in the South West of Sydney in the Campbelltown/Camden area. "At a very young age I became quite influenced by the Australian culture in which I am so grateful and proud as punch to be an Aussie. Coming from a heritage of Cambodian/Chinese ethnicity, food has always been the focus of all family events and day to day meals." Being self taught runs in the family as his mother was a self taught cook in Cambodia where she ran a small shack business making "Phnom Penh noodles" (rice noodles with pork mince, prawns, blood jelly and offal).
He started his chef's apprenticeship in 2001 after realising school wasn't for him and segued into pastry in 2011. "I staged for a total of one year mostly making macarons. My passion continued to grow from there with my interest venturing into the production world of patisserie. I crafted my skill by observing other pastry chefs in various establishments," says Kym. It was while working at Black Star Pastry that he realised that pastry was where his interest lay, "The light bulb moment came on quickly and there are endless possibilities of learning more and more today and no doubt forever! The work of Johan Martin was the one that captivated my quest for the perfect shaped croissant, by seeing snippets of their processes I soon taught myself how to achieve the look I desired in my pastry today," says Kym.
He bakes all of his pastries and breads for his microbakery in Tempe where people can pick up their goodies from Clock On/Off cafe. All of his pastries are available there from Wednesday to Sunday. Larger orders can be fulfilled by contacting him on Instagram and at times he offers delivery around the Tempe area. He uses Wholegrain Milling's sustainable range from Gunnedah for both his sourdough bread and pastry. In terms of butter he usually uses Corman but as that is not currently available he us using New Zealand butter for the time being. "Corman has created a butter that makes the process of lamination much more desirable when dealing with hot weather like ours," he explains.
Plain Croissant $4.50
Kym's wife Rene drops off an order to our house one morning and I can barely contain my excitement. I order a plain croissant because there's nowhere to hide with these. Like all pastries it's best warmed up in the oven to bring out the flavour of the butter and the crispness.
Pain Suisse $6.50
While I'm not usually a pain au chocolat lover I was curious to try the pain Suisse which has an extra layer of deliciousness with custard as well as chocolate plus the top here has a extra crunchy layer which makes this even more appealing with every bite. Kym says, "Not many bakeries or cafes are offering the Pain Suisse but it's personally one of my favourites! I make my Pain Suisse with a vanillary custard and Valhrona choc chips. To put my spin on it, I've added the cross lamination technique which adds that extra texture to the pastry."
Bomboloni Vanilla and strawberry house made jam $6.50
Usually the bombolonis come with either vanilla or strawberry jam but Kym has made one with both as I love having something fruity and creamy together. It's generously filled, lusciously soft and dusted in sugar. Kym tested this many times to get the recipe just right with his donut loving wife Rene being the harshest critic.
Savoury Twist Kransky $10
Kym developed this savoury twist to expand his savoury offerings. "I came up with my version of the sausage sizzle. In my opinion, LP Kranksy's are just too good not to use and I love supporting other small businesses where I can, " says Kym. The savoury kransky pastry is an open puff pastry rectangle topped with LP's cheese kranksy, caramelised onion, Dijon and seeded mustard with gruyere cheese shaved on top. It's like a fancy sausage roll with the proportions just right with plenty of kransky in every bite and is one of my favourites.
Ham and Cheese Croissant $8.50
One of my favourite items is the ham and cheese croissant, Dijon and seeded mustard inside with a fine shaving of gruyere cheese on top as well as a cornichon. It's so tasty and I end up stealing Mr NQN's share.
Cube Croissant $8.50
For dessert there's the black sesame cube. It's a square tower with layers of puff pastry that are so distinct that you can count them. Inside there's black sesame custard, black sesame praline and Valrhona Dulcey coconut namelaka with a thin sesame nougatine crisp on top. We are all swooning over this it's so crisp, glorious and creamy all at once with a pronounced black sesame flavour. "I often try to come up with different shapes and designs that aren't too over the top and that can easily be kept to a minimal - less is more right. It allows me to play with flavours and modern techniques for my customers that are keen to try something new," says Kym.
Country Bread $9
The country bread is also delicious sliced up as a tartine or to make sandwiches with and I love the stencil pattern on the side too. Kym uses a high protein spitfire flour with a mix of white, wholemeal and rye for this loaf.
"I believe the perfect combination is good quality ingredients mixed with pure love and passion. I strive for perfection with everything I make and hope this comes through to my customers enjoying the pastries and breads I make. The end game has been to open my own Bakery back home in Camden making pastries, breads and coffee for my local community," says Kym.
So tell me Dear Reader, do you tend to prefer sweet or savoury pastries? Which pastry would you pick?
These pastries were all independently paid for.
Kym11m Pastry
https://www.instagram.com/kym11m_pastry/
Please note that Kym's pastries are no longer available in Tempe