The United Airlines flight from Los Angeles to Sydney takes approximately 14 hours. During that time you can eat, sleep and watch and browse the internet. Read on to find out what happens during a United Polaris business class flight and how United Airlines designs the menu!
Please note that this story was written before the start of the COVID-19 pandemic.
I take my seat 5L, a window seat in the last row of the first business or Polaris cabin of the Boeing 787-7 Dreamliner. The flight is very busy this evening and the Polaris cabin is full.
On my seat are the blanket, two pillows and comforter. I plug in my phone into the USB (there's also a universal adaptor) and sit back with a glass of champagne. I'm sad that my trip to San Francisco and Los Angeles are at an end as I find both destinations endlessly fascinating.
After we take off I connect to the internet. It's $22 for the full flight and considering it's a long one I figure it's worth it. The amenity kits can change and take on themes and on this flight it is a Star Wars themed one to celebrate the release of the new movie "Star Wars: The Rise of Skywalker". There's even a plane with Star Wars livery and the safety video has a Star Wars theme to it.
They ask me what I'd like to drink and I order a Virgin Mary and look at the menu. I rarely order these unless I'm flying and they're popular during flights for a reason. The normally earthy fruit turns sweet and fruity with altitude - 5 millions cans of tomato juice are loaded aboard United Airlines flights each year for this reason.
The menu has an entree salad and four choices for a main. Monique Tran, the Menu Planning Analyst at United Airlines explains the business class menu is changed every month and it can take up to 2 months to refresh a menu because of the volume of flights. In Polaris class (United Airline's business class product) over 2.6 million meals are served worldwide a year (219,000 a month) while in economy, 23.7 million meals are served worldwide a year (over 65,000 a day).
To test a new menu the United Chefs work together with catering partners to put around 100 dishes on a table. Testing these dishes are a mixture of flight attendants, chefs, taste experts as well as frequent flyers. "Out of 100 dishes tested, only 5 may make it," says Monique. There is roughly a 33% loss of palate due to low humidity, cabin pressure and altitude when on a flight. The main sense of taste that is lost is salt (sweet or sour aren't as affected). To replace salt, they use umami rich foods like cheese, tomato and meat.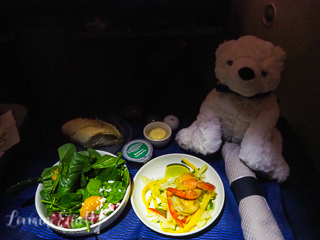 The chilled appetiser is a Thai style lemongrass shrimp salad on green mango. The shrimp is delicious and the salad nice and crunchy. I was a bit too full from eating in the lounge for the spinach salad with mandarin grapes, strawberry and feta with a vinaigrette dressing.
They offer some bread rolls or garlic bread and I go for the garlic bread. Another writer told me about how she sat next to a bit of a jerk on the flight over and when he was asked about his bread selection he replied "Garlic bread of course, who wouldn't want it?"
Ginger and butternut squash mezzaluna
My main choice is the ginger and butternut squash mezzaluna with coconut cream sauce flavoured with lemongrass, ginger and lime. The pasta is filled with a herb filling made with Thai basil and coriander and is dotted with roasted butternut squash. It's delicious and I find myself eating most of this.
It's dessert time and I perk up because that means trying United's signature ice cream sundae. Almost 8,000 litres of ice cream are served in the Polaris cabin a year. They serve up seven different toppings: hot fudge, butterscotch caramel, strawberry, whipped cream, maraschino cherries and toasted flaked almonds.
On today's flight there is sea salt caramel, strawberry and Ghirardelli's hot fudge. I go for the strawberry topping with my sundae as well as some Oreo crumbs, some whipped cream and a cherry. It's delicious and the strawberry sauce is full of whole strawberry chunks.
There's also a cheese plate on offer with three types of cheese.
They also offer a petit four selection and this flight's includes an utterly moreish mini pecan pie with a divine sugared crust. There's also a lemon cheesecake and a square of chocolate brownie.
I put in my earplugs, press the button on the bed to extend it flat and add the Saks Fifth Avenue mattress to the bed. I sleep soundly for 11 hours only waking when I smell the eggs that signal breakfast. Alas I've missed the hot lobster mac and cheese bowl and toastie snacks.
Breakfast is a caprese omelette with an oozy mozzarella centre with herbs, parmesan, roasted tomatoes and basil pesto with herb roasted potatoes and a pork sausage as well as warm croissants, cut fruit salad and strawberry yogurt. My flight attendant brings a cup of tea too with plenty of milk (just the way I like it). While we eat breakfast I pop on a face mask and once finished I get changed before we land feeling well rested and well fed.
So tell me Dear Reader, have you ever slept through an entire flight? Are you a good sleeper on the plane or a bad one?
NQN was a guest of United Airlines but all opinions remain her own.
United Airlines
https://www.united.com/en/au