The inaugural United Airlines flight from Melbourne to San Francisco promises a non stop flight to what was previously a two leg trip. Take a look at what happens on an inaugural Boeing 787-8 Dreamliner flight and the latest United Polaris Business Class offering as well as a little cockpit visit!
A new flight route is always a reason to celebrate and there's a little extra involved in such a venture. At the gate at Melbourne's Tullamarine Airport there's an adorable two tier cake with the Golden Gate bridge, a ribbon cutting ceremony and a table with plenty of complimentary breakfast offerings and drinks for all guests on this inaugural flight.
I don't know about you Dear Reader, but my favourite seat on a flight is 1A if I am lucky enough to travel business class. And when I'm handed my boarding pass with those magical letters on it I do a little dance of delight.
I love seat 1A on the 787-7 Dreamliner because there's a little ledge on which you can rest things giving you more area to spread out in. I also have myself a little good luck charm. Ursa the polar bear is the United Polaris toy mascot that is accompanying me on the flight.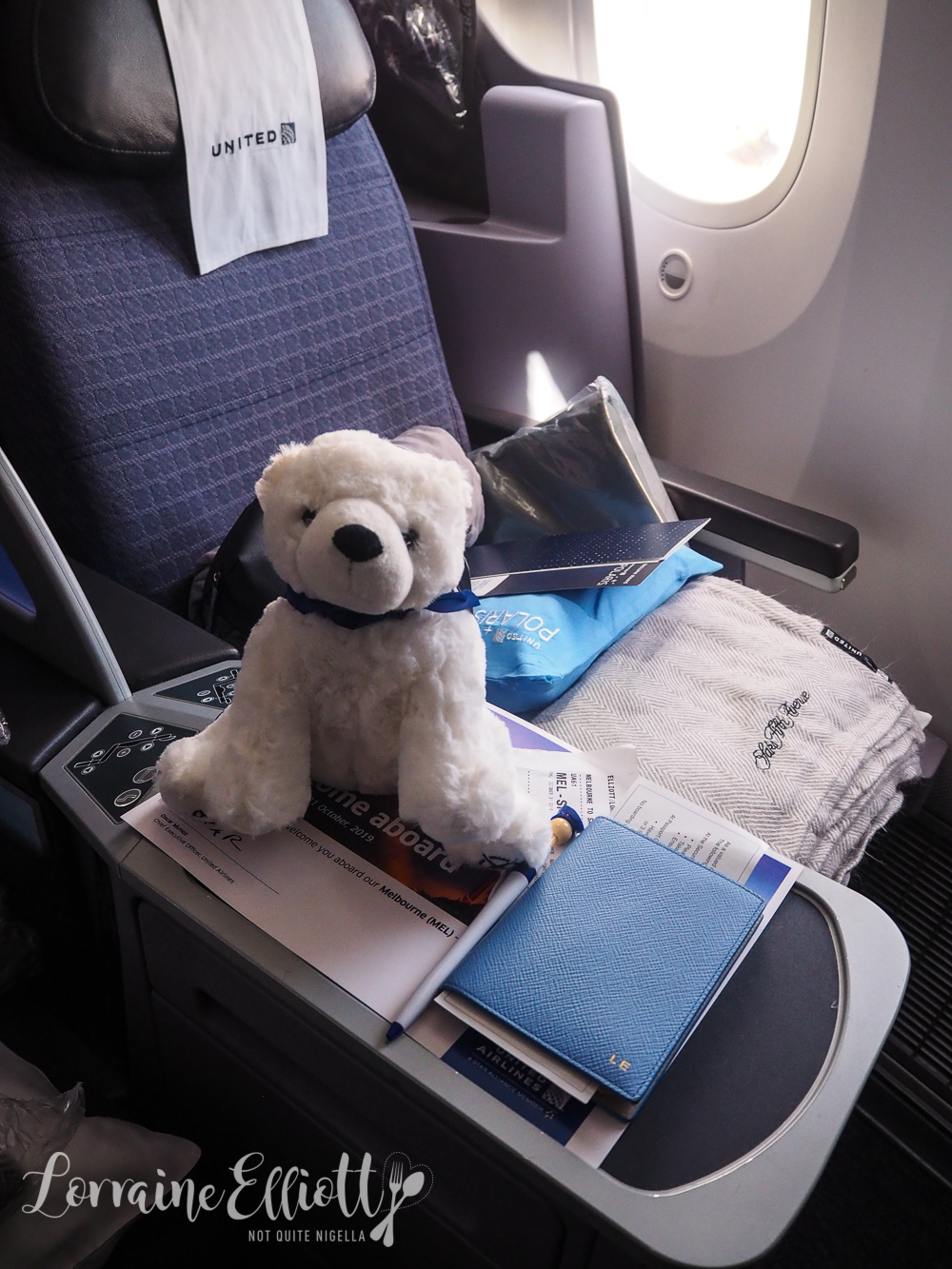 Everyone is excited on inaugural flights. There's a buzz in the air and the crew are as excited as the passengers. When the pilot Bill sees me taking photos he invites me to take a look at the cockpit and I say hello to everyone there including the crew Tracey and Paul.
Our flight attendant Sharon looks after us with humour and a bit of sass-she has been flying for 50 years. Then there's Gregor the purser who has been flying for 40 years. There's even Mike the flight attendant and writer that looks like Santa Claus-he has his own youtube channel where he plays Santa Claus.
The business class cabin has 36 seats in two sections and it is designed in a 2x2x2 configuration. I take a seat and am offered champagne (Nicolas Feuillatte Grand Cru 2008), orange juice or sparkling mineral water. I take in my seating area space. To my right there's a universal adaptor, usb port, noise cancelling headphones and a dimmable reading light.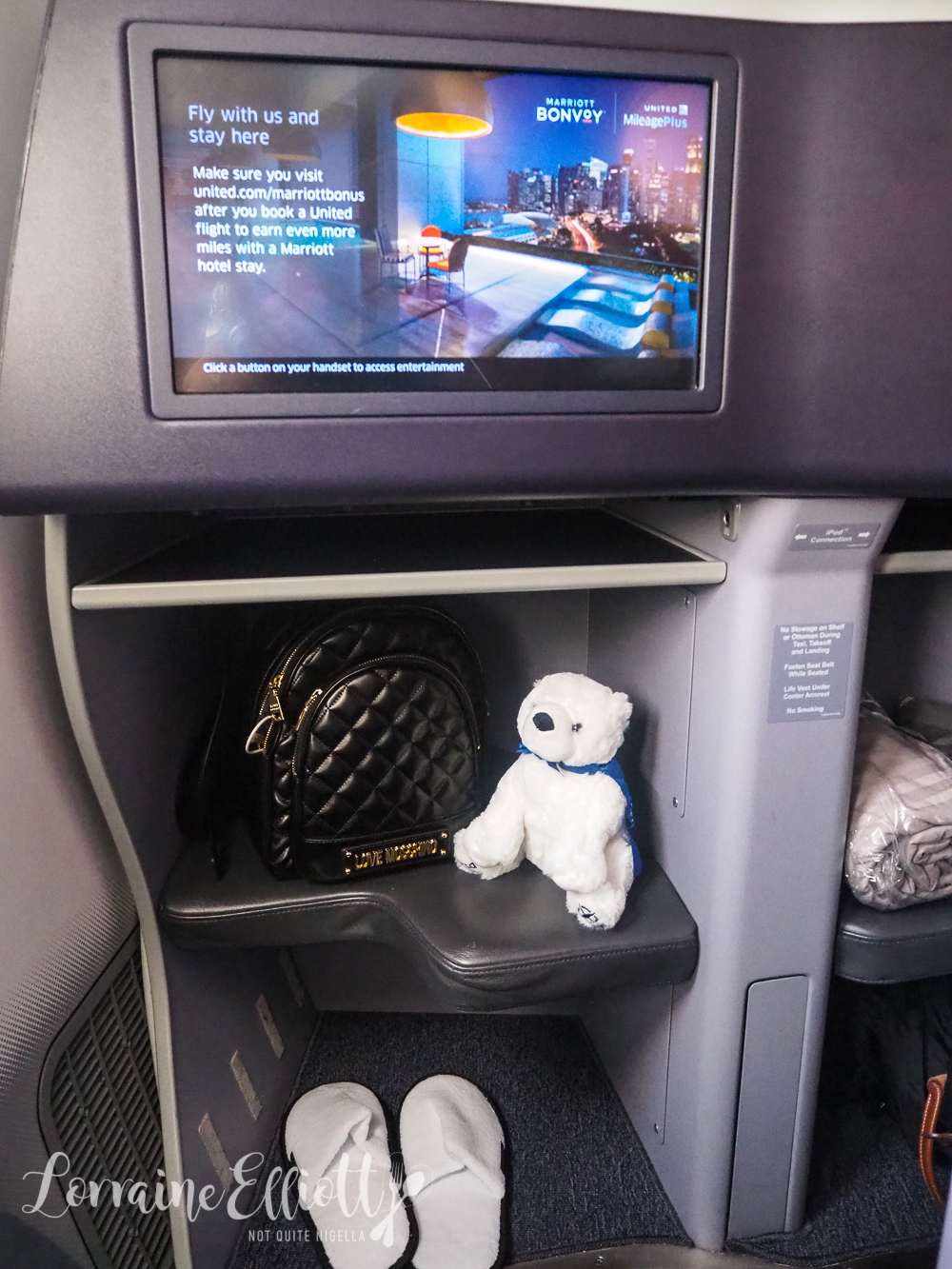 All of the bedding is laid out on the seat and menus are tucked inside them. I have a quick flick through the entertainment selection. There's a good amount of movies and tv box seats and I earmark Big Little Lies season 2 to watch later. Internet is available in flight for $22.95 for the entire flight or you can purchase access in smaller increments with 1 hour at $4.99 and 2 hours at $8.99.
There is a forward right hand side bathroom and two bathrooms between the two business class cabins. The one of the left is larger as it is a wheelchair accessible. There is Sunday Riley hand cream, a minty face mist and a Murchison and Hume spot cleaner.
To keep your skin looking its dewy best they've partnered with Sunday Riley for their amenity kits that include a Sunday Riley lip balm, cleansing cloth, face moisturiser and hand cream as well as United pen, toothpaste and toothbrush, socks and good quality eye mask (I use this at home too).
The crew start serving drinks. It's a Virgin Mary for me and a bowl of roasted almonds and cashews. Then comes our chilled appetiser, slices of sesame crusted ahi tuna, remoulade, arugula or rocket and a halved cherry tomato.
Ahi tuna salad and garlic bread
I add some salt and pepper using the globe shaped salt and pepper shakers. There's also a side salad of frisee with roasted pumpkin chunks and pepitas that comes with a super tangy olive oil and vinegar dressing and two types of bread: dinner rolls or soft garlic bread.
Wattleseed crusted lamb
For the main there's a choice of wattleseed crusted lamb chops, chicken tikka masala, seared cod fish fillet and potato gnocchi.
Chicken Tikka Masala
The chicken tikka masala is delicious with a saffron rice pilaf, dahl and spiced, wilted spinach on the side. My second favourite choice is the gnocchi with a tomato cream based sauce, spinach, capsicum and zucchini salad and shavings of parmesan. The lamb is not what I expected, it's a fillet of lamb deboned rather than lamb chops and I love nibbling the bit on the bone.
My sometimes vegetarian friend Laura who is sitting next to me sees the dessert trolley just around the corner. "It's here!" she whispers. It's like a celebrity has appeared and turns regular adults into children again.
It's sundae time and there is a choice of three types of sauces: hot fudge, strawberry and caramel plus a range of toppings from toasted flaked almonds, whipped cream and maraschino cherries. "I'll have as many cherries as you'll give me," says Laura.
We also share a cheese plate with a glass of port as well as a range of sweets. The cheddar is gorgeously sharp, the grapes sweet and thirst quenching. We nibble on the petit four sized sweets. The pecan tart is divine, the opera cake very sweet. There's also two chocolate cups - one is filled with pistachio mousse, the other with delicious strawberry mousse.
After everyone has eaten the cabin lights gradually dim automatically so that it resembles night-time getting everyone ready for the destination time zone. They hand out sets of pyjamas in small or large sizes.
All of the Saks Fifth Avenue bedding is designed to help you sleep better. There are two pillows, a regular soft pillow and a firmer cooling gel pillow. They also give you a mattress to lay on top of your seat.
Halfway through a sleep we both get up to try the snacks. There are two hot snacks available on board. The first is a toasted cheese sandwich with tomato soup that is pure comfort food as well as a new snack, a bowl of nasi goreng.
Grilled Cheese and Soup
Laura and I decide to share one each and the toasted cheese is one of my favourite snacks. It's buttered on the outside and gooey and melted on the inside and comes with a thick, tomato soup.
Nasi Goreng
The nasi goreng is also delicious and the perfect snack size. I'd be totally happy with both of these as my main meal. In fact after we finish both of these Laura pipes up, "Can we have another one each?" she says and they bring another two.
During the flight there are a range of snacks in the middle front row ledge. These range from salted potato chips, mini chocolate bars, Tim Tams, cheese plates and sandwiches. For research I try the sandwiches and there's a turkey, cream cheese and cranberry sandwich and there's also a vegan roasted eggplant, rocket, capsicum and carrot sandwich with pesto which I like.
I get a little bit of sleep before it's time to arrive. For breakfast there is a choice of cereal and fruit salad or an omelette and sausage. I'm feeling parched so I enjoy the fruit salad before changing back into my regular clothes and I'm ready for a busy day in San Franscisco!
So tell me Dear Reader, do you have a favourite seat on the plane? And how many cherries would you order for your sundae?
NQN was a guest of United Airlines but all opinions remain her own.
United Airlines
united.com/en/us